If you are travelling to Prague for the first time, I'm sure you have plenty of questions in your head about your trip.
In this blog post, I wanted to round up all the practical information you should know before you travel to Prague even if you are visiting only for one day.
Prague is one of my favourite places to be right now and I hope you'll enjoy exploring this historic and beautifu city as much as I do.
So what do you need to know before you travel to Prague for the first time?
Where is Prague?
Prague is the capital of the Czech Republic. If you look at a map of Europe, Prague is right in the centre, which is why some Czech people find it slightly insulting when visitor say 'Prague is in Eastern Europe'.
The term is more likely to refer to the political division of Europe before 1989, than the geographical location, but I would still say, that Prague is in the heart of Europe, not in the East.
READ MORE
PIN THIS FOR LATER
Is Prague worth visiting?
I'm biased, so of course, I'll say 'YES', but in all fairness, it depends on what you are looking for from your trip. If you like history, walking or eating you'll love Prague!
There are also plenty of green spaces like Stromovka or Letna Park, and beautiful gardens like hidden baroque Vrtba Garden or Grebovka Park with its own vineyard.
On the other hand, if you want to go somewhere off the beaten track, Prague could be a great base from which you can explore less visited towns and historical places in the Czech Republic, like for example Pardubice town, which is only 60 minutes by train.
Is Prague tourist friendly?
On the whole, I would say, 'Yes, Prague is very welcoming to tourists and visitors. Most younger people will have a basic understanding of English, German or Spanish and you'll find most restaurants in the centre with an English or German menu.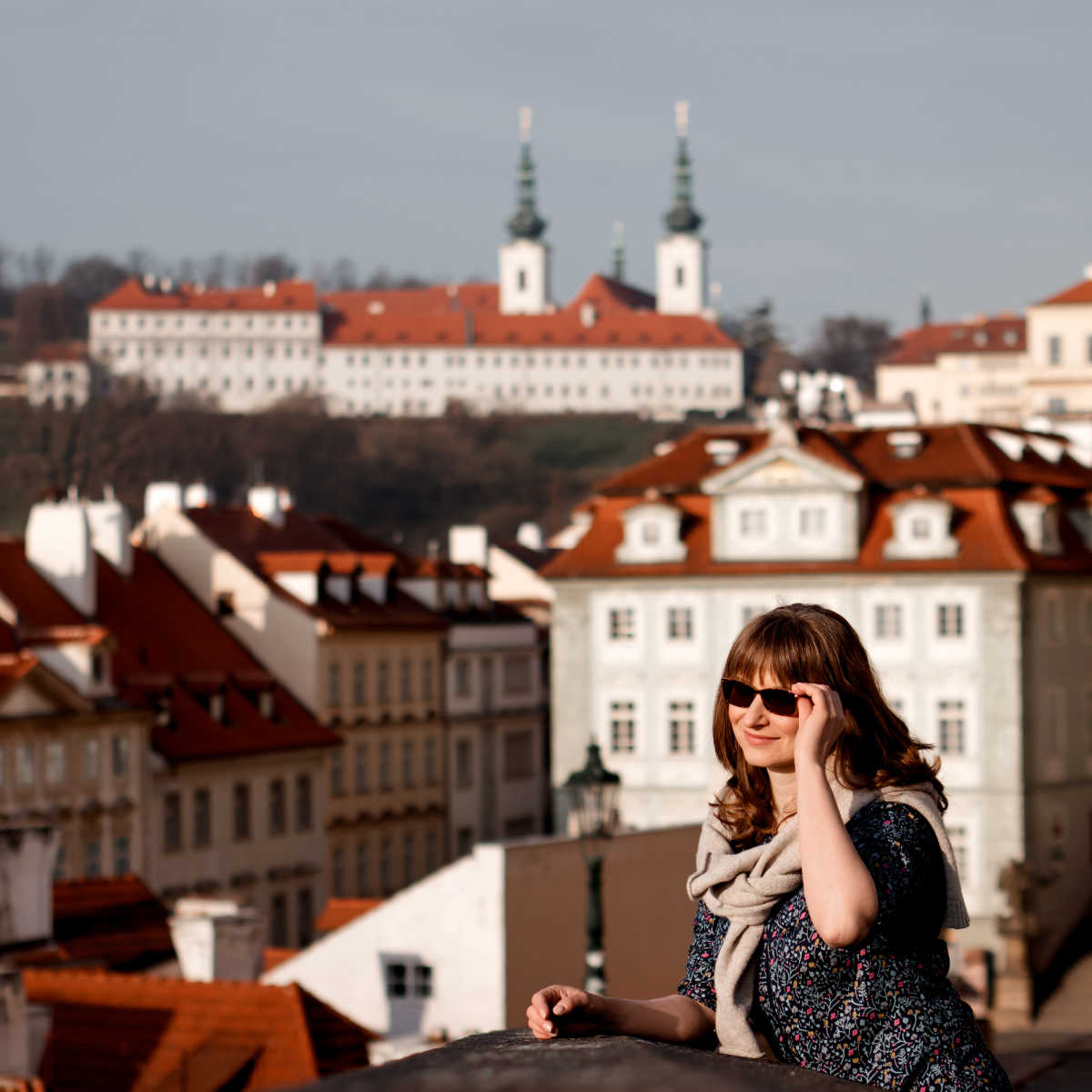 What to pack for your trip to Prague
This will very much depend on whether you are visiting Prague in summer or winter and also what activities you are planning to do.
I tend to go more for casual wear, since I walk everywhere and spend a lot of time outdoors. But, if you are planning to visit the theatre or go to a swanky restaurant or night club, you'll want to pack some smart and pretty clothes and high heals.
Most Czech people prefer to wear casual (or smart) comfortable clothes in a western Europe style (jeans, t-shirts and sport shoes etc).
READ MORE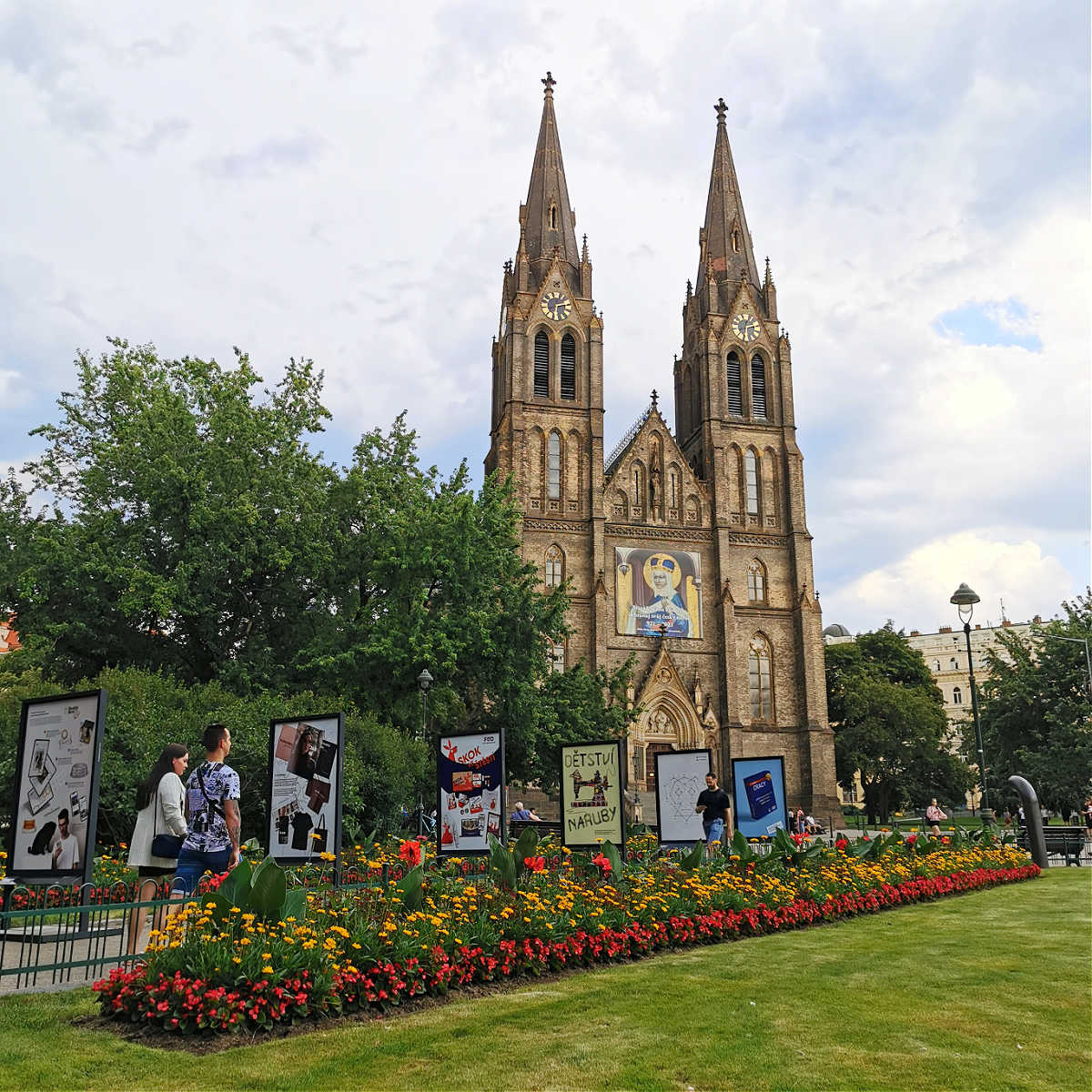 What's the best season to visit Prague?
The best time to visit Prague is in the spring (like April for Easter, May for slightly warmer weather and flowers in bloom or June when it's great weather and the schools are still in session) or autumn (September is still warm and October is definitely more quiet), as the weather is nice and warm and Prague is less busy than in summer.
Going offseason completely, like for example in January, February, March or November is fine too, bearing in mind that the winter weather in Prague is often very cold and there are not that many things happening.
For a medieval fairytale town with a Christmas atmosphere, you can also visit in early December up to the 6th of January.
Summer is usually the busiest part of the year, and Prague can get very hot (with several heatwaves) and overcrowded in the centre. The Prague summer weather can be also very changeable with varying temperatures.
July and August is also a school holiday, and most Czechs leave Prague to spend their summer in the countryside or even abroad at the seaside.
It's also traditionally time when most road works and repairs are carried out in Prague with roads sometimes closed, and trams and buses are diverted.
Do I need a visa to travel to Prague?
This depends on where you are travelling from, but in most cases, you'll not need a visa to visit as a tourist.
Czech Republic is part of the European Union, which means that if you can enter the European Union without visa, you can freely travel to Prague as a tourist.
Your stay is usually limited to 90 days. If you intend to study or work in Prague, then you'll need a visa from the beginning of your stay.
How many days do I need for my visit to Prague?
As a minimum, I would suggest 2-3 three days, as anything less will feel very rushed and the chances are that most places you visit will turn in to a bit of a blur.
Two to three days is enough to visit the Prague Castle, walk in the centre and across the Charles Bridge, stop for a coffee or lunch and visit one or two museums. You can also visit the Jewish Quarter, spend a few hours exploring the Vysehrad Castle or take a leisurely boat trip on Vltava river.
If you are visiting just for one day, then I would suggest to maximise your time by getting up super early and not visiting any tourist atractions inside. Walk around and experience the city on the foot and see as much as you can.
READ MORE
Is Prague safe place to visit?
Yes, in general, Prague is a very safe place to visit and the crime is fairly low for a major European City. The only thing, I do need to mention, is that pickpocketing is still a problem, so be careful.
READ MORE
Are there any scams I need to be aware off in Prague
Whilst Prague is getting safer and safer, it's still important to be causcious and use a common sense.
Traditional taxi services are still hit and miss, so it's better to use Bolt or Liftago app. There is also no need to change money the traditional way (and pay high exchange rate), as most places accept card payment these days.
READ MORE
Do people speak English in Prague?
Yes, especially younger Czechs do speak fluent English. Most restaurants and cafes in the centre have their menus translated into English, so you shouldn't have any problems placing your order.
What's the currency in Prague?
Although the Czech Republic has been in the European Union since 2005, the official currency is still Czech crown. If you are paying by cash, you will need to pay with Czech Crowns, but most places now accept major debit or credit cards, so you don't need to worry if you run out your Czech money.
Can I use my debit or credit card to pay for things in Prague?
Yes, all shops, restaurants and most tourist attractions accept all major cards and you can pay for your bills including any tips safely with a debit or credit card. But it's always handy to have some cash as small street food stalls, travel tickets or small coffee places might not always have card machines.
There are plenty of ATM around Prague, where you can take money out. These are free to use, but you should check with your bank how much they charge for money withdrawals abroad.
Personally, I find that the bank charges are much smaller than changing cash currencies and it's much safer to carry around just what you need and not a whole of your holiday money.
READ MORE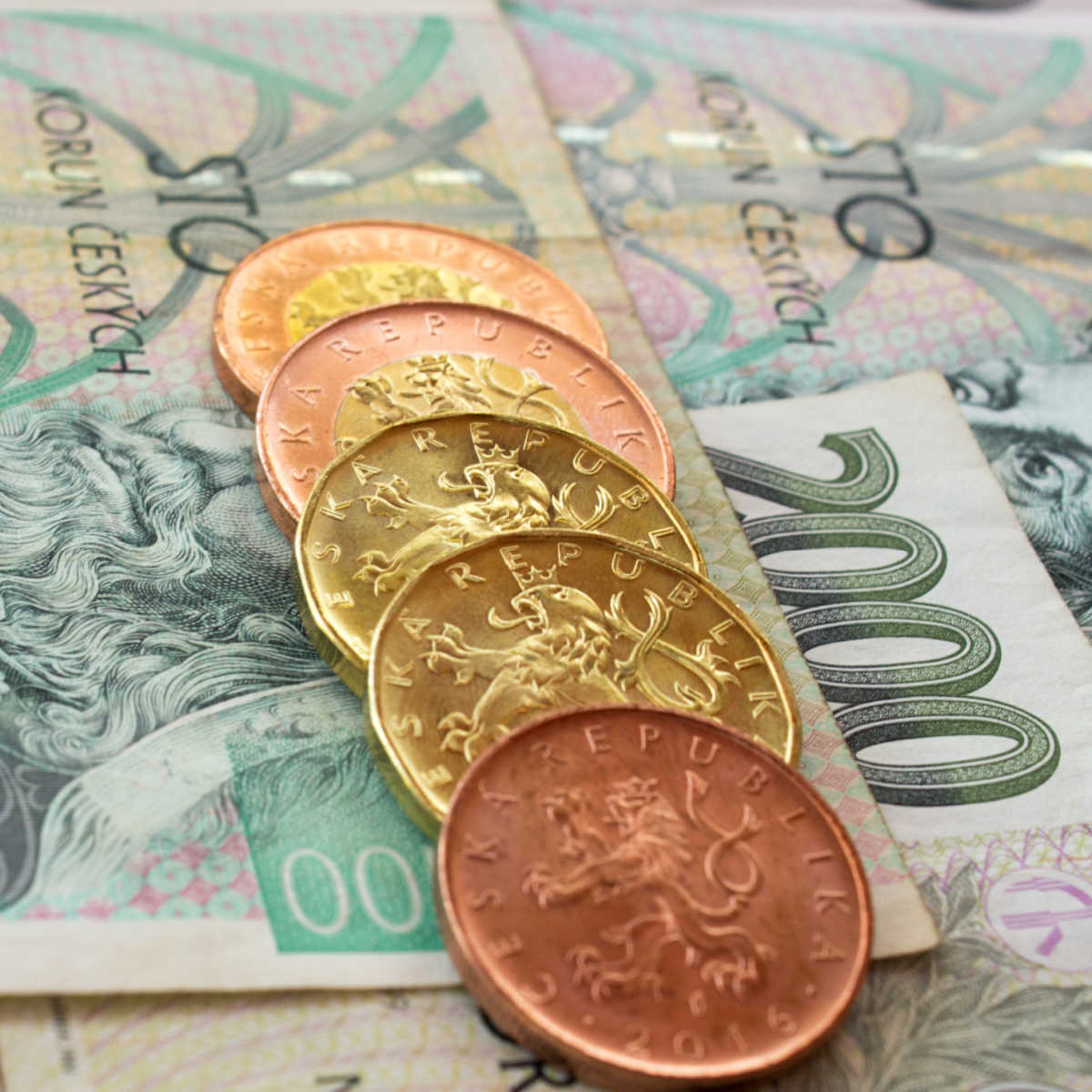 What daily budget do I need for my trip to Prague?
This really depends on whether you are after a budget holiday or a luxury weekend away. Since, there is no limit to what you can spend in Prague, let's just stick to the basics to give you an idea of what to budget for.
90 min public transport ticket 40 kc
Coffee 50-90 Kc
Cake 50-90 Kc
Soft Drink – 30-40 CZK (but you can safely drink tap water in Prague, if you travel on the budget)
Museum Entrance 200-300 Kc
Accommodation 1500 – 2000 Kc for 2 people per night (based on a basic hotel or private accommodation)
Breakfast 150-250 Kc
Lunch – main course 150-500 Kc
Dinner – main course 230 – 500 Kc
READ MORE
Staying in touch, phone calls & WIFI
It's worth checking with your phone provider before you travel to Prague, what are your data allowances in Europe and how much would you be charged for phone calls, texts or data when you are travelling.
Some phone providers will offer upgrades, which might be worth it depending on how long your are travelling to Prague for.
If you are on a budget, I would recommend to have a way of getting in touch with your friends or family via social media apps (e.g. chat box function in Facebook) or Whatup app. This way, you only need to use your own phone data (or public wifi) to get in touch.
Talking about wifi connections in Prague… it's actually surprisingly easy to find and it works well too!
Apart from your hotel or accommodation, you'll be able to find wifi connections in any larger shopping centre, coffee shops, restaurants, large museums, airport, trains and the underground (this is still a little patchy).
READ MORE
What food should I try when I'm in Prague?
Whilst you can find pretty much any kind of food and world cusine in Prague, I'm going to recommend that you try some of the food traditional to Prague and the Czech Republic.
One thing I should also mention that some of the very traditional foods are very heavy on meat, potatoes, dumplings and very light on vegetables!
Saying that you can usually pick something from the traditional menu, that's fairly healthy (like have the traditional goulash and leave out the dumplings).
If you are O.K with meat, then traditional goulash is the best way to experience a typical Czech food. If you prefer not meat food, try the fried cheese (Smazeny Syr) with boiled potatoes or chips (fries) and mayonaise.
Fried schnitzel (Smazeny Rizek) is also popular with boiled potatoes and pickled cucumber.
If you have a sweet tooth, head over to the nearest bakery or sweet shop (cukrarna) for traditional Czech cakes (kolace) with different fillings or small cakes such as 'vetrnik', 'spicka' or 'puncovy rez'. You can't go wrong with any of these!
And of course, everywhere in the centre of Prague you won't be able to miss Trdelnik – the sweet bread pastry baked on a hot coal. The plain cinnamon and sugar is actually pretty good, but you will have the option to add different toppings and fillings.
TASTE PRAGUE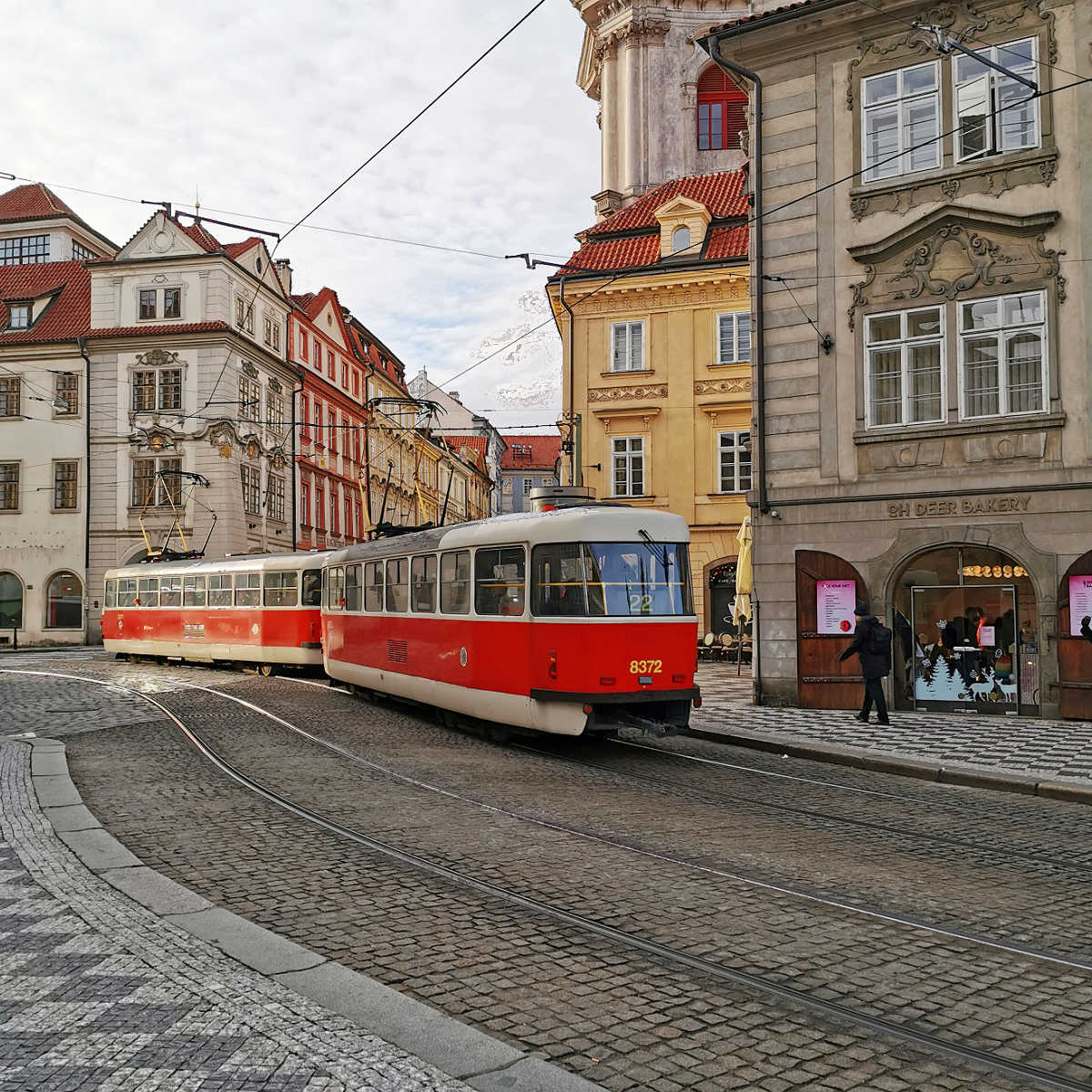 How can I get around Prague?
Prague has a very good public transport system, including underground (Metro), good tram network , buses, trains, river ferries and even one cable car!
A single 40 Kc ticket will last for any journey up to 90 minutes and it's valid on any means of transport.
It's easy to get around even when you arrive by plane and need to get from the Vaclav Havel Airport to the centre.
If you think that your journey will last longer than 90 minutes, you can buy ticket for 2 or 3 hrs. If I know that I'm going to be making more than 4 journeys in one day, I buy 24 hr ticket (about 125 Kc). It's actually valid for 24 hrs, which is quite good as you can start it at any time during the day and it's still valid the next day.
No matter what ticket you have, make sure you stamp it in the machine when you first enter the public system and keep it safely with you. Plain clothes ticket inspectors can stop you any time and ask you to produce your ticket (and fine you if you don't!).
If you are travelling from the Main Train Station, you can buy your train ticket directly there or use an app on your smart phone.
The most used tram is tram route no. 22 which can take you from the centre to the Prague Castle and other tourist attractions.
You can find all the long distance busess (both national and international) at the Praha Florenc Bus Station, close to the Prague historic centre and other major train stations.
READ MORE
Using taxi, Uber, Bolt or Liftago
Appart from using public transport you can also use private taxi cabs or Uber, Bolt or Liftago apps, which are often cheaper than traditional taxis. I find that recently the Bolt app become the best value and the drivers more reliable than Uber, but that could be just my personal experience.
To use Uber, Bolt or Liftago, you'll need to first upload the app to your smart phone, create account and then put in your destination.
The good thing is that you can see the price of your trip beforehand and you also pay directly through the app, so there is no need to change money.
PLAN YOUR TRIP
Where is the best place to stay in Prague?
If you are coming for a long weekend, it's best to stay somewhere fairly centrally, so that you can start exploring Prague the minute you leave your hotel. The accommodation cost will be, of course higher, than if you stay on the outskirts of Prague.
If you are a light sleeper, check that your hotel is not on a busy road or in a noisy area with night clubs next to the hotel, like for example on Wenceslas Square.
I personally like to stay slightly off the centre, for example in Vinohrady, Smichov, Karlin or Zizkov or similar Prague districts that are not that busy and more residential.
It's still only a few minutes by Prague's public transport – tram or underground to the centre, but because these areas are mainly residential areas, it's nice and quiet there.
Does Prague have any green spaces?
Whilst it might look like Prague is just full of historic buildings, narrow streets and restaurants, it also has a surprisingly high number of gardens, including botanical gardens, parks and green spaces.
Some gardens, like the Prague Gardens, Vrtba Garden or Pruhonice have entrance fees, but most parks are free and open all year round.
My favourite green space close to the centre is Kampa Island (just off the Charles Bridge) or the Shooter's Island (close to the National Theatre).
If you fancy a longer walk on the top of the Prague hills, you can start your walk at Kinsky Square (Prague 5), walk up the Kinsky Garden and then walk through Petrin Hill with beautiful views of Prague following the Hunger Wall to Strahov Monastery and the Prague Castle. There are amazing views of Prague from the top of the Petrin Lookout Tower on the top of the Petrin Hill.
Afterwards, you can walk through Chodkovy Orchards (Garden), cross the busy tram lines and carry on walking on Letna Park all the way to Strosmayer's Square in Prague 7.
STAY IN TOUCH
Hope this blog post inspires you and as ever I'd love to what you think! Let me know in the comments below or catch up with me over on Instagram.
Magdalena
This blog post was originally written on 1 April 2021 and last updated on 16 January 2023