My favourite places to visit in Prague in April 2023, including travel tips, weather and what to pack when you are heading off to Prague in spring.
By the beginning of April, celebrations of spring and Easter are well underway. Easter is, of course, a movable celebration, but it usually falls between the end of March and the beginning of April.
In 2023, Easter Good Friday is on 7 April 2023 and Easter Monday is on 10 April 2023.
You'll find that some activities and events overlap, so make sure you check out my guide for March and May in Prague.
Here are my top things to do in Prague when you are visiting in April
Is April a good month to visit Prague ?
Yes, most definitely! Prague is great to visit during April: the spring weather is getting warmer, the city is decorated for Easter and the main opening season for castles, museums and other attractions is also starting.
Prague is certainly busy during the Easter weekend, but the rest of the month is relatively quiet and certainly not as busy as in summer.
What's the weather like in April?
April can be a bit of a funny month weather wise – expect anything from 10 C – 15 or 17 Celsius (in the shade) during the day, but close to 3-6 Celsius at night (or early evening)
On a bright sunny day, it will feel wonderfully warm, but once the sun goes it will go back to being fairly cold.
Whilst it doesn't always happen, it's not uncommon to have snow at Easter! April can also be very rainy and windy. On a cold day, the wind is also going to be cold, so I'd still suggest to plan some indoor activities, long coffee stops and visits to museums.
What to wear for your visit to Prague
I usually take a mid length spring jacket (not the warmest one I have) and then wear 2-3 layers underneath depending on the day. I'm also prepared to adjust my clothing during day, especially if it's nice and warm.
I always dress for the cold in the morning, knowing that I can always take a layer off if the weather gets warmer.
Sturdy shoes suitable for walking are also very useful as Prague has old fashioned cobbled stones and stone tiles everywhere.
READ MORE
Day light during April
At the beginning of April, the day light starts from 6.40 am and the sun set is around 7.30 pm.
By the middle of April, this changes to day light appearing shortly after 6 am and the sunset is just before 8 pm.
By the end of the April, the sun rises at 5.40 am and the sunset is at 20.20 pm.
This means that by the end of April you have just over 14,5 hrs of a day light to explore Prague!
Important dates in April
1 April Day of Jokes
This day shouldn't affect your holiday in any way, but it's a fun day to be around.
People are preparing practical jokes on each other and the newspapers usually print news that's not true. It's never anything serious or important, just a small little news that looks real, but it's not.
7 April – The international day of sport and health
There are usually small sports events on this day (and the nearest weekend) to celebrate various sports.
Some venues offer free trials of their sport activities or prices as reduced for equipment rental or admissions.
Easter Good Friday – 7 April 2023 and Easter Monday – 10 April 2023
The Easter Friday and Easter Monday are official Czech national holiday and most people will have these two days off work. Children are in the middle of their Spring break holiday, so they would be off school too.
Most shops (especially the larger ones, including food shops) are closed on this day as well as offices, banks and government buildings. Small food shops are usually open.
Tourist attractions, galleries and museums are open.
24 April – The international day of Scout Movement
The scouts movement has a long tradition in the Czech Republic and there are always special events on this day celebrating the international day of Scout movement.
The Czech scout movement was founded by Antonín Benjamin Svojsík, who experienced scouting in England in 1911 and was keen on applying the principles of scouting to Czech environment.
The scout movement was forbidden three times during it's existence for long periods of time (During the 2WW 1940-45, and twice during communism 1948 – 1967 and 1970-1989).
Whilst I considered myself more of a 'wild tramp' at heart, I was lucky enough to be at the beginning of the 1989 revival. I helped to run girl scouts groups, organise summer camps and weekend trips away.
The Prague Scouts centre is at the Old Town Square 1/4 (as you go towards the Little Square with the golden water well) and there are exhibitions, events and workshops through every month (not just on the 24 April).
30 April – The international day of Jazz
Jazz is very popular music in Prague and it's often played in various venues around the historic centre. Entrance is usually free or low cost.
30 April – The burning of witches – The night of the witches
The traditional celebration of welcoming spring is based on an old folk tradition, where burning fire on the 30 april protects against evil and illness.
What to do in April in Prague
Browse the colourful Easter Markets
At this time of the year, Prague is typically full of Easter Markets, where you can admire traditional Easter Eggs, spring decorations and other local crafts.
You can taste local food, hot drinks and some festive bakes, including traditional Easter Bread called Mazanec.
The markets are usually in the large squares such as Old Town Square, Wenceslas Square (close to Mustek Underground station), Namesti Miru, Namesti Republiky (close to Kotva department store) and other major squares.
At this point, I should mention that if you are thinking of buying traditional Easter Eggs as a souvenir, make sure you can carry them safely wrapped in your hand luggage or a handbag.
The Czech Easter Eggs are still made in a traditional way of first blowing the content of a real egg out and then decorating the egg with elaborate designs. Which, of course, means, that the eggs are very fragile!
Get yourself moving with Prague Half Marathon
The Prague Half Marathon is usually held first Sunday in April (or last week in March) and according to the runner's reviews, is always very well organised and includes an excellent running course.
The course will take you through the main historic areas around both sides of the Vltava river, and you'll even run on Charles Bridge to cross the river. If you are thinking of running the half marathon, it's best to register early and book your accommodation well in advance.
Experience the Burning Witches Night
The last day of April (or the last weekend before the end of April) has always been my favourite day at the beginning of spring.
It's the Burning Witches Night, which used to be our excuse for having the first bonfire of the year and play the guitars until the early morning.
The tradition is that burning fires on the last day of April will help to bring on better crops and keep all evil at bay. It was also a way of welcoming Spring and the legends tell us that at midnight all caves and mountains open up and you can walk in to get a golden treasure.
You'll find these celebrations usually taking place in the Prague suburbs or small towns just outside Prague, but it's well worth looking them up.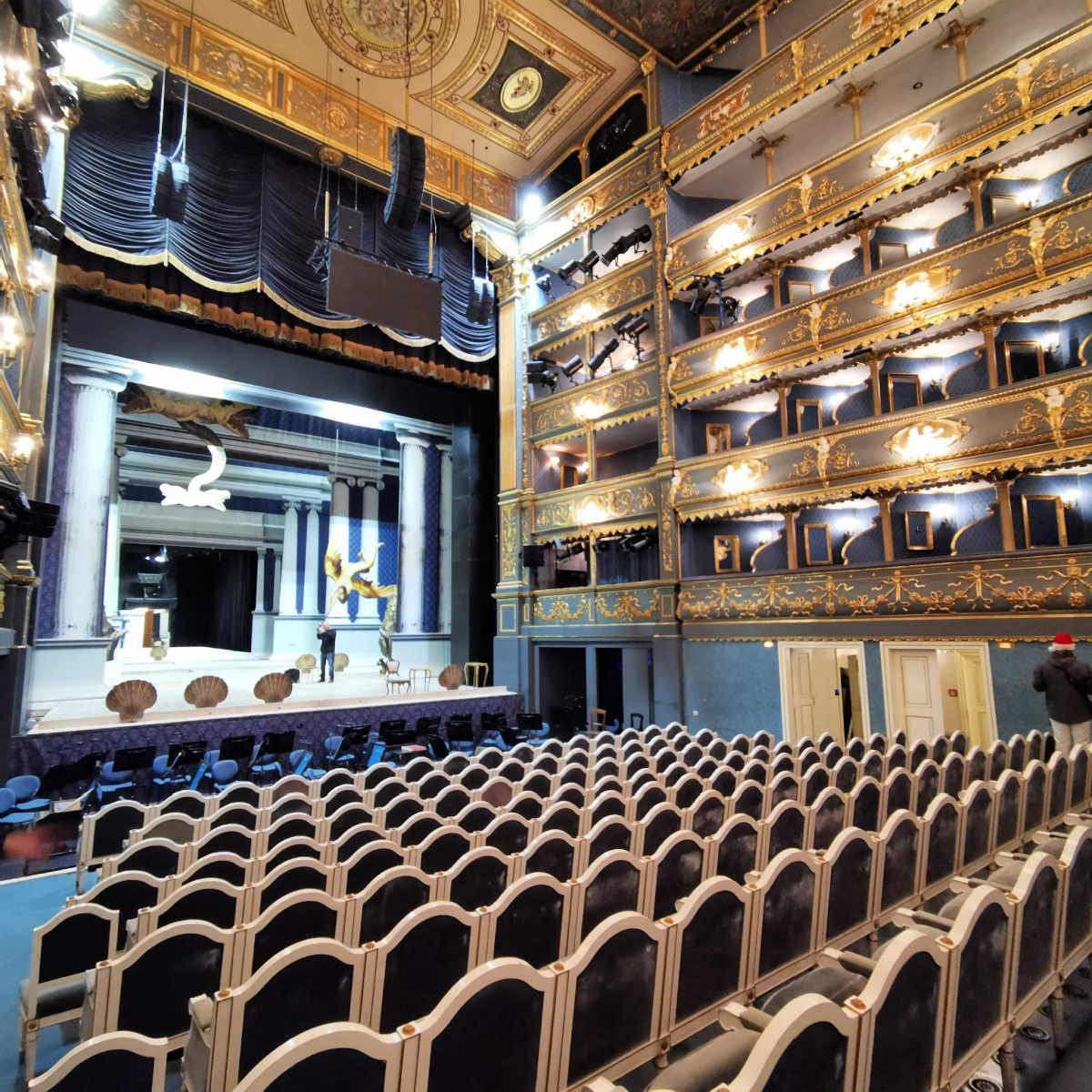 See a theatre play
Since April can still be quite chilly at night, you probably won't be doing too many evening walks. But a visit to a theatre might be just the perfect evening treat!
First of April is an April Fools day and people often play practical jokes on each other. So, if you want to experience a little bit of offbeat Czech humour (in English), have a look at Jara Cimrman's plays. There are at least 1-2 performances a month which are performed in English language.
Theatre of Jara Cimrman – Štítného Street 520/5, Prague 3-Žižkov
Other theatres perform plays in original Czech language but with English subtitles. The plays range from classical to modern, so there is always something to choose from.
Tickets are from 100 – 150 CZK for standing tickets (The Estates Theatre & National Theatre only) and from 150 -490 CZK – CZK depending on where you sit in the theatre (Opera and ballet tickets are more expensive than regular theatre plays).
National Theatre – Národní 2, 110 00, New Town Prague 1
The Estates Theatre – Železná, 110 00, Old Town – Prague 1
Svandovo Theatre – Štefánikova 6/57, 150 00 Prague 5-Smíchov
Warm up in a tropical glasshouse
Since it can be still quite chilly in April, I always find that it helps to plan some activities indoors to warm up. And there is nothing better than a tropical glasshouse on a cold, windy afternoon!
Most people are aware of the large botanical garden in Troja, but that's a trip for a whole day. To get there, you need to take an underground and a bus, plus it cost around 200 Kc to entry, so you probably want to stay there for the best part of the day to see everything.
But, there is a little hidden gem of a botanical garden right in the centre of Prague, very close to Karlovo Square. It's either a very short walk from the Karlovo Namesti (square) underground station or you can also take a tram.
This botanical garden is (in comparison to the one in Troja) very small, but it will keep you entertained for at least a couple of hours, and the entrance fee is only 50 Kc.
The botanical garden is run by the Charles University Natural Department and it's surrounded by various old buildings that still form part of the Charles University and also a hospital.
The botanical garden was originally founded in 1775, but at that time it was located at Smichov (Prague 5). By 1840 the garden was already well established with more than 13 000 types of plants.
The botanical garden was built quite close to Vltava river, and because it was flooded several times, it had to be moved. By the end of 19 century, Smichov was a prosperous manufacturing quarter (now part of Prague 5 district) with expanding the need for more buildings, factories and houses for the workers and the botanical garden had to move again. This time to its current location between the streets Benatska and Vinicna.
All the plants have been carefully lifted from their original location and replanted in the new botanical garden. At the time the Charles University had both Czech and German faculty and the botanical garden was equally divided between the two.
It's quite ironic, that when Prague was attacked in the controversial bombing by American Forces on 14 February 1945, it was the German part of the botanical garden that was damaged, not the Czech one.
Botanical Garden – Na Slupi 433 /16, 128 00 New Town, Prague 1
Trams no 1, 2, 14, 18, 24, 25 stop just outside the Botanical Garden (stop is called 'Na Slupy'. The nearest underground station is Charles Square (Karlovo Namesti) and then it's about 10 – 15 minute walk.
Go on a day trip from Prague
Outside Prague, most heritage places will now be operating the main season timetable, which means they will be open longer or re-opened after a winter break. So buy yourself a ticket, hop on a local train from one of the three main train stations and had for a day out from Prague.
Before it gets too busy, visit the most important and talked about castle after Prague Castle – Karlstejn Castle.
And unlike Prague Castle, Karlstejn is a real castle and it's only a short train journey from Prague's Main Train Station. Karlstejn Castle was built on the hill, nestled in the valley and hidden from the views of potential enemies. The walk from the nearby train station is well worth it as you will see the castle in its glory as you walk up the steep road that leads to it.
There are plenty of historic towns within one hour train journey from Prague, which are worth visiting. I've recently visited Pardubice town and there was plenty to do outdoors and indoors with some amazing architecture to see and great cafe places to warm up over a good cup of coffee.
STAY IN TOUCH
Hope this blog post inspires you and as ever I'd love to what you think! Let me know in the comments below or catch up with me over on Instagram.
Magdalena
This blog post was originally written on 3 April 2021 and last updated on 19 January 2023