My top 16 favourite places to have ice cream in Prague, you have to try in 2023. Traditional ice-creams, sorbets and vegan options included.
Prague and ice cream! What a combination and what can be better than exploring the old town streets whilst tasting one ice cream after another?
I've recently spent my name date, doing a little challenge – to taste as many ice creams as I can in one day. This was all in the name of a blog post research because you know, I can hardly recommend something I've not tried myself!
I have to say, that I didn't eat much else that day, because all of these delicious ice creams are made from proper ingredients and are nicely filling!
So, here is the top list of my favourite places to have ice cream in Prague. They are not in any particular order as I like them all and I buy from one place or another depending on what flavours they have that day and where exactly I'm in Prague at the time.
I also wanted to choose mainly Czech owned companies (and not international brands, which you can also find in Prague), but since most of them focus on Italian Gelato, they have Italian sounding names. Don't let that fool you, they are still Czech!
Ice cream prices in Prague
Be prepared to spend up to 50 KC (about £1.80 or $2.20) for one scoop of ice cream and be prepared to see a big difference in prices depending on where you go.
The ice-cream prices seem to be going slightly up every year, but this year (2023) one scoop of ice cream in Ovocny Svetozor was 35 KC, in Angelato 45KC, Kopecek na Kolecku 40KC. The ice cream flower in Amorito was 95 KC.
The shop bought ice-creams start from about 15 – 20 CZK if you buy them in a regular supermarket, such as Albert, Penny, Tesco or Lidl, but they can cost twice as much when buying them in the centre in small corner shops.
Ice Cream Glossary in Czech and English
Whilst the ice cream parlours in the centre of Prague have Czech and English versions of their menu and their staff are happy to speak in English, other ice-cream places will have everything in Czech language.
So, here are a few words that will be useful as you are ordering your ice cream:
Zmrzlina – Ice cream
Sorbet – Sorbet
Kopeček – ice cream scoop
Kornout – Cone
Kelímek – Cup
Zmrzlinovy Pohar – Sundae with fruit & sweet sauce, cream etc.
Točena Zmrzlina – Soft serve ice cream –
Michana Zmrzlina (Tocena) – Soft serve ice cream with two flavours
Nanuk – ice cream lollipop dipped in chocolate (can be cream based or fruit – sorbet)
1. Puro Gelato
The ice cream is as delicious as it looks and I love the retro feel of the shop decor and the branding. It gets very busy, so be prepared to wait for a little while. The scoops are generous and there are plenty of flavours to choose from.
I remember once we've been on a long walk around Vysehrad Castle Grounds and towards the evening started to walk down and back to our flat in Smichov. Everywhere was peaceful and quiet until we saw the lights of the Vyton Puro Gelato shop on the corner of the street and the distant humming of people's voices.
We were mesmerised by the ice cream, the smile of the shopping assistant, people chatting happily and drinking coffee inside the shop. We bought our ice creams and carried on walking alongside the Vltava River. It was a magical evening, but even more so, because it was Christmas Eve …
Location:
Kaprova, Vyton, Rybalkova, Slovansky Dum – the small island on Vltava River opposite the National Theatre
2. Kopecek na Kolecku
Whilst I love walking around Prague tasting ice-cream sometimes it's just nice to sit in the park and let the ice-cream to come to you!
And that's exactly what 'Kopecek na Kolecku' are doing! Their little 3 wheel cars are parked in the main parks such as Riegrovy Park, Havlickovy Park (Grebovka), Parukarska Park or Letna Park so that you can enjoy freshly made ice-cream and sit on the park bench underneath the shade of a tree.
'Kopecek na Kolecku' (which means: Scoop on wheels or rather a little scoop on little wheels) is also at Letnany, Cerny Most, Butovice or Rajska Zahrada Underground Station as you come out of the actual underground.
The opening times nad locations change slightly depending on the weather and the the little ice cream truck usually appears in spring. For this week's list of locations check out their Facebook page to see where there are next.
All the 'Kopecek na Kolecku' ice-creams are delicious and properly made with real flavours. I had the pear ice-cream, which I think wouldn't have been quite a difficult flavour to do, but the flavour was spot on!
The Coconut with white chocolate and Peanuts & Chocolate were great flavours too.
Location: Various parks in the centre of Prague (Riegrovy Park, Havlickovy Park, Letna Park) + outside underground stations – Rajska Zahrada, Cerny Most, Letnany, Butovice
3. Zmrlinar
This family-run business was originally founded in 2008 and over the years the owners produced more than 100 different ice cream flavours.
Ice cream is always made fresh and you'll be pleasantly surprised that around half of every day's flavours is suitable for vegans and people with lactose or gluten intolerances.
Location: Slezská 15, Prague 2
4. Lunar
Lunar's ice cream lollies don't only look delicious, but they also taste amazing!
The only drawback is that they don't have a direct shop, so if you are just visiting Prague for few days you need to visit one of the retail places that sell Lunar ice cream lollies and buy one there.
If you have a freezer in your self-catering holiday flat, you can buy a box of 10 flavours directly from Lunar and enjoy them at your apartment.
Location: Lelí's Cupcakes, Vyšehradská 1446/53, Prague 2
5. Ovocny Svetozor
The oldest traditional Czech ice cream making place in Prague going back to the communist era.
I have fond memories of eating ice cream there to celebrate the end of a summer school term. The minute we got our final year diplomas we would hop on a train to Prague and celebrated with a big ice cream sundae!
These days, I prefer to choose a couple of different flavours each time and sit on a bench in the nearby rose garden, especially in the summer when it's lovely and warm outside.
The ice cream is always delicious and they new flavours to choose from every time I visit. This year I already had Grapefruit Sorbet, Dark Morello Cherry and Chocolate Sacher Cake. My other favourites include Green Apple, Pistachio or Melon, which are also excellent.
Prices are very reasonable (and I'd say the cheapest from my ice cream places list) at 35 kc for an ice cream scoop.
Location:
Svetozor Cinema Passage (just off the Wenceslas Square), Narodni Trida (inside the new shopping centre – downstairs), Dejvice (large parlour with plenty of sitting space), Karlin (with a London decor inside), Quadro Shopping Centre at Narodni Trida (downstairs in lower level), Novy Smichov Shopping Centre – Upstairs in the food court at the back next to the children's play area) – Andel (Prague 5, Smichov)
6. Amorino
There are plenty of flavours to choose from and you can have them separately as a scoop or have several flavours made into an ice cream rose flower.
It's a little pricier here than in other places, but if you opt-out for the gelato flower you can try more than one flavour, which I think it's a bonus.
Location: Malostranske Namesti 38/24 (the side street that leads directly to Charles Bridge)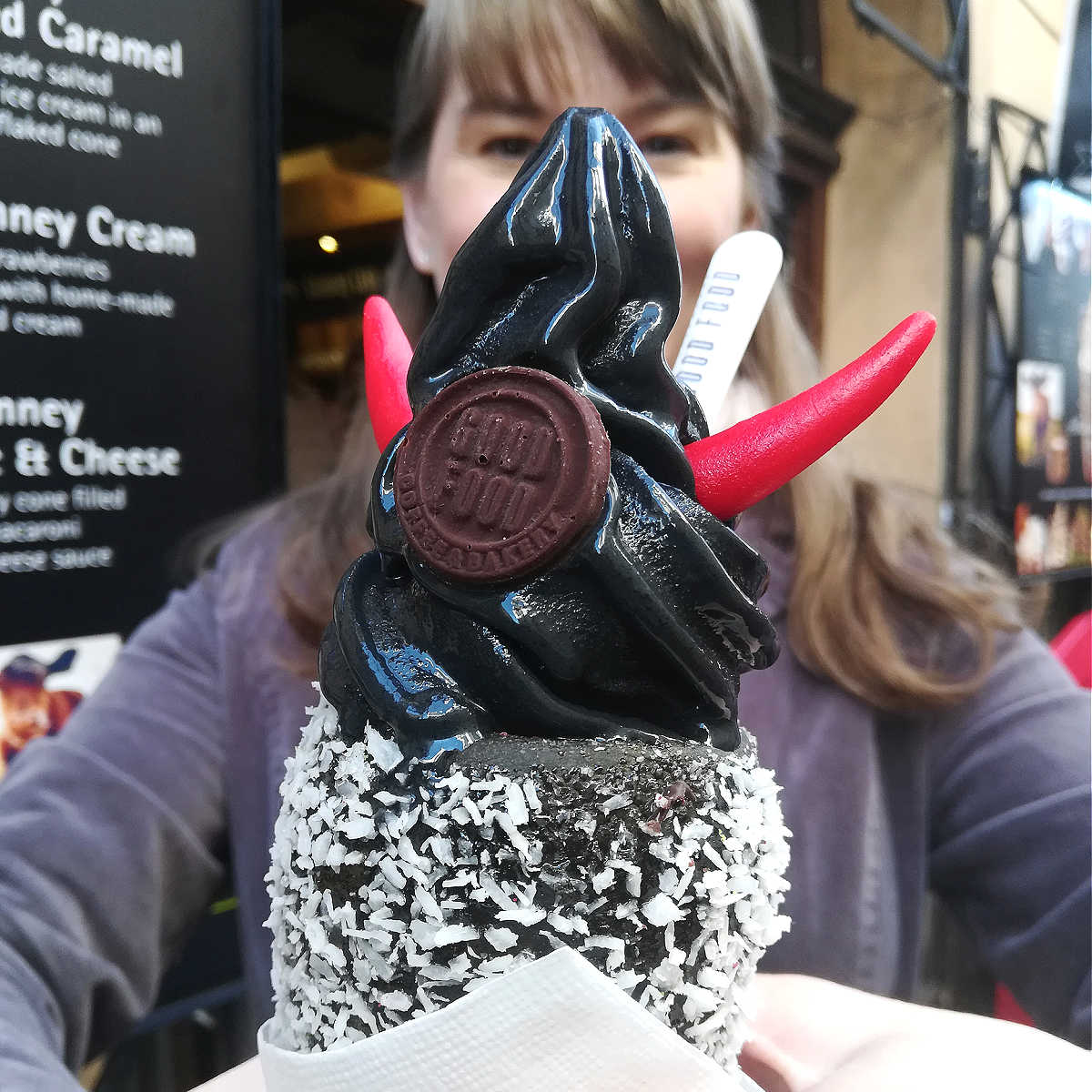 7. Triko Kafe & Kolonial
This is a Czech take on a traditional corner shop with honest food sourced locally from farms and gardens around Czech republic. This place is away from the tourist area, but if you want something a bit different it's well worth the visit. You can always have some savoury food first (homemade soups and other simple, but delicious foods), stock up on local delicatessens and have an ice cream too.
Their ice cream (like everything else) is homemade and made with proper ingredients. Everything is flavoured with fruit, herbs and spices and their sorbets are particularly delicious.
I found the Triko Kafe first (which means 'T-shirt') on Instagram and got so excited about visiting, that I dragged my mum up the hills to get there in the middle of a Prague's heat wave!
We had an absolutely delicious Apricot sorbet and got a whole background story about where the apricots came from and how the ice cream is made from the friendly owners. They usually make one flavour at the time and this week's flavour is Peanut Butter & Miso!
Location: U Nikolajky 12, Prague 5 (take a bus from Knizeci – Andel Underground Station or walk up the hill a little).
8. Angelato
Angelato was one of the first ice cream parlours to open after 1989 that was focusing on Italian Gelato.
It's worth visiting later in the day or evening as Angelato is open until late and considering where it is, it's always busy. It's quite pricey, but no more than other gelato places in the centre of Prague.
I particularly like their flavour combinations like Strawberry & Prosecco or Pear & Ginger and there are always new flavours every few weeks or so. This week, I tried the Salted Peanut Butter Gelato, which was very filling and full of flavour.
Location: Rytirska 27, Praha 1 (as you walk from Vaclavske Namesti towards the Old Town Square)
9. Creme de la Creme
Creme de la Creme has quite a few different shops in the centre of Prague, so that you are never too far away from your favourite ice cream.
Lots of different flavours to choose from and if you can't make up your mind you can buy a 'bottomless tub' for 300 KC (about £10) and eat ice cream to your heart content!
Location: Husova, Prague 1 1, Narodni 341/23, Prague 1 (the biggest parlour size wise), Francouzska, Prague 2, Průběžná 1939/58, Praha 10 (this one is called 'Ice Cream Sample Sale' and you can get your ice cream a little cheaper there)
10. Bastova Zmrzlinarna
This is a traditional family run small business that makes their own cakes, pastries and homemade ice-cream and sorbets. You are welcome to take a seat and have your ice-cream made up as a sundae or have a coffee and a cake decorated with ice-cream.
Ice-cream scoop starts from 33 CZK.
Namesti Bratri Synku 612 (The Square of Brothers Sons) – right in the top corner of the square – free standing building, Nusle, Prague
11. BB Gelato
With fantastic flavours and bright colours right in the centre of Prague, BB Gelato is the new kid on the block! Just celebrated their first year in business, but they are already doing great! You can also have ice-coffee and innovative cocktails.
Location: Karlova 28, Prague 1, Old Town
12. Imaginarni Zmrzlina
Focusing on vegan ice creams and sorbet, the flavours is subtle, yet divine. Tucked away in the side street of Karlin, but perfect location if you are popping for a summer concert at the Karlin Army Barracks or Farmer's market in front of the Karlin's church.
'Imaginarni Zmrzlina' focuses on additives free, vegan icecream and my favourite so far is Mint and Chocolate, Matcha Tea, but I also love the idea of their sugar free ice-cream only sweetened with chicory sauce.
Location: Prvního pluku street 144/14, Karlín – Prague 8 (side street as you walk from Florence Underground Station (on B-Line Prague Underground)
13. Zmrzlinarna
This is ice-cream place is slightly out of the way, but you can easily get there by tram in 20 min from the Old Town Square.
This ice cream place was founded in 2015 and since then has other 2 shops outside Prague (Nymburk and Kutna Hora). There is a choice of ice-cream (made from a proper cream) or sorbet (made from real fruit) and vegan options too all made with real ingredients without any additives or colourings. Each week they prepare 4 new flavours, so that no matter when you arrive there are different flavours to tempt you with.
I love how people just get their ice-cream and sit outside in silence devouring their ice-cream treat! My favourite so far, is the morello cherry, but every time I visit I have a new favourite flavour. Try any one you like the look of, you can't go wrong!
Location: Branická 264/16, 147 00 Praha 4-Braník (Trams 17 or 3 towards Branik or Modrany)
14. Zmrzku Hned!
Another amazing place that takes their ice-cream making seriously! Proper ingredients, no colourings or strange additives, just pure indulgence! The flavours are pretty amazing too – I've already tried their Strawberry & White Chocolate and Vanilla Apple Strudel and other flavours looked delicious too. I love their idea of 'Laskonka' flavour, which is based on a traditional Czech sweet desert and the ice-cream had crushed 'Laskonka' in (it has a light coconut flavour). Fruit flavours, such as Mango are made from real fruit, which is great to see.
'Zmrzku, hned!' which means Ice-cream, now (or immediately) has a small shop just round the corner from Prokopske Namesti (Square), where you can sit down on a bench and eat your ice-cream in as shade of large church.
You can also buy their ice-cream in a little tubs to take with you back to your hotel or accomodation.
Location: Seifertova Street 496/36, Pragu 3, Zizkov
15. Vanille
Pastries, coffee and homemade artisan ice-cream with innovative flavours, such as spinach, pineapple and banana!
You can't miss this ice-cream parlour as it's just outside the underground stop with a view of the St. Ludmila Church at the Peace Square. It's always busy (because it's quite a small shop), so I usually just take my ice-cream and eat it outside sitting on the park bench outside the church.
Location: Namesti Miru (The Peace Square), Vinohrady, Prague 2 (just outside the underground station or tram of the same name)
16. Traditional Czech Ice creams you can buy in the shops
Apart from the (largely) new ice cream places that started after 1989, there are number of ice creams that are worth trying and you can buy them inexpensively in most supermarkets.
You'll see them in corner shops and ice cream stands, but they are usually 100% more expensive than in a normal supermarket.
You can pick the following ice creams for around 10-20 Kc each depending on where you shop:
Misa – yoghurt ice cream lolly covered in dark chocolate. The classic one is just white yoghurt, but you'll also see strawberry, apricot or chocolate flavours
Mroz – a similar type of yoghurt based lolly just made by a different company
Ruska Zmrzlina – vanilla ice cream sandwiched between two waffles (basically just really good vanilla ice cream that comes in a shape of a larger rectangle (like a small butter). A bit tricky to eat when you are walking around Prague.
STAY IN TOUCH
Hope this blog post inspires you and as ever I'd love to what you think! Let me know in the comments below or catch up with me over on Instagram.
Magdalena
This blog post was originally written on 30 April 2020 and last updated on 09 February 2023