Prague is one of the most visited towns in Europe. It can get crowded at time, but there are still fab ways of enjoying Prague without the crowds. Here are my top tips for avoiding crowds in Prague and enjoying your stay in this beautiful city.
I never thought that avoiding crowds in Prague would be a real issue!
Somehow, I naively, thought that Prague would never get that busy that I would even have to think about something like that! When I was growing up, Prague was just a big town, but since the Czech borders were unofficially closed, I've never really seen people coming to Prague from abroad just to 'visit'.
When my good friend went back to live home in a small town in South Bohemia after she finished her university studies in Prague, saying that Prague was overcrowded and busy, I thought ' Oh, really?' That was in 1998, when Prague was definitely not overcrowded and visited much less than it's now.
After 25 years of living in London, I thought I know what a 'crowd' is! January sales on Oxford Street, anyone?
Whilst Prague was very quiet during the 2020 and 2021 and part of 2022 the travel industry is starting to pick up as people are more confident to travel again. I'm sure that 2023 will see Prague back to it's 'normal' self!
Now, you still have the chance to see Prague attractions without too many crowds, but I'm sure with the summer coming up, things will get busy again.
Little did I realise that Prague was slowly but surely becoming an overcrowded town, especially in the centre.
What was once lovely walk from Wenceslas Square to Old Town Square and then through the King's Route to the famous historic Charles Bridge and beyond, become a tad claustrophobic shuffle behind somebody's sweaty back!
Sorry, if I just spoiled your Prague image, especially if you are doing your research before you travel to Prague for the first time. The fact is that Prague is on the top list of most visited towns in Europe with over 7.5 million people visiting every year! This means that going to the top attractions during peak season and peak hours is just not fun!
To some extent, you should prepare yourself for crowds anyway – yes, there are going to be people there and it can get crowded, but you don't need to do what everybody is doing at the same time!
Places in Prague that are very busy at Peak times (and how to enjoy them less crowded)
Prague Castle Area
Prague Castle is one of the most visited tourist attractions in Prague and it can get insanely crowded.
The Prague Castle area is opened from 6 am to 10 pm (the actual Castle rooms are opened from 9-5 pm most days). There are security checks to get inside the Prague Castle area and there are often long queue.
When walking inside the Prague Castle Complex take a walk through the Old World Streets outside the Castle, which are almost always quiet and peaceful.
Fewer people walk up from Malostranska Underground or tram stop because of the steep steps, but it means that the security checks are quicker there. You can also use the side walk street called 'Na Opysi' which starts further up from the Old Castle Steps (and it's just a steep street with no steps).
Charles Bridge (just avoid from mid morning to late afternoon – choose to walk there early in the morning or later in the day). Cross the river by the other Prague bridges to get to the other side. Explore the Kampa Island instead before heading over the bridge.
Old Town Square (avoid mid morning to late afternoon – aim for early morning or late afternoon/early evening). The square is always busier just before a whole hour as people are waiting to see the main tower clock chime and the figurines appear and move.
Walk from the Old Town Square to Wenceslas Square – use the side streets behind the Estates Theatre, they are as nice as the main street.
The Kings Street walk from the centre to Charles Bridge – use the shortcut through Clementinum (a large library complex) and Marianske Square.
The good thing is that there are still fab ways of enjoying Prague without the crowds and here is how:
1. Visit Prague off-season
The best way to avoid the crowds in Prague is to visit outside the main season, which is in July and August.
Most attractions are open during the whole year, so you can easily spend a few days in January visiting all the indoor tourist attractions while being warm and crowd-free!
If you are not into snowy Prague winter weather, April/May or September/October are fairly warm months, and Prague is a lot less crowded.
READ MORE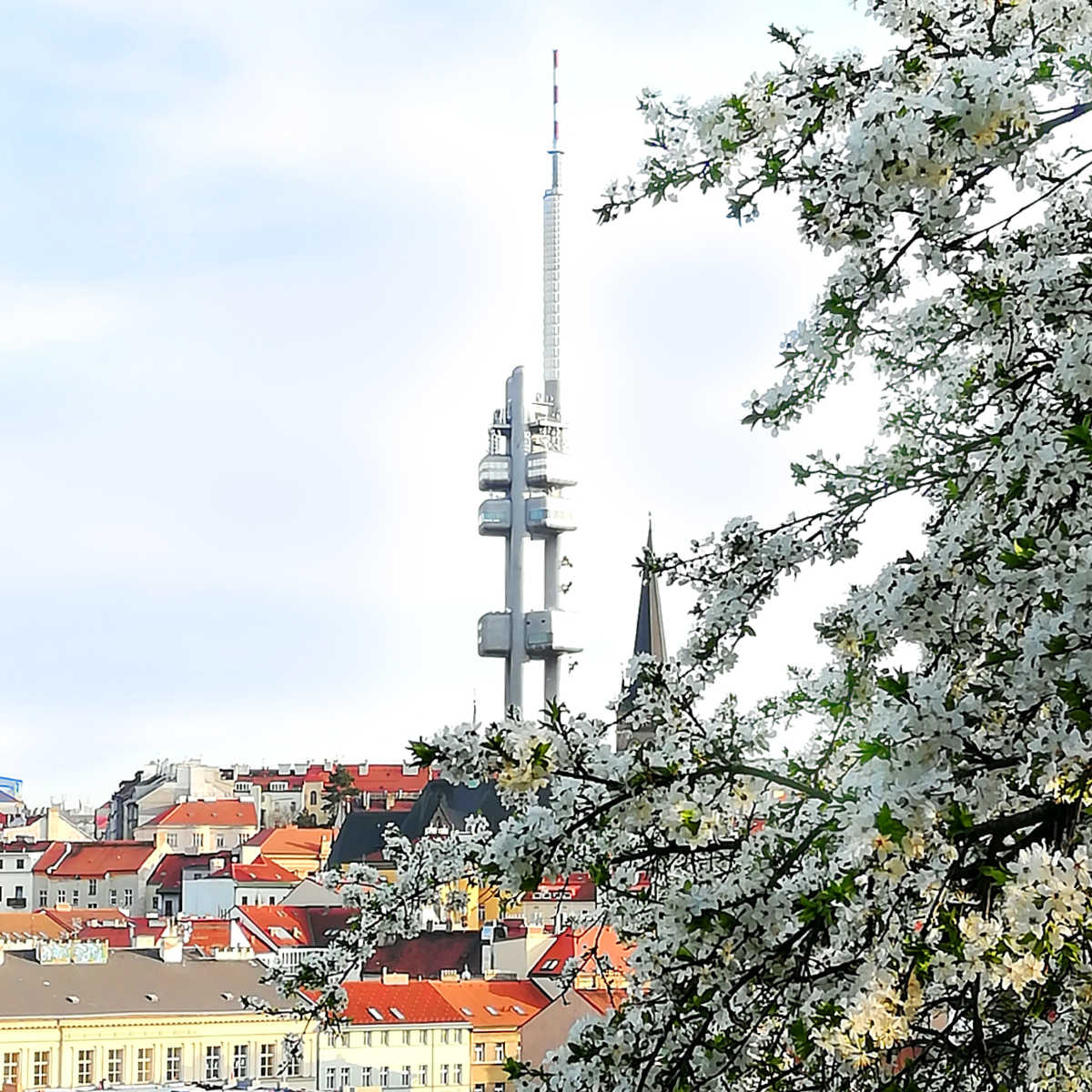 2. stay in a smaller hotel or self-catering apartment off the main centre
Prague districts, like Smichov, Vinohrady, Letna or Zizkov are only 10 minutes or less by the Prague public transport (the underground or by the tram network) to the centre, but you'll be staying in a residential area with fewer tourists and a quiet atmosphere.
You can also enjoy a peaceful breakfast at a local cafe before you head to the centre and eat at a local pub or restaurants in the evening, like locals.
This way, you'll not only escape the crowds but also save a bit of money, as your local eateries are going to be much better value than overpriced places in the centre of Prague!
3. plan ahead what tourist attractions you want to visit
Be realistic about what you can achieve in your time in Prague.
Visiting tourist attractions always take longer than you think, especially if you are visiting the most popular places and they are going to be busy even if you go during the less busy times (like early morning or late afternoon/evening).
Decide to visit one large attraction and few small ones a day, that are less busy. This way you'll be less stressed than if you try to visit all the large and busy attractions in one day.
4. pick your visiting time well
Plan to visit the busiest tourist attractions off peak, after 2-3 pm or right at the start of the day. Most attractions are open from 9 am.
Day tourists would generally have guided tours organised for the morning, so if you can do the afternoon you'll probably find it's much quieter to visit.
Some attractions open until late ( 22 pm in summer), which is worth checking in advance. People visiting for one day only (or people on organised day trips) will be gone by 4-5 pm, and you'll have less competition for space!
5. visit the main attractions during week days
No matter what time of the year you'll come, weekends are always going to be busier than weekdays.
Lots of people visit Prague for long weekends, so if you can visit the main attractions between Monday to Thursday, you'll find them less crowded (most museums and some tourist attractions are closed on Mondays).
6. walk away from the main thoroughfares
90% of all tourists seem to walk through the same streets and use the same routes.
This is probably because all the tourist guides and books suggest the same routes and people don't want to miss anything or don't want to get lost.
If you step away from the main routes and walk in the side street you'll be pleasantly surprised that suddenly you'll have room to move!
I would also walk the main route very early in the morning, starting before 7 am in the summer and perhaps around 8 am in the winter.
This way it will be much more pleasant experience and you can take some nice pictures at the same time.
Mind you if you want to take photos with virtually no people in it, just yourself, you need to get up even earlier – 4- 5 or 6 am in the summer and 7 am in the winter, basically when the sun rises!
7. choose not to do the 'touristy' things
O.K so this might be a controversial thing to say, since you've come to Prague to see Prague's famous tourist attractions, but I often find that if something is too crowded, I can't actually enjoy it anyway.
And it doesn't really matter if it's the world-famous clock, the latest cool coffee place, that everyone has to see or castle that's on everyone's list of things to do.
I'd rather see a different part of the town and have a coffee in the next, but still, totally cool place and have an experience that I really want to remember.
I find that often this is more about the atmosphere of the town, rather than the top 10 tourist attractions.
If you fancy doing something a little different click below to follow my non-touristy guides. My latest travel guide to tram number 9 will take you from one side of the Prague to another with some surprising things to see on the way, including the biggest cherry tree orchard in Prague, Trabant car museum or way to walk to Vitkov National Monument without climbing the hill.
READ MORE
8. Get up early and get exploring
The only way to take photos without any people in it or to walk by yourself in the centre of Prague is to get up early. And by early, I mean really early!
The best thing to do is to check when the sunrise is, which in summer could be before 5 am and during winter around 6 am and be already in the centre at that time.
The effort of getting up will pay off as you walk over the Charles Bridge, take the most beautiful photos and enjoy hearing the birds singing. It's truly magical!
The night photo of Charles Bridge above is actually very early morning on a cold March day. When I arrived, it was still dark, but with the first light, more and more people started to appear!
9. Stay up late in the evenings
This is not completely crowd free experience, but if you are not keen on getting up early, you can also take a walk in the centre in the evening.
Since most visitors (especially day visitors) would want to make the most from their days by starting early (and by 5 pm there will be putting their feet up in their hotels or travelling back home) you can stroll down the centre fairly peacefully.
People who visit for a day or coach parties that are on a tight schedule will usually leave by 4-5pm to get to their next destination and Prague gets a little less busy.
For example my self-guided tour of David Cerny Art Sculptures can be done in the evening, as all sculptures are publically displayed without any restrictions.
READ MORE
10. Escape the crowds by climbing up the hills
There are several places around Prague which are brilliant for viewing the city without feeling crowded.
Letna Hill
Petrin Hill
Zizkov Hill
You can also view Prague from other less know view point, such as the roof of the Lucerna Passage (just of the Wenceslas Square in the centre), Powder Tower close to pedestrian area at the Republic Square or have a drink at the bar on top of Zizkov Tower or Dancing House close to Vltava river.
READ MORE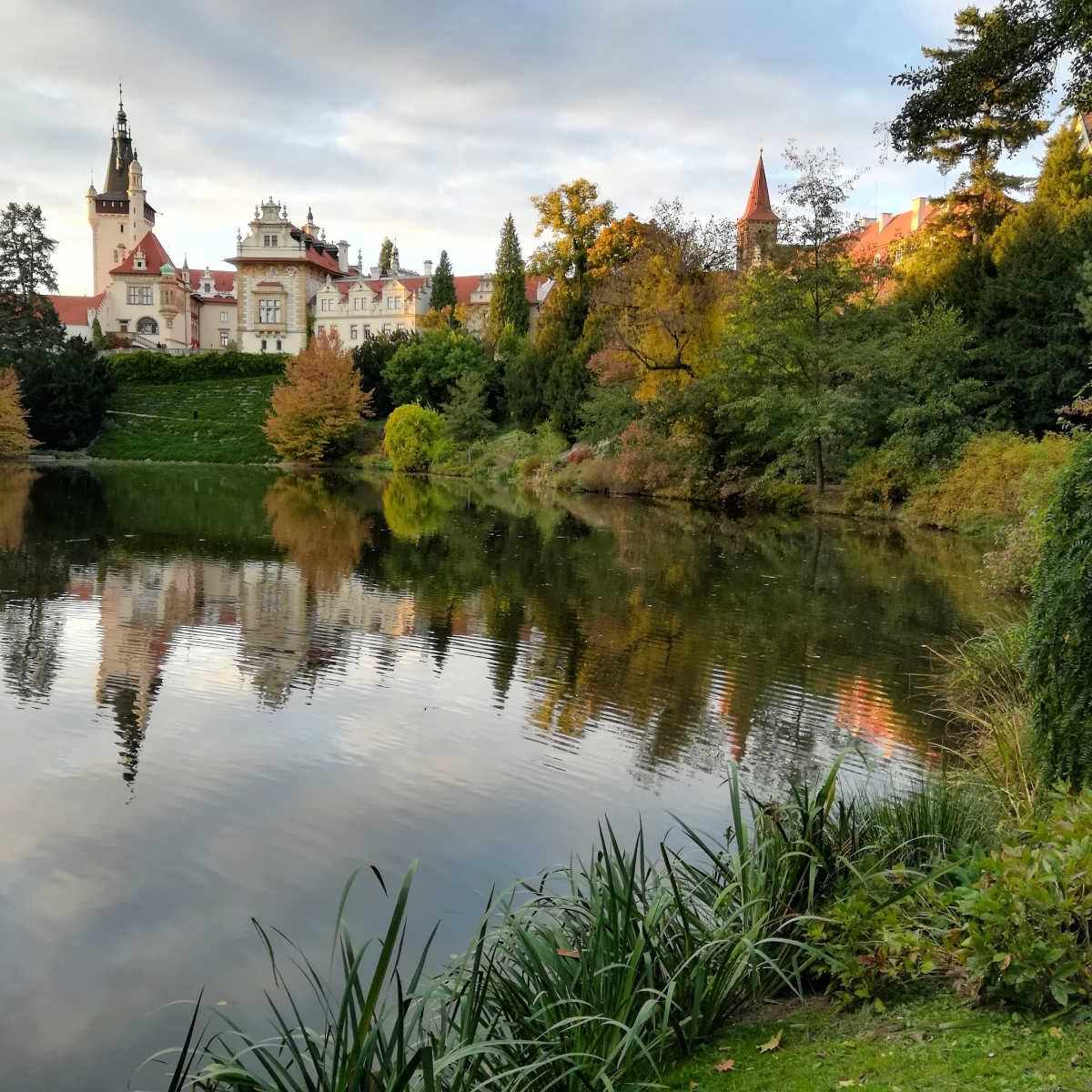 11. Visit the parks and green spaces
There are plenty of green spaces and parks in Prague, even in the centre.
Most of them are visited by locals, because you know there are 'just parks' and not tourist attractions! These are perfect for escaping the crowds, visiting nearby farmer's markets, having a coffee, or locally made ice cream, relaxing for a bit and then carrying on with your exploring.
READ MORE
12. Buy tickets online
If you are planning to visit the Jewish Quarter or Prague Castle, you might like to purchase your tickets in advance to save time when you arrive.
You'll be able to jump the queue and go straight in.
13. Leave Prague for a day
If you have a spare day or two and fancy escaping the crowds (and the town) there are many places to visit by train or bus from the main train station in the centre of Prague, which are as historic as Prague is and they are less busy.
All three main Prague train stations are very easy to navigate and buying a train ticket is very straightforward.
The most popular places to visit on a day trip from Prague are: Karlstejn Castle, Karlovy Vary, Kutna Hora, Cesky Krumlov or Terezin.
STAY IN TOUCH
Hope this blog post inspires you and as ever I'd love to what you think! Let me know in the comments below or catch up with me over on Instagram.
Magdalena
This blog post was originally written on 21 February 2020 and last updated on 23 December 2022