Travelling by tram is one of the easiest ways of getting around Prague and exploring this amazing city at the same time.
It's my favourite way to travel around Prague as you get to see a lot more than if you travel by underground.
It's also a very affordable tram system – with one ticket you can travel anywhere for 90 minutes!
How does the tram system work in prague
The distances between tram stops are usually very short – you can sometimes see the next stop ahead, so even if you forget your stop, you can easily walk back or hop on the next tram going back.
Prague tram system is one of the biggest in the world, in 2020 it carried over 240 million of passengers, which was the second in the whole world (after Budapest in Hungary).
There are several different tram routes and the numbers start from 1-26 for day time trams.
Prague trams are not free, but they are a great value for money.
One standard ticket is only 40 CZK and last 90 minutes, which is enough to get you from one side of Prague to another or take the tram all the way from the centre to the Prague Castle.
Do the Prague trams run at night ?
Night trams no. 91-99 run between midnight to about 4-5 am when the day time trams re-start again.
The nighttime trams use the same tracks as the day time trams but join up several routes together, so that their routes are much longer.
All trams interconnect in the middle of Prague (Karlovo Square or Lazarska Street) where you can change to get the tram you need.
The trams also wait for each other there, so don't be surprised if your tram will stand there for few minutes.
A nice little quirk of the night trams is that the Prague transport department uses the old trams with high steps to get to the tram carriage.
There is also only one carriage, so sometimes it might feel like a bit of a squeeze with everyone trying to get home. Most of the old tram carriages also have the old types of seats which are individually heated from underneath – perfect in the cold Prague weather in winter time!
how many tram routes are there in prague ?
There are currently 26 day time tram routes, 9 night tram routes and 1 historic – tourist tram route operated by Prague tram transport.
There are 275 tram stops spaced out on 143 km of tram tracks across Prague.
types of Tram Tickets in Prague
Short time ticket – 30 CZK
This ticket is valid for 30 minutes only. This type of ticket is perfect for shorter journeys.
Longer time ticket – 40 CZK
This standard ticket is valid for 90 minutes and you can make as many changes as you like and travel on any tram or other public transport.
1 Day ticket – 120 CZK
This ticket is valid for 24 hrs from the time you validate your ticket (including the next day or whenever your 24 hrs runs out).
There is no restriction on this tram ticket. It is valid any time (peak, off-peak, night time) and on any type of Prague public transport, which makes it a such great value.
3 day ticket – 330 CZK
The three-day ticket works in exactly the same way as the one-day ticket, but it's valid for 72 hrs in total.
How to buy a tram ticket
Paper tram tickets can be bought in yellow vending machines at some major tram stations (or at any underground (metro) station). Most of these vending machines take Czech crowns (Czech currency only), and you can also pay with any debit or credit card.
You can also buy tram tickets on the trams, but you need to use your payment card for this. The ticket machines inside the trams are easy to use, you just select the type of ticket you need – 30 or 90 minutes or 24 or 72 hrs ticket and tap your card.
Once you buy your ticket, make sure you validate it in the smaller yellow ticket machine on the tram. The machine stamps it with a date and time, and you have either 30 or 90 minutes (or 24 or 72 hrs) to get to your destination, including any changes. The ticket is also valid on the underground or Prague bus or train.
You don't need to validate the ticket again when you change from one tram to another, just keep your ticket with you.
You can also download an PID Litacka app to your phone and buy your ticket via the app. You need to buy your ticket at least 2 minutes before you board the tram (or any other Prague public transport) and make sure that the ticket is activated within the app otherwise, it won't be valid.
The app is translated into English, so you shouldn't have any problems following the instructions.
Make sure you always validate your tram ticket
A word of warning – ticket inspectors are in plain clothes (not uniforms) and do regular spot checks, especially on the well known tourist trams. Currently, the fine is 1500 CZK, but if you pay on the spot or within 2 weeks, you'll only pay 800 KCZ.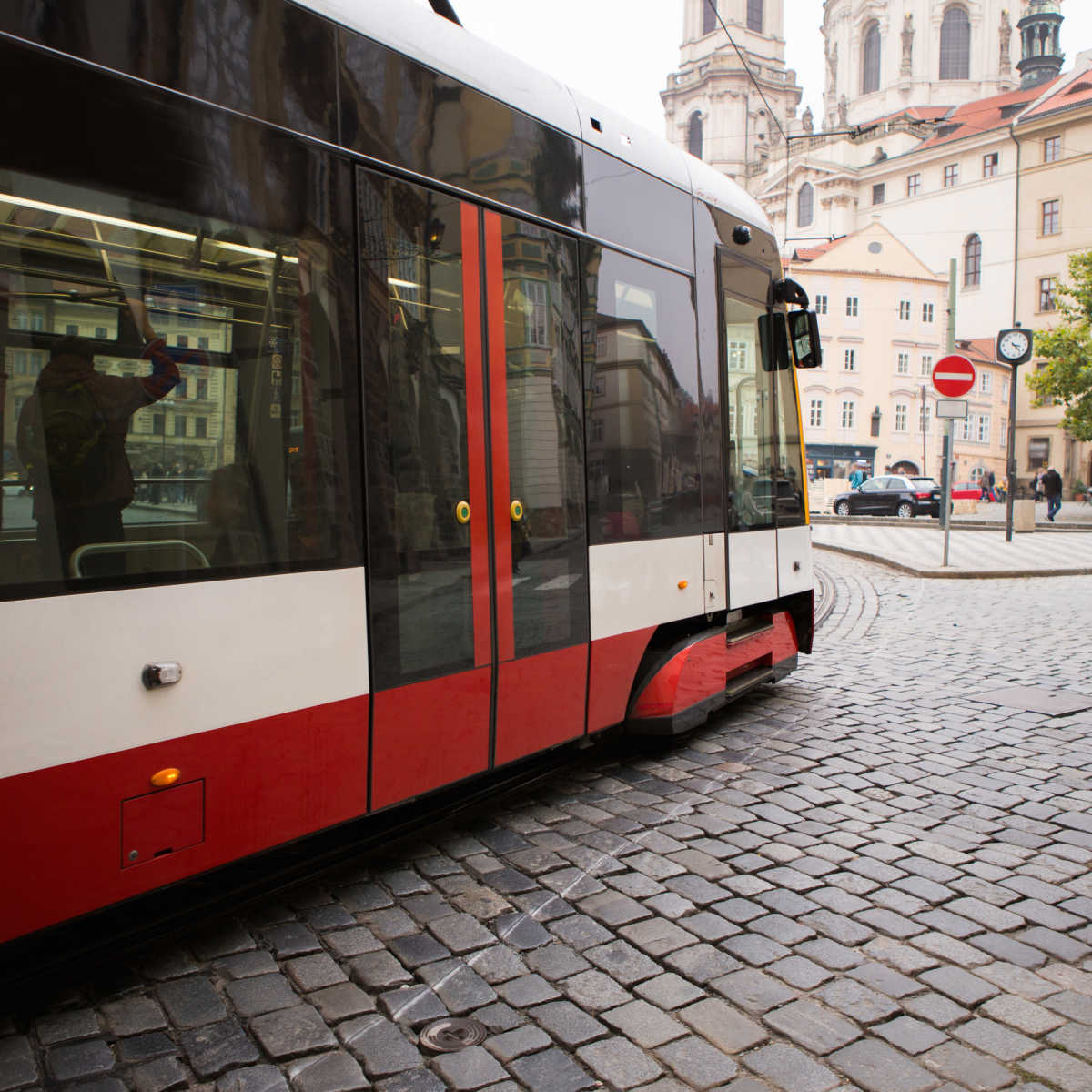 Trams have a right of way on the pedestrian crossing
Whether it's right or wrong, the fact is that in Prague, trams have the right of way at a pedestrian crossing and anywhere on the road.
Do not cross in front of the tram or try to run across the street in front of the tram as you never know how fast the tram is travelling and the tram won't slow down for you. The trams are very heavy and stopping is not easy for them.
If the tram has to make an emergency stop or try to slow down, the trajectory is still quite long, and it might still hit you if you are not quick enough to move away from the tracks.
How to travel on Prague trams
There are a few quirks that might be worth mentioning when travelling on Prague trams.
Don't talk to the tram driver unless it's an emergency, in which case use the emergency button, which can be found in several spots within the tram carriage.
Trams automatically stop at most of their stops. There are few stops (usually on the outskirts of Prague) where you need to press the stop button to get the tram to stop otherwise the tram will carry on and won't stop.
In the winter and the heat of the summer, some tram doors don't automatically open unless you press the circular touch points on the door (new trams) or press the door button (old trams).
I'm assuming that this is because in the winter the trams are trying to keep the heat in and in the summer, the trams that have an air-conditioning need to keep doors closed to prevent the hot air coming in.
Only modern trams with easy access have an air-conditioning. If you visit Prague in the summer and it's a heatwave, it's the only way to travel in Prague without fainting!
It's good manners to give up your seat to older people, people who struggle with mobility or find it difficult to stand without asking. Even better, don't sit on the seat marked with a disabled label next to the doors.
Best tram routes to take you around Prague
Route no. 22
Ujezd, Malostranske Namesti (Lesser Town Square), Prague Castle
This is one of the most used tram routes by tourists visiting Prague. There is a lot to see on this route, not just Prague Castle, which is why I've dedicated a whole blog post to this tram.
Route no. 15
Great tram route to take you from busy shopping centre at Andel, through the historic Lesser town to skirt around the historic train stations and then to the modern Zizkov tower.
Andel – modern shopping centre, two large cinemas, regular farmer's markets
Svandovo Divadlo – Svandovo Theatre (plays are often with English subtitles), entrance to Kinsky Garden and Folk Museum
Ujezd – Petrin Hill and Hunger wall
Malostranske Namesti – walk up through Nerudova Street to the Prague Castle or walk across the Charles Bridge
Malostranska – explore Kampa Island
Cechuv Most – walk up to Letna Park
Dlouha Trida – walk to the Old Town Square through narrow historic streets
Namesti Republiky – for the 1975 department store Kotva or modern shopping centre Palladium (restored army barracks)
Masarykovo Nadrazi – Masarykovo Train Station – one of the three Prague main train stations
Hlavni Nadrazi – The Main Train station with historic ticket offices, now a coffee place
Seifertova – for modern Zizkov Tower with great views, coffee place and restaurant
Route no. 12
This tram route shares the same line with route no 15 through the Lesser town, but then takes you up to the side of the Prague Castle Hill, where you can visit Chodkovy Gardens or continue to Letna Park. The final stops are around the old Prague markets and the exhibition centre on the side of the Stromovka Park.
Smichovske Nadrazi, Andel, Ujezd, Malostranske Namesti,
Chodkovy Sady – entrance to Chodkovy Park or Letna Park, sculptor Bilek's villa with his work and exhibition about his family life
Letenske Namesti
Strosmayerovo Namesti
Prazska Trznice – Old Markets, now large vegetable & fruit markets, art gallery and regular events
Vystaviste – The Exhibition Centre – regular markets, such as pottery, art, handmade crafts, access to cafes, outdoor concerts and indoor sport centre. The main historic exhibition building is currently under re-construction)
Route no. 9
This tram route covers some of the previously mentioned stations, but it will also take you to the middle of Wenceslas Square.
Andel, Ujezd, Narodni Divadlo, Vaclavske Namesti, Jindriska, Hlavni Nadrazi,
Historic Tram No. 42
The historic tram no 42 has a special route through the most historic parts of Prague. It's certainly great to look at and the ride is a very special one too.
The price, however, has recently gone up and now the full ticket (valid for 1 day) is 250 CZK (and the ticket is not valid on the regular trams).
The tram only works on Saturday, Sunday or Czech public holidays and only between 10 am and 18 pm. The frequency is every 30 minutes with a few off-peak hours when the tram goes only every 60 min.
Whilst it's great to travel on the historic number 42 tram, it's equally great to wait for it around the historic centre and take lots of photos!
Tram 42 route is as follows:
Dlabačov – Pohořelec – Brusnice – Pražský Hrad (Prague Castle) – Královský letohrádek – Malostranská – Právnická fakulta – Čechův most – Dlouhá třída – Náměstí Republiky – Masarykovo nádraží – Jindřišská – Václavské náměstí (Wenceslass Square) – Vodičkova – Lazarská – Národní třída – Národní divadlo (The National Theatre) – Újezd – Hellichova – Malostranské náměstí (The Lesser Town Square) – Malostranská – Královský letohrádek – Pražský hrad – Brusnice – Pohořelec – Dlabačov.
Where to take the best photos of Prague trams
I love Prague trams, especially the old red ones as they are very photogenic. Prague makes a great backdrop to these old trams, so I thought I'd share with you my favourite places where to take tram photos in Prague.
The best time to go is definitely very early in the morning – partly because of the light and partly because of the lack of people.
Getting up super early, it's sometimes the only way to escape the crowds in Prague, but it's so worth it! If you are not a tram geek, all of these places are fab to visit anyway!
Dancing House
Take the photo of the tram in front of the Dancing House next to the Vltava River – close to the National Theatre. I've seen some amazing night photography taken there too.
Malostranske Namesti (Square)
Tram stop has the same name (it's the square you arrive at when you cross the Charles Bridge to the Prague Castle side of the Vltava river). Malostranske Square is always busy, so you might need to wait a little before you get the best shot.
Letohradek Kralovny Anny
Get off at the Kralovsky Letohradek tram stop (1 stop before Prague Castle on no. 22). Best view is as the tram is coming down the hill in between the trees. I've taken the winter snow tram picture above there.
Pohorelec (no. 22)
This is a great stop to get off to start walking down towards the Prague Castle and also a great view point for trams as they are coming down from the hill. You can see the Strahov Monastery behind the historic houses.
Stromovka Park
The trams used to go to the end loop at Stromovka Park, but quite often, they don't. The no. 12 route keeps changing, but it's always worth to visit the park anyway as there are always exhibitions at the Vystaviste (Exhibition Centre) and the park is great to walk around in.
Prague tram history
The tram history goes back to 23 September 1875 when the first tram (drawn by a horse) started to run. Electrification of the tram system happened on 18 July 1891 and by 1905 the horse drawn carriages were replaced by electric ones.
The first short horse drawn tram route was from the Legie bridge to Karlin. After that, an electrical tram was trialled by inventor Krizik at the National Exhibition in 1895 close to Stromovka Park and later the tram line was extended to Letna Park.
Another private tram line was build in Smichov (from Andel to Kosire) and also in Vinohrady to connect to central Prague.
At the time areas such as Smichov, Vinohrady, Karlin, Zizkov and other were separate towns there was a complex border control to collect taxes from food brought into Prague (at the time Prague was just what's nowadays the Old Town area and part of the New Town Area).
This meant that every passenger had to declare if they had any food on them and had to pay if they brought any food into the town.
The travelling on the tram system was simplified when the food tax was abolished in 1942.
After the first world war the tram system reached it's 100 km of tram tracks in 1927. There was only a further 43 km built between then and current times.
Some of the tram lines changed once the Prague underground was built in the 70s – 80 s and it replaced some of the connections.
Between 1974 – 1984 the tram lines were removed from Pankrac, Wenceslas Square and Na Prikope (the wide pedestrian street between the Powder Tower and the bottom of Wenceslas Square).
One of the newer tram tracks opened this century include Hlubocepy – Sidliste Barandov in 2003 (to see this part take any tram from Andel towards Smichovske Nadrazi, no 5, 4, 12 or 20).
Future of Prague trams
New plans have been recently passed to return trams back to Wenceslas Square and extend the routes back to the Main Train Station and beyond.
The argument for this, is that the original reason for making Wenceslas Square fully pedestrianised hasn't quite worked, and the trams will return the flow of traffic and visitors back to the square.
Visit Prague tram museum
The Tram Museum is one of my favourite museums in Prague and it's also a great one to visit with children.
The ticket cost 100 CZK and children under 6 years go free. The museum is open all year round, but usually just at the weekends.
The museum has over 50 different trams, buses and troleybuses and a lot of comprehensive displays. Most of these displays are only in Czech, but you can scan the text into google translate and get an instant translation into your own language.
Location: Patočkova 132/2, 162 00 Praha 6-Střešovice, nearest tram stop Vozovna Stresovice tram no 1, 2, 22, 25
When you look on the map, the museum is kind of behind Prague Castle, which means that you can start your day with a museum and then continue walk through the New World Town and then to the rest of the Prague Castle and down to the centre (like my suggestion for one day in Prague itinerary).