Is october a good month to visit Prague?
I would say, most definitely! The weather is much cooler than in September, but it's still warm enough to walk around in few layers and a light jacket most of the time.
Most attractions outside of Prague such as museums and castles are switching to their winter opening times and are usually just open at weekends and for a slightly shorter time.
Prague is much quieter during October and it's much easier to escape the tourist crowds. It's also a great month to venture out of Prague and visit other nearby towns, such as Pardubice, which is hosting the most famous horse racing event in October each year – the Pardubice Steeplechase.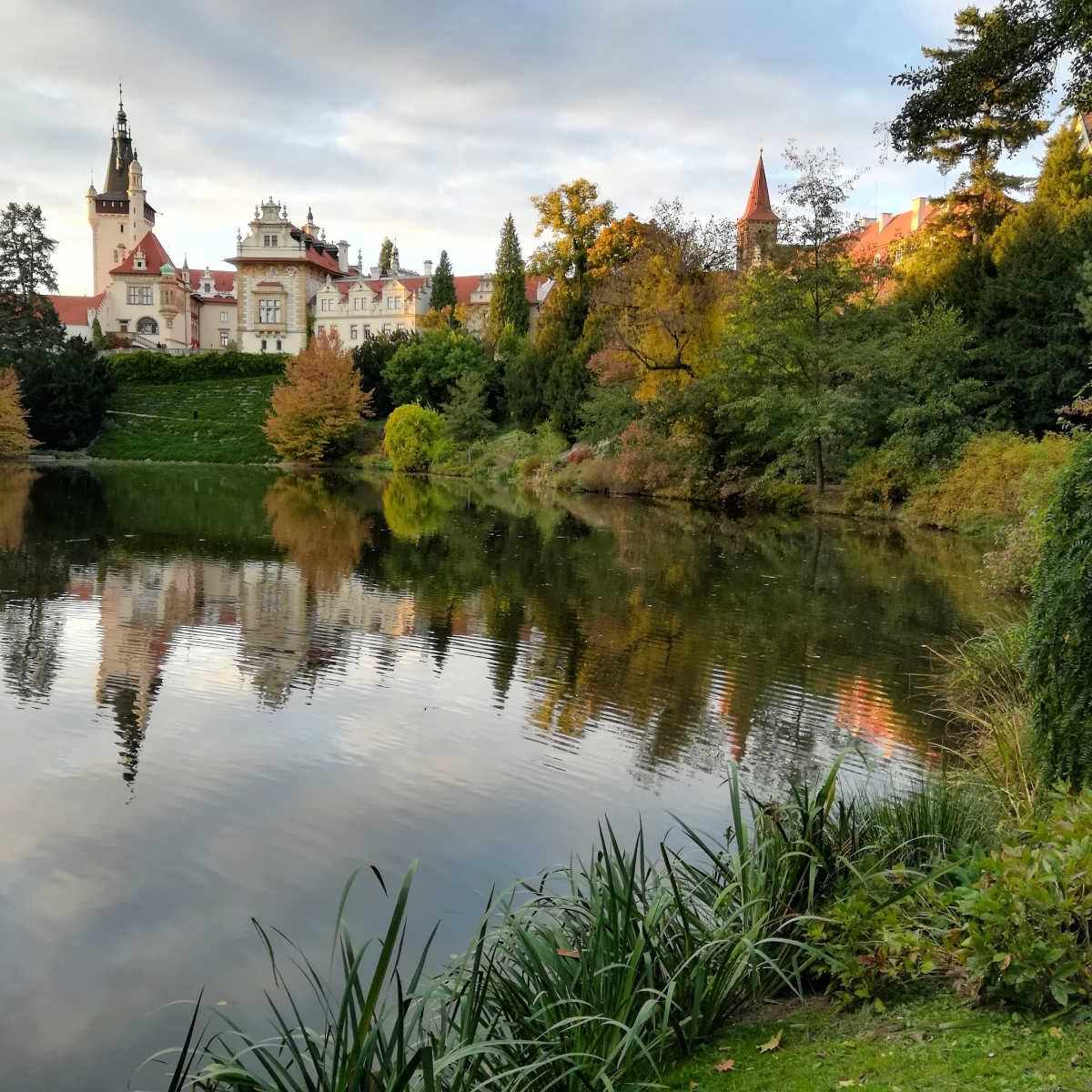 What's the October weather like?
Most years, Prague and Czech Republic would have warm autumn, but by October the temperatures are dropping to 5-10C during the night and 12-15 C during the day. You might get lovely sunny days in October, but it will feel chilly at the same time and especially when the sun comes down in the evening.
October also brings more rain and if you are unlucky you might get days when the sky would be grey and permanently cloudy.
October is usually the first month when most homes (or hotels in your case) start to put their heating on in the evening. If you are renting a self-catering apartment for your Prague holiday, you might want to double check with the owner how to turn the heating on.
What to pack for your visit
Apart from the general packing advice make sure that you have warmer walking shoes, warm fleece or jumper and a mid light jacket or even a winter jacket (although it doesn't have to be the warmest jacket you have in your wardrobe).
I tent to go for warm layers, so I pack a warmer body layer with long sleeves and a short T-shirt on the top. I also bring a hat or a cap as it gets colder in the evening and the wind could be quite freezing.
I usually don't need gloves, but if you feel the cold, you might want to bring some, just in case.
Umbrella is also handy, unless you have a good waterproof rain jacket.
If you are planning to do a longer day trips, it's a good idea to bring a good day backpack and add and extra layer, hat or extra pair of socks for when the temperature drops in the evening.
If you have an early start you'll be probably wearing all your warm clothes in the morning too, so you'll want to have a space in your bag to keep them during day.
Instead of water bottle, I often take a hot coffee flask with me on my day trips. I'd still stop for a coffee or a tea during the day, but you never know if there is going to be a suitable place opened where you are heading.
This is especially useful if you are thinking of travelling further from the centre in the afternoons or weekends.
Important dates
28 October – Czech Independence Day
The Czech Independence Day is celebrated on the 28th of October to commemorate the 1918 break up from the Austrian-Hungarian Coalition. No matter what day of the week the 28th is it will be designated as the day off for. In the same way as all the other official holidays, if the day falls on Saturday or Sunday, tough love, you don't get another day off that year!
If you are visiting Prague around the 28th of October, keep an eye on various tourist atractions, museums and places that are not normally open, because most of the times they offer free or very reduced entry fee.
Things to do in Prague in october
Visit museums & official government buildings
On the 28th of October, you'll have the rare opportunity to visit many places for free or low entrance fee. A lot of government buildings are open for public and you can view behind the scene government buildings, which are based in the old palaces and historic buildings in the central Prague.
What's even better is that the tours are led by the staff, so one year, we had the head of the international business department to show us around the ministry buildings and we even met the minister for that department.
All tours are in Czech language, but I think it's worth going just to check out the buildings. You can always read about the history later and find a lot of information in local English guide books or online.
International Jazz Festival
This is a great way to experience different jazz music in one place. Most concerts are payable, but you can buy tickets just for one or two performances.
Designblok Festival (usually second week/weekend in October)
Modern design, style, fashion, photography, interactive exhibitions and talks are all part of the Designblok Festival. It's hosted in many different locations across Prague and you can attend individual exhibitions or buy a ticket for the whole festival.
Stroll through Prague parks
Autumn is particularly beautiful in Prague, especially as the leaves start turning yellow, orange and red. If you fancy a gentle stroll on a mainly flat surface, then head over to Stromovka Park, where you can see landscaped woodland areas, lakes and plenty of autumn leaves.
If you don't mind a bit of a hike, you can climb steep paths of Kinsky Park or enjoy a glass of vine in the Wine Pavillion at Grebovka Park.
For a day trip in a magical park with a castle and colourful autumn leaves head over to Pruhonice Park, which is open all year round and in October open from 7 am – 7pm. Entry is 100 CZK and the longest walk is over 10 km long.
Festival of Lights (second mid week to weekend in October)
This amazing outdoor festival has been going on for about 6 years and it's organised by a group of creative people called Signal.
Each year there are different routes chosen and the buildings, churches and trees are light up. Large buildings have often light installations or projected moving lights representing the themes of the festival.
Most of the festival is free, as it's outdoors, but there are some areas (indoors) where there is a small entry fee (around 300 CZK for the whole festival pass or individual entrances to various indoor exhibitions for 100 CZK).
The best way to explore the festival and find where the installations are is to download the festival app to your smart phone, which comes up with all locations and detailed information.
The festival is usually open from 7pm – 12 midnight – from Thursday to Sunday second week in October.
STAY IN TOUCH
Hope this blog post inspires you and as ever I'd love to what you think! Let me know in the comments below or catch up with me over on Instagram.
Magdalena