Franz Kafka's Rotating Head statue is a fairly new addition to Prague's list of things to see and it's certainly worth seeing.
Visiting the Franz Kafka's Head statue won't take more than a few minutes and the statue is accessible for free to everyone. If you want to see the head moving, aim to arrive at the whole hour (between 8 am- 9 pm)
Franz Kafka Rotating Head statue background
The statue is built with 42 layers that can rotate in different directions. The whole head is about 11 metres tall. It's built of polished stainless steel which glistens in the light as it turns.
The statue (called the Rotating Head of Franz Kafka) was designed by David Cerny in 2014. The statue cost a whopping 30 million Czech crowns to build and it was partly funded by an investing company called CPI Property Group and the Quadrio Shopping Centre.
The statue weighs an impressive 39 tons (of which 24 tons are the stainless steel layers and the rest are cables and the mechanism engine). The original design was even heavier, but it had to be taken down to 39 tons (from 54 tons) because otherwise it would be too heavy to sit on the top of the car parking underneath it.
The cables inside are over 1 km long and the individual layers move thanks to 21 different motors.
The statue layers are designed so that they are also very energy efficient and once they start to move, their kinetic energy carries on moving the rest of the layers.
The whole statue needs to be serviced every 2 weeks to make sure that everything runs smoothly.
What is the Franz Kafka statue meaning?
The moving head symbolises the complex mind of Franz Kafka, who whilst a brilliant writer, was also a fairly troubled person. He suffered from possibly a personality disorder, had chronic insomnia (he wrote mainly at night) and other health issues.
The layers of the head move in random ways, which represents the different thoughts in Kafka's head and perhaps jumbled ideas and topics in his work.
Who was Franz Kafka?
Franz Kafka was a Czech novelist and short story writer. Whilst his work is deemed crucial for the development of Czech literature, most of Kafka's work can be difficult to follow and understand. The stories are full of surrealism, wild fantasy ideas and absurd concepts. It's certainly is not easy reading!
Franz Kafka was a prolific writer, who destroyed about 90% of everything he wrote because he didn't think it was good enough.
He never married and didn't have any children, although he was linked to a number of women throughout his short life. He passed away in 1924 when he was only 40 years old.
How often does the Kafka Head move?
The head layers move randomly in different directions every hour for 15 minutes. The layers don't always end up back in their original place, so every time you'll see the head in a different way.
Franz Kafka's rotating head only stops fully moving at night (between 9 pm and 8 am), but you can still come and see it any time.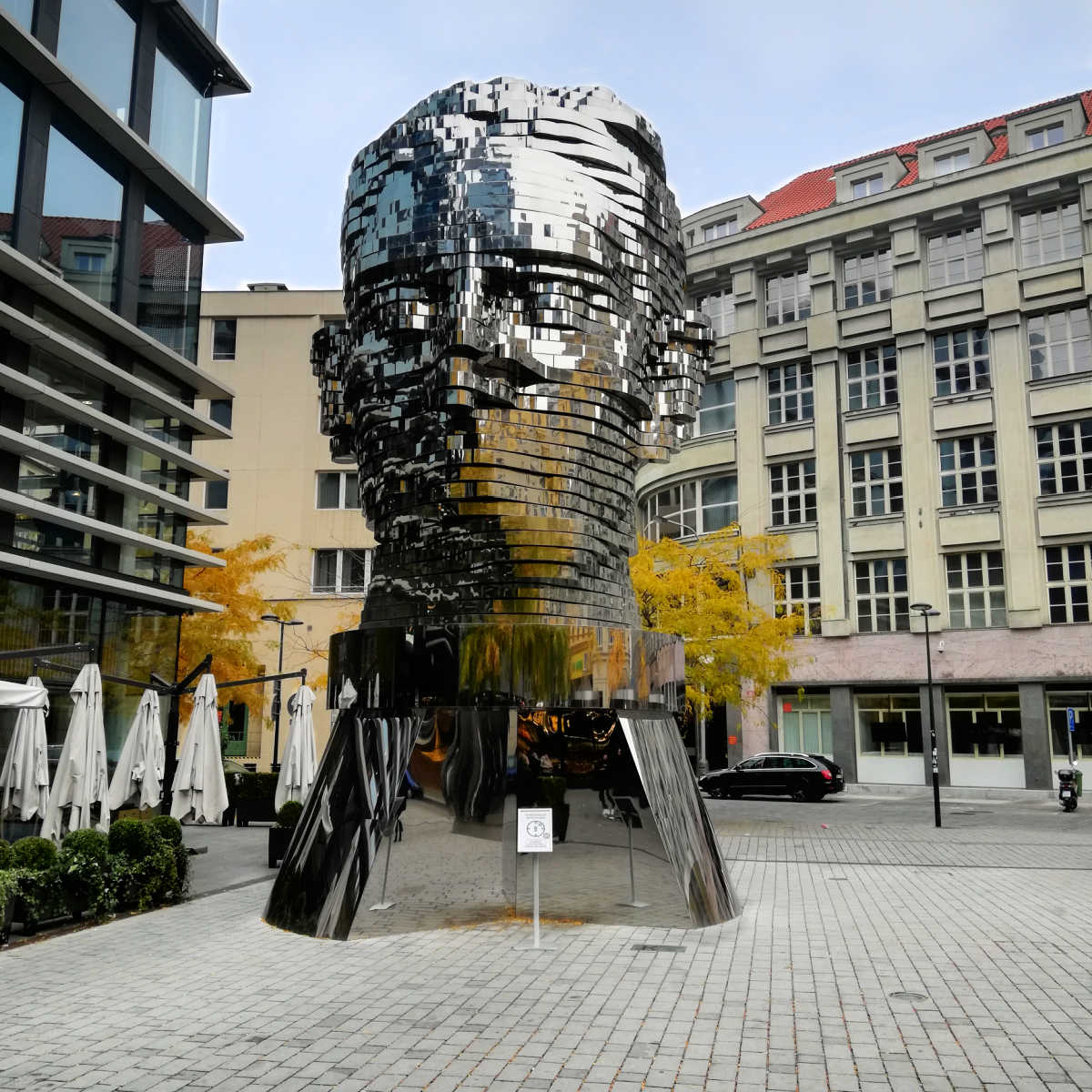 When it's the best time to see the moving Kafka's Head?
The best time is to arrive on the hour, between 8 am in the morning and 7 or 10 pm at night (depending on the season).
The square is never that busy, so you don't need to worry about getting here too early.
If you want to take a photo without too many people wait until the show finishes (about 15 past the whole hour) or arrive about 30 minutes after each hour.
There won't be that many people there at that time, since nobody will be waiting around for the next 30 minutes for the sculpture to move.
Location
Behind Quadrion Shopping Centre at Narodni Trida (National Street), Charvátova Street, Prague 1 – New Town
How to get there
Underground (metro) line B, stop Narodni Trida or tram no. 2, 9, 18, 22, stop Narodni Trida
When you get off, just walk through the Quadrion Shopping Centre (the only modern building in that part of the street) and the statue is just there. You can also walk through the next street called 'Purkynova'.
You can also walk from Wenceslas Square through the back streets and shopping passages.
What you can see nearby
Since you are next to a modern shopping centre, you can top up any snacks or drinks (there is a supermarket in the underground level). There are also many coffee places (one directly opposite the statue) in the area.
There are also two fast food Indian style dining places in the same little square and more fast food places on the top floor of the modern shopping centre.
Other David Cerny's Statues & more fun statues to see
David Cerny's modern statues can be seen in many places around Prague. They are playful and some of them are not as visible and obvious as you might think.
The most known statues are probably the giant crawling babies at Zizkov Tower and at Kampa Island. In the same area, you can also see a statue of two men urinating on the map of Czech Republic in front of the Kafka's Museum.
If you fancy seeing more fun sculptures, take a 5 minute walk towards Charles Square and take Myslikova Street to the Mosaics Hotel (and you can carry on to Dancing House a few streets away).
In front of the hotel you'll see giant mushrooms, which are also on the roof and in the side road you'll see statues of men and women with an umbrella hanging from above. And if you look up you'll also see a giant beetle on the house opposite. These statues are the work of other talented artists Michal Trpak, Alexandra Kolackova and Veronika Psotkova.
This blog post was originally written on 22 January 2023 and last updated on 22 January 2023