If you have only one day in Prague I suggest you start at the Prague castle and work your way down the cobbled streets, walk over the Charles Bridge and finish your walk in the centre at Vaclavske Namesti or Old Town Square.
This is pretty much what I do every time I come to Prague after a long time or if I just want to have a good walk. It combines my favourite places, coffee houses, shops and views of Prague.
While it's not exactly a non-touristy view of Prague, if you follow my suggested walk, you'll find that you'll meet less people than if you start in the centre of Prague.
Apart from the tram ticket to get you to the top of the hill to start the walk, you'll not need to buy any more tickets (besides there is really no good public transport that would connect or take you part of the walk – it's all within the inner town). The tram network circles around the Old Town Square, so you'll always need to walk to get to the main tourist atractions.
Make sure you pack good shoes for your Prague visit, as you'll be on your feet all day and Prague streets are full of cobblestones. Depending on which month you want to visit Prague, you'll also need to pack a sensible clothes for the type of weather you'll encounter.
PRACTICAL TIPS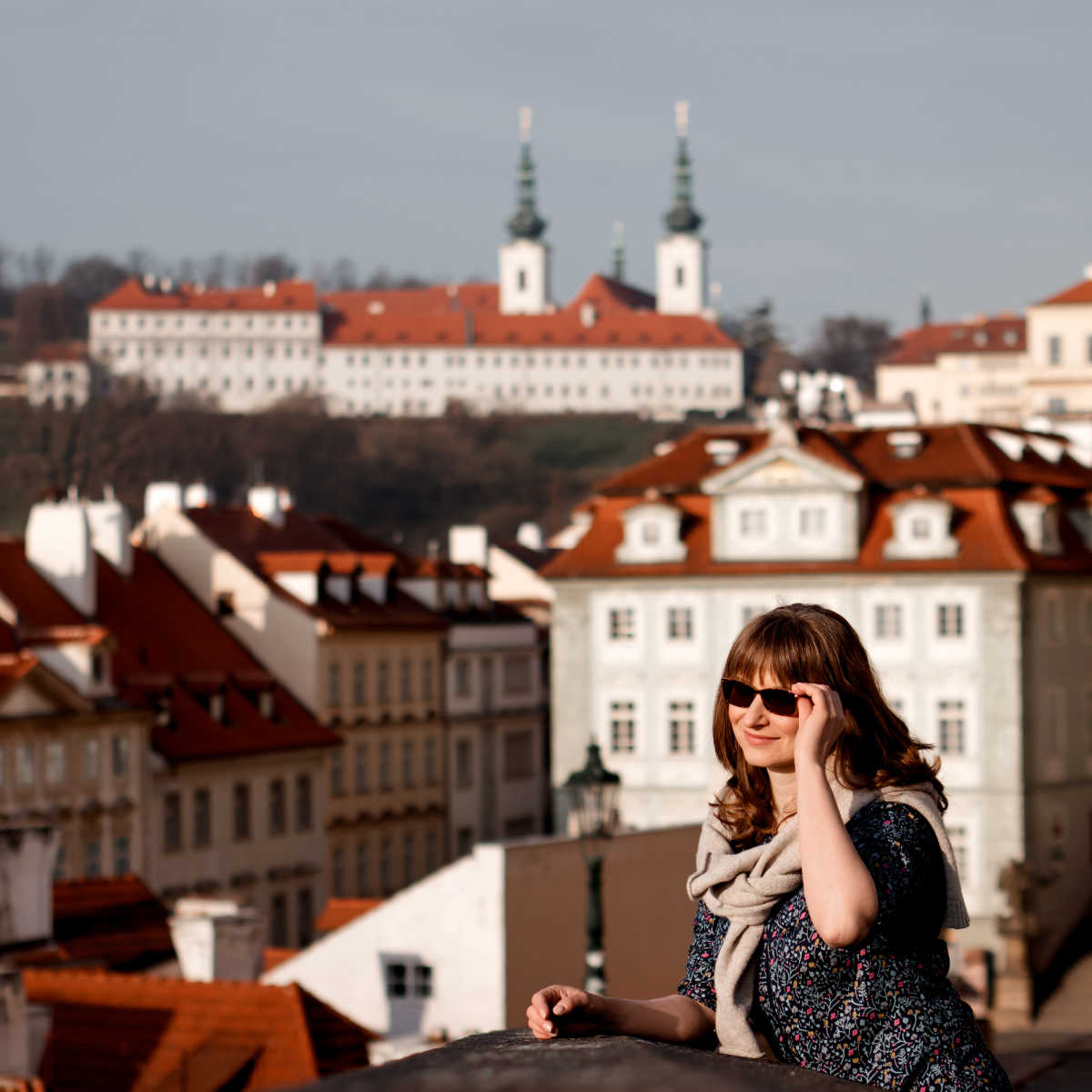 Because this itinerary is for one day only, I'm going to leave out any suggestions of going inside museums, castle or other attractions. Unless it's raining or you have a specific interest in a particular museum, there is really not enough time to see everything. And besides, this view of Prague is truly spectacular in itself.
I'll mention what you can see on the way and you can either decide to visit later or you can easily split this 24 hr Prague itinerary into 2-3 days.
My one day Prague itinerary is also low budget. That's not because I'd planned it this way, but since the best way to see the town is to walk, explore the town away from the crowds and eat like a local, you are not going to need to spend a lot of money.
I've also included optional detours or places to visit on the route, if you fancy to stop for a while or you want to skip a particular area.
One day in Prague itinerary – area by area
Start at Staromestska Metro or tram stop and take the ride up the Castle Hill
We will start with a tram ride up to the top of the Prague Castle Hill, but unlike most people don't get off at the official Prague Castle tram stop, but carry on a couple more to reach the very top of the castle hill. A tram 22 will get you there from the centre or Staromestska Underground – Metro Station.
From Staromestska, the tram will go up the hill first and then turn around and you'll get a great view of Prague and the houses all around Prague Castle.
You'll also pass Ana's Summer Pavilion (Anensky Pavilion) and carry on pass the official Prague Castle Stop. The one you'll want to get off is called 'Pohorelec' and it's 2nd stop after the Prague Castle Stop.
New world quarter – Novy Svet
You will find the streets of New World tucked away behind the Loretta Church square. This is a quarter of Prague that's like a forgotten town from the last century.
Tiny houses, cobbled streets, old-fashioned coffee houses and even a country cottage. Once you walk over to the Prague Castle complex itself, you'll realise even more how very special this area is.
Prague Castle
The Prague Castle complex is open from 6 am, which means you can start your 24 hours Prague day as early as you want to. The beauty is that if you go there sufficiently early, you'll miss most of the tourists and you'll have the castle nearly all for yourself.
I'd suggest walking around with a good Prague guidebook to learn more about the castle. Alternatively, you can just enjoy walking around and taking it all in. Don't miss the large Cathedral (and go behind rather than in front of it to find out another hidden corner of Prague Castle)
Coffee at Lobcowicz Palace
The only private palace within the Prague Castle Complex is the Lobcowicz Palace (Lobkowicky Palac). It has a museum and a gallery, but more importantly, it has a coffee house with amazing views of Prague below Castle hill. Depending on how much time you have at least have a look around or stay for a coffee and a cake.
Return back to the main entrance of the Prague Castle, where you can find more great views of Prague, the Monastery and the Petrin Hill Park area. This is a great opportunity for a photo especially if you get there early in the day.
Nerudova Street & quirky shops
Go back up to the main entrance to the castle and walk down the cobbled streets of Nerudova Street
As you walk down, you'll pass a lot of tourist shops, which are actually pretty interesting. You'll first see a handmade chocolate shop with really good chocolate bean to bars infused with various flavours. Although the chocolate might be a bit pricier than normal chocolate, I think it's nice to try something different and locally made too.
There are also little shops with wooden marionettes, local crafts and a gingerbread shop, which is definitely worth visiting (if only for the amazing smell). Unlike 'trdelnik' which is definitely not a traditional Czech sweet, gingerbread is.
The traditional gingerbread is firm and decorated with white icing with intricate décor. It's delicious to eat and also makes a great present to take home (it's hard, so it travels well).
MORE PRACTICAL TRAVEL TIPS
There are also few traditional pubs, which have food, beer and other drinks, so if you are feeling peckish you can make a stop. Bear in mind that having food in a restaurant might take a bit of time, which cuts into our day.
I prefer to just walk down the Nerudova Ulice and grab a Fried Cheese in a Bun (Smazeny syr) or Hot Dog (Parek v rohliku).
There is a little stall with hot food on the corner of Nerudova Ulice and Malostranske Square as you are coming down the hill. It's been there ever since I remember from my student days and it still has reasonably priced hot food and drinks, that you can just buy and carry on walking.
Coffee stop at Church of Our Lady Victorious and The Infant Jesus of Prague
This is an ideal opportunity for another great coffee break, which you can enjoy in the shade of the Church of our Lady Victorious and the Infant Jesus of Prague in Karmelitska Street.
Unlike other coffee places, this one is run by the church itself, so everything you spends contributes towards the running of the church and the coffee itself is really good!
Vrtba Garden – Detour stop – if you have the time – adds at least 60 min to the itinerary
Vrtba Garden is one of the 'now not so hidden gems of Prague', but it's still worth visiting if you have the time.
There are some amazing views of Prague, the castle and of course the garden is very pretty too – laid out on three different levels, with water features, sculptures and beautiful plants and flowers.
Lennon Wall, Kampa & Certovka Canal
A walk around Prague wouldn't be complete without a visit to the Lennon Wall just off the Kampa Island. After John Lennon died in 1980 somebody painted his portrait on the wall and after that people started to write their own thoughts, wishes and peace slogans.
This was even more prominent during the autumn of 1989 when the students started the Velvet Revolution and the Czech Republic become a democratic and free country again.
Charles Bridge
We are now approaching the most photographed and famous bridge in Prague – Charles Bridge. If you start today's walk really early (like 6 am) you might be lucky enough not to have too many people there.
Otherwise, most of the time, Charles Bridge can be quite crowded, but if you find it like this, just enjoy it for what it is – the most amazing historic bridge with many statues and a great views of Prague Castle, the river and other bridges across the river Vltava.
Klementinum Library Complex
When you cross Charles Bridge you have a couple of options – either go straight to follow the Kings route or go slightly to the left through a large door that leads you to a courtyard of a Klimentinum – a university library.
This is my preferred way to the centre as the Kings Route is often very crowded.
Marianske Square
Walk through the Klementinum and keep left as you stroll through the different courtyards. You will arrive at Marianske Square with yet another library and a town hall.
The Main Town Library often holds open-air exhibitions, concerts and book readings at the square and you can also find a range of small refreshment stalls there.
Fountain with an allegorical statue of the Vltava River (Terezka)
You might also notice a pretty statue of a girl holding a vase. She is called a Terezka and her vase continuously pours water into the well underneath.
The statue is right in front of the Glam Gallases Palace, which is now open to the public after a very lengthy renovation. It belonged to a wealthy family, who had castles and holdings around Liberec before 1948.
The palace was never really opened to the public as the premises were used for archives, so it's a pretty special building to visit.
You can walk for free through the palace courtyard, but to see the inside you need to buy a ticket for an exhibition. There are usually art or cultural exhibitions organized by the Prague National Gallery.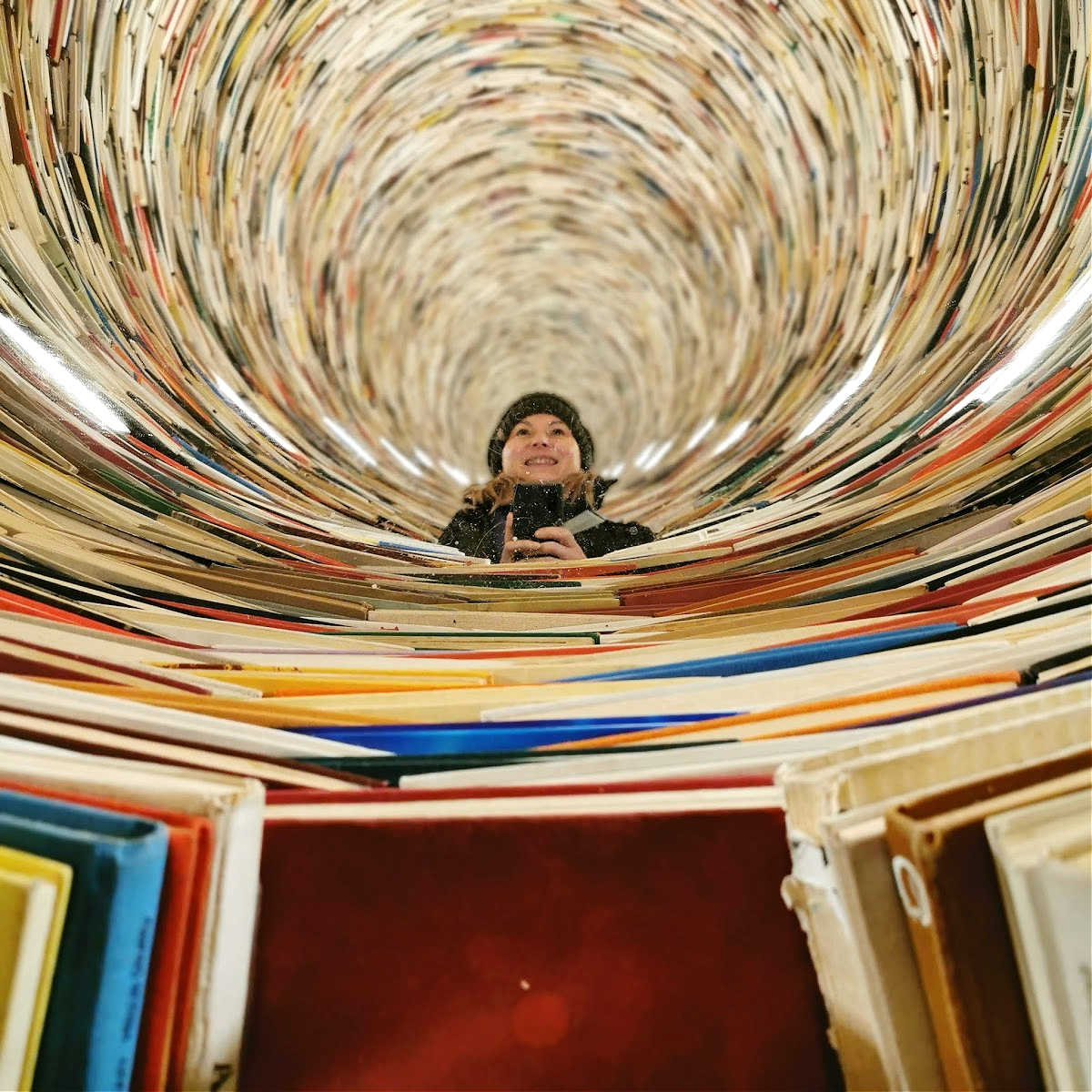 Coffee break & The book installation at the Municipal Library of Prague
The Town Main Library has a coffee place inside which has a good selection of freshly prepared sandwiches, homemade cakes, and decent coffee at reasonable prices.
Also, pop in to the main entrance of the library to have a look at an art installation made from books. The installation is called Idiom and it's been designed by the artist Matej Kren in 1998 and it's made from over 8000 books.
Lunch at the Času Dost Café Restaurant at the Museum of Decorative Arts in Prague
If you have a bit more time, you can also walk towards the Museum of Decorative Arts. The cafe there serves simple but tasty lunches, salads and has homemade cakes and pretty amazing coffee.
Old Town Square
Returning back to our walk, you'll now find yourself at the Old Town Square with it's moving clock, stalls selling souvenirs and many restaurants.
Tyn Square
From the Old Town Square walk through the tiny street called Tynska to get to Tyn and Ungelt Square.
It's a perfect example of what the centre of Prague looked like in olden times with its unique mix of small decorative dwellings right next to imposing Baroque buildings all the time surrounded by attractive archways and glistening cobblestones. You'll find plenty of restaurants, shops and galleries there.
If you have the time you can explore this area further. Just round the corner you'll find the famous Powder Tower where you can view the whole centre and the castle from the top of the tower.
Dinner stop at Ceska Kuchyne
This is totally one of my favourite places to eat in central Prague. Non-pretentious, easy going, simple but tasty traditional Czech food served without waiting and at a great price too!
If you've come to Prague to eat gourmet food at 5-star hotels, this is not a place for you!
But if you are hungry, want to eat right away without waiting or perhaps would feel awkward in a high-end restaurant (that's me, by the way!) and want to try traditional canteen-style food, please come in!
I should mention, that there is a certain way this restaurant works. As you enter the restaurant you'll be given a white ticket. Next head over to the food areas.
The starters and puddings/sweets/hot drinks are at the front and the mains and cold drinks at the back of the restaurant on the left handside. Try a beer or 'pivo' and you'll be charged a fraction of the price you'd pay at a nearby restaurant.
Pick up a tray and wait your turn and point or say whatever you fancy eating. At the same time, give the lady at each counter your ticket and she will write a short code for the meal you've just requested.
The short-codes are not the prices and you'll see special codes for individual portions and elements of the food (like dumplings, bread, cucumber, extra potatoes etc.) Don't be alarmed if it looks like a long list and you've only ordered one plate!
The prices are written on the board and for mains you'll want the meat element (for example 'gulash') and the side dish (for example 'knedliky' dumplings). You can pick and choose whatever you like, if you don't want dumplings with your gulash you can have just bread or nothing, it's your choice.
After you select your meal, it will get plated up for you straight away and you can choose where you want to sit. There are usually plenty of spaces and there is even a little conservatory with wicker chairs.
If at any point you want more food or want a pudding or coffee, just take your white ticket to the other counter and pick what you like.
The restaurant staff asks that you take your empty trays and dishes to a designated area in the middle of the restaurant.
When you are ready to leave, simply hand over your white ticket to the checkout lady and she will total everything up for you.
The Estates Theatre
Before you start heading up to the Wenceslas Square, walk a little sideways to Ovocny Trh (Fruit Market) on the same street as Ceska Kuchyne and you will see the Estates Theatre the oldest theatre still in use in Czech Republic and the whole Europe.
Mozart has performed here many times and even composed an opera for Prague people since he liked it here so much.
Wenceslas Square ( Vaclavske Namesti)
As you walk up the Wenceslas Square, you'll be surrounded by some amazing architecture, shops and restaurants. I usually walk up half way to the Svetozor Passage for one of best ice creams in Prague, traditional cakes (try the 'Spicka' or Vetrnik' and to catch up on the latest art film!
Svetozor shows regular films, but also art films and Czech films with English subtitles. The cinema has 3 screens and there is always something interesting to watch.
Lucerna Passage
If you can't find something you like there, walk across the street to the Lucerna gallery where you'll find not only another old-fashioned cinema, but also an old fashioned coffee house, a sculpture of a horse hanging upside down (oh, yes, that one!) and in the summer you can visit the roof terraces.
If your legs can still carry you (or after you had a good cake, coffee and watched some nice film) walk up to the top of Wenceslas Square where you'll see the main National 'Narodni' Museum which is illuminated in the evenings. The fountain in front of the museum is also lit up in white, blue and red, which symbolise the colours of the Czech flag.
From the top of Wenceslas Square is only 10 minutes to the Main Train Station or Museum Underground Station entrance (Lines A, C) is right next to the statue of St Wenceslas.
I have more suggestion on what to do in Prague in the evenings on my blog, so make sure you check it out.
STAY IN TOUCH
Hope this blog post inspires you and as ever I'd love to what you think! Let me know in the comments below or catch up with me over on Instagram.
Magdalena