Prague public transport is fairly easy to navigate and use. The centre is well connected with the outer boroughs and you'll find that you can get to one place by various different types of public transport. This makes it quite easy if you get lost, because there is always a tram or a bus to take you back to the centre.
The whole of Prague operates a so-called integrated public transport, which means that you only need one ticket and you can use the tram, bus, underground (metro), train, water ferry or cable car for your journey as long as it's within the ticket time restriction.
The types of public transport tickets in Prague
Short time ticket – 30 CZK
This ticket is valid for 30 minutes from validation time. This ticket is perfect if you need to travel few stops or don't want to walk up the hill to Prague Castle.
Longer time ticket – 40 CZK
This ticket is valid for 90 minutes from validation time, which is plenty for any interchanges you need to make, travel across the whole Prague or get from the airport to the centre.
Day ticket – 120 CZK
If you know that you are going to be using public transport during your stay ( personally I think it's the best way to get around the town), you can also buy multi day tickets.
The great thing about these is that you validate them at the beginning and they are valid for 24 hrs or 72 hrs. This means that if you buy the ticket at 2 pm one day, it's valid until 1.59 pm the next day, giving you in effect 2 days worth of travelling.
There is no restriction on this ticket. It is valid any time (peak, off-peak, night time), which makes it such great value.
3 day ticket – 330 CZK
The three-day ticket works in exactly the same way as the one day ticket. If you are in Prague for more than 4 days, I think it's worth planning your days, so that you get the most out of your travel card ticket.
For example, visiting the whole of Prague Castle can take the best part of the day, which means you only need a short term ticket to get to the top of the Prague Castle by tram.
But if you fancy visiting different places, or Prague parks, smaller musems or cafes, it's worth planning them together and then get a longer ticket such as the one day or three day ticket.
Monthly ticket – 1000 CZK
The monthly ticket (valid for any consecutive 30 days) might look like too much money, but even if you are in Prague for 2 weeks, it's still cheaper than buying individual tickets.
More importantly for the sum of approx £33 (1000 CZK) you can use any tram, bus or train within the greater Prague public transport system and you don't need to worry about getting tickets every time you want to catch a tram or remembering to get off because you've run out of time on your ticket.
How to buy and use the public transport tickets
Tickets can be bought in yellow vending machines at the entrance of any underground (metro) station.
You can also buy ticket on the trams and buses, but you need to use your payment card for this. The ticket machines inside the trams and buses are easy to use, you just select the type of ticket you need and tap your card. The ticket is valid straightaway (which makes sense as you are already on the bus or tram).
Once you buy your ticket, make sure you validate it in the smaller yellow ticket machine on any bus or at the bus stop. The machine stamps it with a date and time and you have either 30 or 90 minutes to get to your destination, including any changes.
You don't need to validate the ticket again when you change, say from a bus to a tram, just keep it in your pocket somewhere safe.
You can get paper ticket or e-ticket send (and validated) to your smart phone.
A word of warning – ticket inspectors are in plain clothes (not uniforms) and do regular spot checks. Currently, the fine is 1500 CZK, but if you pay on the spot or within 2 weeks, you'll only pay 800 KCZ.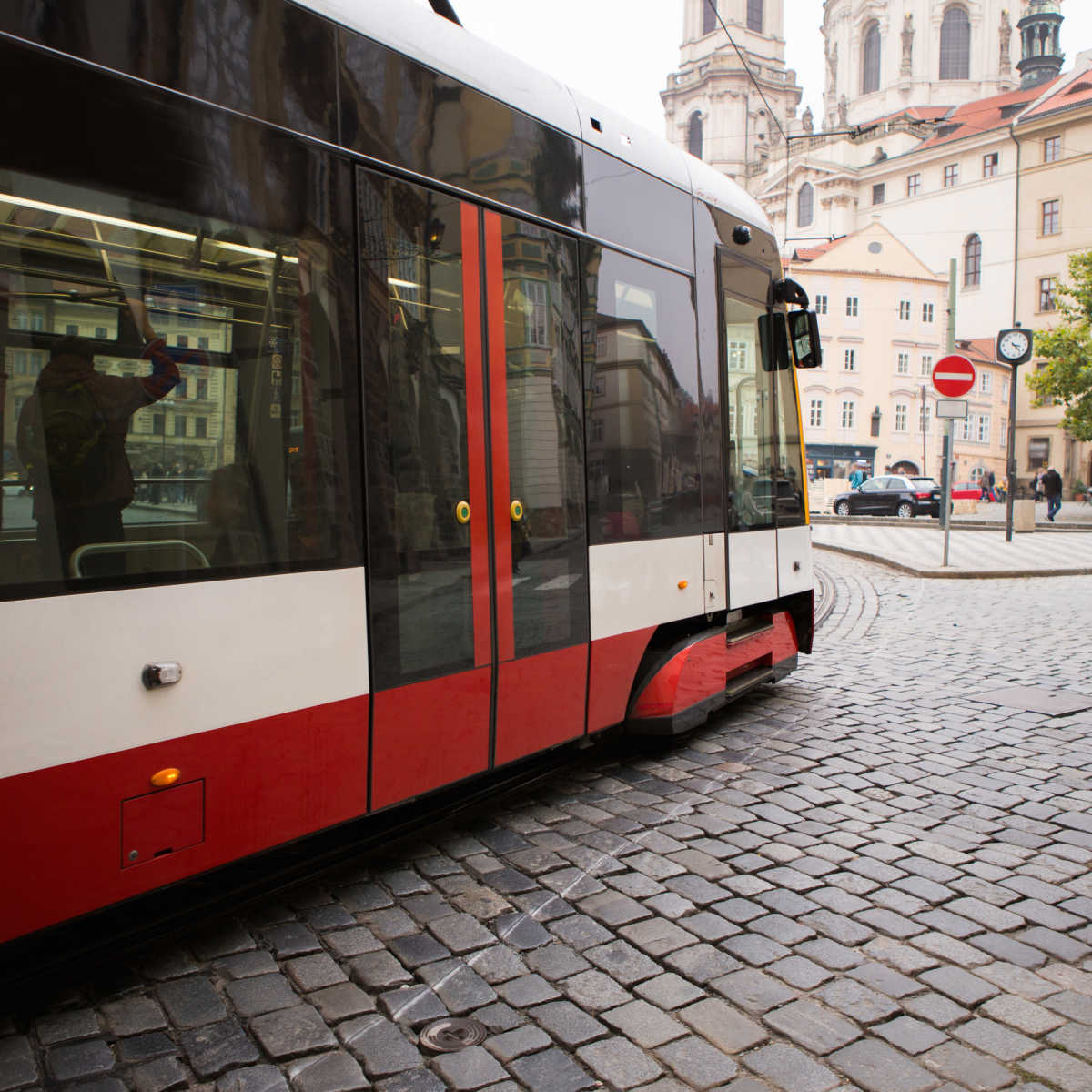 Travelling by Prague Trams
Travelling by trams is one of the easiest way of getting around in Prague. They are frequent and interconnect many places. The distances between stops are usually very short – you can sometimes see the next stop ahead, so even if you forget your stop, you can easily walk back or hop on the next tram going back.
There are several different tram routes and the numbers start from 1-26 for day time trams and 91-99 for night trams (between midnight to 4-5 am). The night time trams use the same tracks as the day time trams but join up several routes together. They usually interconnect in the middle and you can change to get the tram you need.
Travelling by Prague Underground (Metro)
Prague underground has only three lines – Line A, B, C and it's a quick and easy way to get across the whole of Prague. The three lines intersect in the middle and you can easily change to A, B or C regardless on which line you are.
It's usually quicker to cover longer distances by underground and then change to tram for the last few stops to get you wherever you need to go.
The metro (underground) opends at 5 am and closes at 12 midnight. The last train leaves from the last stop by midnight, so if you are a few minutes late past midnight you might still be able to get your train.
Travelling by bus
You will only find one or two small types of buses in the centre as the rest are more on the outskirts of Prague or where the trams can't go (anywhere up the hills!).
You can buy a ticket inside the bus or sometimes at the bus stop. The same ticket is valid on the bus as it is on the tram or underground.
One thing that's worth mentioning is that buses beginning with 300 are outer Prague busess. They usually start within the Prague zone, but quickly leave the zone valid on your regular ticket. You can easily buy ticket on these buses, in fact the driver only opens the front door, so that you have to pass by him – either showing him your ticket or buying a ticket from him. This for example happens on the bus to Pruhonice Park or Melnik.
Travelling by train
The chances are that you probably won't be travelling on the trains within the Prague travel zone as trams, underground and buses are much more convenient.
If you fancy a day out from Prague, for example to Pardubice, you might start your day at one of Prague few main stations and buy your train ticket directly there. Most trains leave from the Main Train Station (Praha – Hlavni Nadrazi) and only few start from Masarykovo Train Station (Masarykovo Nadrazi).
Other Prague train stations are linked with either Main station or Masarykovo Train Station and trains don't usually start from there.
Travelling by water ferry
One of my recent discoveries is that you can use the regular public transport tickets to travel on the water ferry! I mean, how cool is that!
There are 6 water ferries connecting the Vltava river banks at different points across the town. They are usually in the places that are not that well connected via other means of transport or there are no bridges around.
For example, you can walk around Karlin in the morning and then take the ferry to Holesovice to go to the marketplace, visit the art gallery or have a coffee in many coffee shops around the Holesovice quarter.
Another fab way of using the river ferry is to walk from Stromovka Park to Prague ZOO or to the Botanical Garden in Troja, using the interconnecting foot bridge and the ferry. The ferry is in operation whilst the foot bridge is being repaired.
Four out of the six river ferries operate only in the summer time (March – October), but two remain open all year (these are not in the centre of Prague, but in Sedlec – Zamky and V Podbabe – Pohori)
Using the Petrin Hill Cable Car
Petrin Cable Car is a great way to travel up the Petrin Lookout tower and Petrin Park. You'll find the cable car at Ujezd as you get off the trams no 9, 12 or 22.
The tickets requirements have recently changed and unless you have the day, three days or 30 days travel card, the regular tickets are not valid and you need to purchase a separate ticket (60 CZK) valid on the cable car only.
You can see that if you plan to use the Cable car, it's definitely worth paying double for the day travel card and then use it for the rest of the day.
STAY IN TOUCH
Hope this blog post inspires you and as ever I'd love to what you think! Let me know in the comments below or catch up with me over on Instagram.
Magdalena