Traditional Czech breakfast includes scrambled or boiled eggs with sausage, rye or sourdough bread, pancakes with plum jam and various pastries.
Sounds like an easy question, but the answer is more complicated than you think! I'd say that these days, Czech people are increasingly eating based on their own preferences, lifestyle and diets.
This means steering away from, what's perhaps perceived as the traditional Czech breakfast.
The good thing is that now when you visit Prague, there is such a good choice of different breakfast foods, that no matter what you like you should be able to find the perfect breakfast for you!
RELATED
What is traditional Czech Breakfast?
By traditional, I mean breakfast that I remember most people had what I was growing up in the 80s and 90s.
During the working week or school days, you wouldn't have time to have a long breakfast, so that meant having a quick tea (Chinese tea with milk and sugar) and a roll (rohlik) with butter and sliced hard cheese.
Actually having a roll would have been a treat, most of the time it was a dark rye sourdough type of bread. Sometimes the cheese slice was replaced by a meat salami slice.
I'm not sure how traditional this would be, but people would also have leftovers from last night for breakfast – even foods like homemade goulash or make leftover dumplings with scrambled eggs.
How do you say 'Breakfast' in the Czech language?
Although most restaurants or coffee places in the centre of Prague will have an English menu (and most Czech people speak English ) it's worth knowing the Czech word for breakfast, just in case you needed.
So, breakfast in Czech language is called 'snidane'.
Breakfast Drinks
Tea
Most of the time we would drink Chinese tea with milk and sugar (the more delicate – weaker style tea than for example traditional English tea, which is much stronger tea from India).
Sometimes we would drink tea with sugar and lemon.
Coffee – Turecka Kava
Adults would usually have 'turek' which is still officially referred to as 'Turkish Coffee'. It's basically ground coffee in a glass or a mug which is poured with boiling water and left to infuse. You drink it as it is or with sugar and milk.
The coffee grains stay at the bottom, so you first have to wait for the grounds to settle and then drink it carefully so that you don't disturb them!
You can still see 'Turecka Kava' listed in many cafes, especially the more traditional ones. It's usually the cheapest type of coffee and honestly, it's not as bad as it sounds. It's basically like a French press coffee only with the grains still in.
Chicory Coffee – Melta
On Sundays, when we had more time for our breakfasts, we would always make 'melta' coffee, which is a chicory type of coffee without any caffeine and perfectly suitable for children. We would drink it with sugar and lots of milk.
My mum would make it in one big pot on the stove with milk and sugar already in and we would just help ourselves as much as we wanted to.
You can now buy Melta coffee in the shops, either as small infusion bags (like a coffee bags) or instant granules, which only need to dissolve it in hot water or milk.
Savoury Breakfast – Hot Dogs, Sausage, Scrambled Eggs
A lot of Czech people would start their day with scrambled eggs and rye bread with unsalted butter. The bread would be just buttered, but not toasted.
If you had a physically demanding job, you would also try to fuel up with some long hot dogs type of sausages (parky), rye bread (or a roll) and mustard.
There are two basic types of mustard – the light, slightly milder mustard and one that's spicier and with more flavour which is called 'Kremzska Horcice'.
Traditional Czech Sweet Breakfast pastries
Sweet rolls (Loupaky)
Loupaky (Sweet rolls) are slightly sweet, light and soft rolls shaped like a U (or slightly bent) and usually topped with whole poppy seeds.
They taste like challah or brioche (but not as sweet) and they are usually eaten as they are or with butter and jam.
A similar type of dough (but often richer, with almonds, raisins etc) is used for Easter Mazanec or Christmas Vanocka, which is eaten for breakfast during these festive public holiday.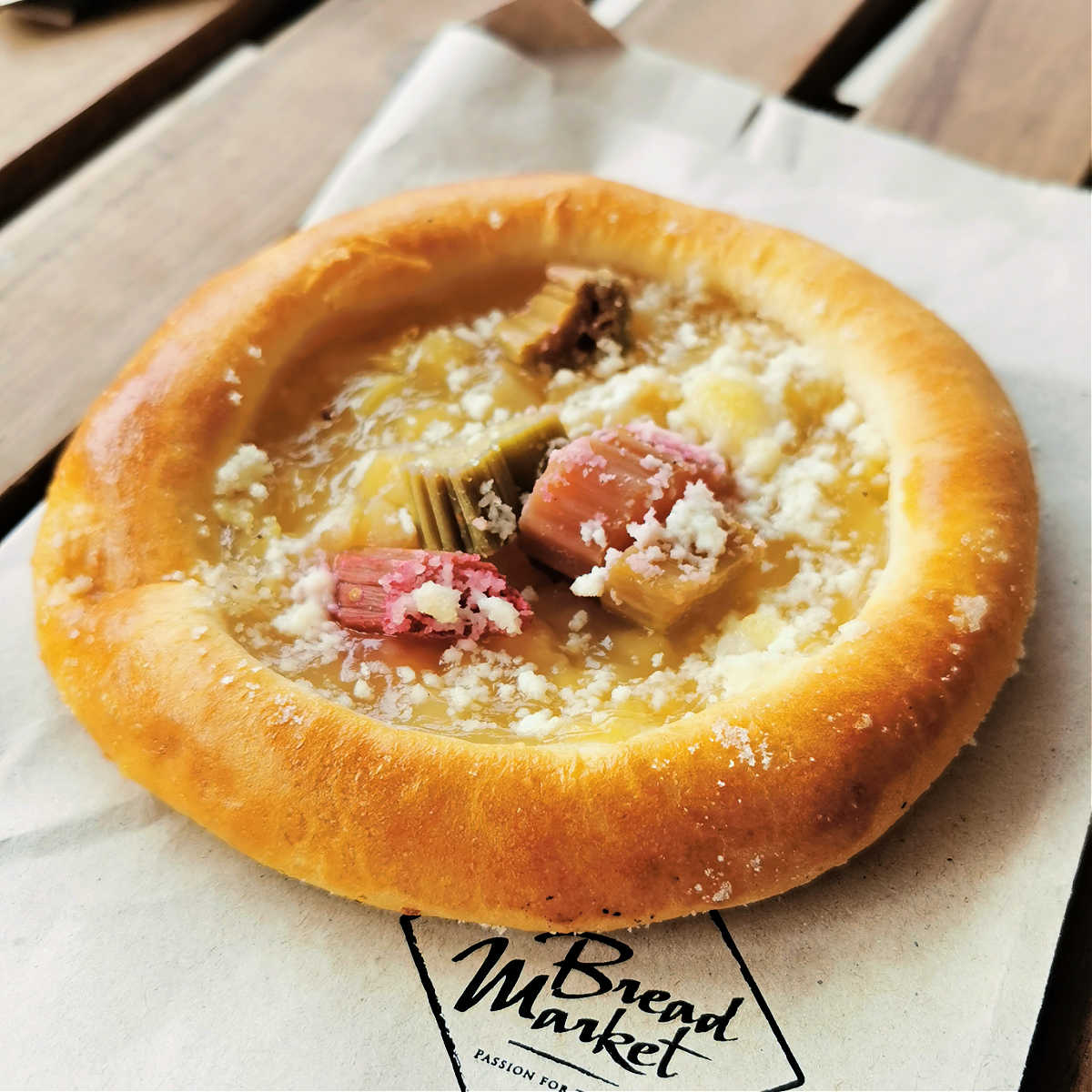 Sweet-filled cakes – Kolace
Kolaces are made with enriched sweet dough and filled or rather topped with poppy seeds filling, apple filling, special cheese curd with raisins and also walnuts filling.
Kolaces are eaten for breakfast or mid morning snack with a coffee. They are absolutely delicious, but suffice to say, not the most healthy option!
You can buy kolaces in any bakery on the main streets or pop into any supermarket in the town (Albert, Lidl, Tesco, Penny).
Whilst the supermarket's versions of kolace's are O.K (and they are very affordable at between 15-20 Kcz), I often buy them from smaller artisan bakeries such as Kabat (they have a small booths selling cakes/bread and ready-made sandwiches and filled rolls).
You pay a little extra, but the flavour (especially the filling) is much nicer and has better quality ingredients.
RELATED
Satecky
You can also see various other pastries in the shops, such as filled or double filled triangles 'Satecky' (the same type of sweet dough and the same type of fillings, just used inside the cake).
Doughnuts – Koblihy
The traditional doughnuts made in the Czech Republic are always filled with jam and don't have a hole in!
The jam flavours are usually apricot or strawberry, but the modern versions of the filled doughnuts also include chocolate or vanilla pudding.
You can buy koblihy in any supermarket or artisan bakery as it's a staple morning sweet pastry bake.
Pancakes – Palacinky (large thin type like a crepe Susette) or Livance (thicker smaller types made with yeast).
During the weekend and when we had more time in the morning, we would make pancakes and then add cheese curd (tvaroh), fruit compote or jam as a topping. It was such a treat!
Gugelhupf – Babovka
On a Sunday and especially if it was a special day, you might also be offered a type of Gugelhupf cake – usually vanilla flavoured or two toned one – vanilla and cocoa.
This kind of babovka – Gugelhupf cake has a fairly plain flavour and can be a bit dry. It is eaten on its own with coffee or tea.
My grandmother wouldn't make her own 'kolace' but she would always bake the babovka. It was easy to make, no fuss kind of cake either risen by baking powder or with yeast.
Traditional Czech Bread for Breakfast
Traditionally (and even now) you would not find a white large bread in the shops.
The typical type of Czech bread is a sourdough rye & wheat flour type of bread often flavoured with caraway seeds. It's not exactly a true sourdough bread, but it does usually have a sourdough type of starter mixed in, so the final flavour is a rich, deep, earthy and slightly tangy type of bread.
It's completely delicious and you can see it served anywhere for breakfast or as a side dish with hearty meat goulash.
Rohlik & Houska (Czech rolls & buns)
The traditional rolls & buns are made from white wheat flour and don't have any seeds or flavours. The more contemporary rolls are made with different types of flours, seeds, dark sugars and non-gluten type of flours.
Topinka – Toasted/Fried Bread
Whilst you might eat topinka as a quick supper snack, we also sometimes had it for breakfast, which is why I'm mentioning it here.
Since most kitchens didn't have a grill or a toaster in the 80s or 90s, we would make our topinka on frying pan with a bit of butter.
The butter would melt in as the bread would toast. Often we would eat it as it was, but traditionally you ment to brush the topinka with cut garlic clove on the top.
If you want to try these without making them at home, there is a fantastic 'Topinka' stall at the Naplavka Farmer's Markets most Saturdays, where you can sample topinka's with a lot of different toppings. And the cool thing is that they use the traditional stove to toast the bread, so it looks really good!
Smazenka
I think 'smazenka's' are coming back to fashion! If not, you've heard it here first, because I think they are!
So, what exactly is 'smazenka'? It's a sort of scrambled and then fried eggs in to a shape of an omelette and then arranged on a large slice of rye & wheat bread and topped with mustard.
It's very tasty and it makes a pretty good breakfast as well as a nutritious snack throughout the day.
I've seen them selling at my favourite deli 'Libenske Lahudky' in Andel (the corner where the bus station is, Prague 5 district) and in Jindriska Street on the number 9 tram line (and other trams) one stop before Wenceslas Square in the centre of Prague.
Breakfast Condiments
The savoury type condiments served with breakfast include mustard or the spicier type of mustard or ketchup.
Sweet condiments include jams or honey. These days, you will also see marmalade (condiments made with bitter oranges), but since you can't grow oranges in the Czech Republic, there is no history of marmalade making until fairly recently.
It's more common to see strawberry or apricot jam and one of my favourites are 'Svestkova povidla' – the plum jam. It's not actually made like a jam – it's very thick and made by continuously simmering the plums until they thicken.
The traditional version doesn't include any sugar (as the plums are reduced and they become sweeter and sweeter).
Butter is always unsalted and it's not traditional to sell salted butter in the shops.
If you do find salted butter in the shops or in your hotel breakfast table, then it's specially bought in and definitely not produced in the Czech Republic.
What can you expect to find in Prague for breakfast now?
The contemporary breakfast offerings are quite often influenced by other countries, so you'll find freshly baked croissants, danish pastries, buttermilk pancakes, waffles, poached eggs with ham, smoothie or porridge bowls with fruits and seeds, hot oatmeal with honey, granola & yoghurt, thick yoghurt with jam, breakfast cereals and anything else you can think off!
If you want something like a traditional cooked English breakfast in Prague go for the meat and savoury options on the menu as they will be closest to what you know.
Sadly English bacon is not widely available in the Czech Republic and even when the menu says 'English Bacon', the bacon you'll get will be thin and quite often greasy.
Czech breakfasts also usually don't include beans, grilled tomatoes (if there are any they will be fresh) or mushrooms.
To drink you'll find a wide selection of different coffees, teas and freshly squeezed orange juice. The orange drink will often be referred to as 'fresh' (in English) with no mention of orange or drink in the name. I guest that's just a Czech way of being trendy and yes, I know weird, right? When I first saw it on a menu I had to have it explained!
STAY IN TOUCH
Hope this blog post inspires you and as ever I'd love to what you think! Let me know in the comments below or catch up with me over on Instagram.
Magdalena
This blog post was originally written on 25 March 2022 and last updated on 10 January 2023