Trdelnik (also known as chimney cake) is a light sweet bread dough (pastry) that's popular in Prague (Czech Republic). In this blog I wanted to give you an ultimate guide to trdelnik's history, recipes and where to buy the best trdelnik in Prague.
Over the last few years, trdelnik has become an increasingly popular sweet treat sold in the centre of Prague and other main tourist towns in the Czech Republic. I'm sure you've seen trdelnik on somebody's Instagram or Facebook and now you are keen to try one yourself. Trdelnik has been promoted as a traditional Czech sweet pastry, but as you will see not everything is as it seems…
I'm writing this blog post as much for you as for me, because when I first came across trdelnik a few years back I was naturally suspicious. What? Traditional? I've never seen this anywhere before, and I was born and brought up in the Czech Republic! So, if you, like me want to know why trdelnik became such a hit, the origins and where to buy the best trdelnik in Prague, carry on reading…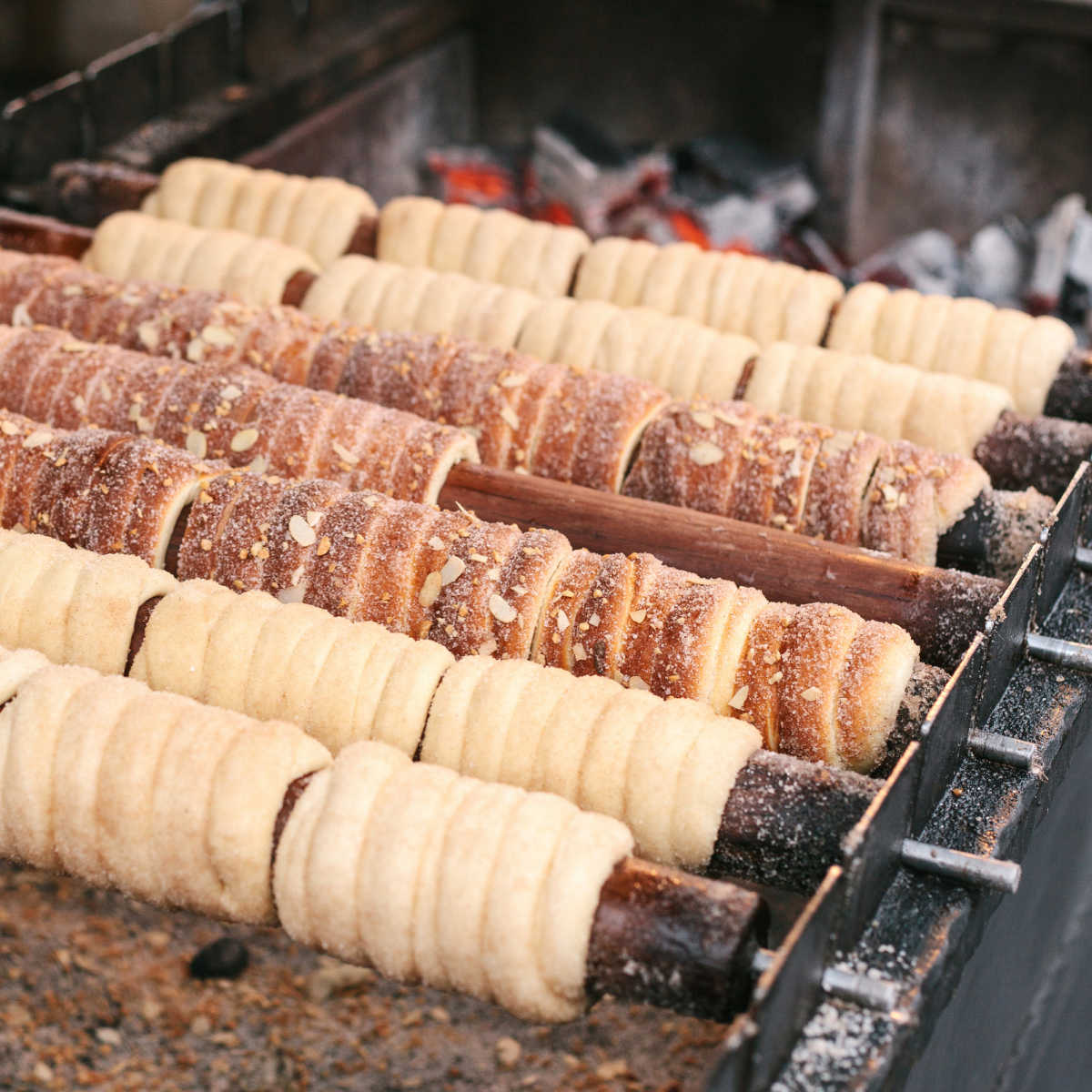 What is 'trdelnik' ?
Trdelnik or sometimes known as chimney cake is a light sweet bread-like dough (pastry) that's fairly thin and hollow inside. It looks like a short tube (about 10 cm wide and about 15 cm long).
The trdelnik is baked wrapped around a hot iron tube over a hot coal and when done it's rolled in cinnamon sugar or sugar and ground walnuts or other nuts.
Trdelnik (especially the conical version of trdelnik, which looks like a large ice cream cone) can also be filled with fruit, ice-cream, chocolate sauce and other sweets.
How is trdelnik made?
Trdelnik is made from sweet bread-style dough that's prepared first by mixing, kneading and resting until it doubles in size. Sometimes the dough is rested twice depending on the recipe.
When the dough is ready, thicker strands of the dough are rolled out and gently twisted around an 8-10 cm wide metal rod (traditionally the rod would be made out of wood). The metal rod is placed over a low burning wooden coal, which is slowly rotated, whilst it bakes. The baking takes about 5-7 minutes depending on the size and coal temperature.
While the trdelnik is hot it's carefully slid off the metal rod and quickly rolled in cinnamon sugar, ground walnuts, coconut or other toppings. Egg white is sometimes used to make sure that the toppings stick well to the surface of the dough.
Afterwards the trdelnik is ready to be filled with more sweet treats or drizzled with chocolate or other sauces.
Trdelnik can be eaten hot or cold.
What does trdelnik mean in Czech language?
The name trdelnik comes from the name of the original wooden, but nowadays stainless steel stick, which is used for wrapping the pastry round: the name of the stick is 'trdlo'.
The funny thing is that if you say to somebody: 'Ty jses ale trdlo!' it means 'You idiot, silly or forgetful person. You might say something like this to a child if they forgot something at home for school or broke a dish, they were trying to wash etc. It's not exactly a horrible thing to say and a little bit old-fashioned too.
The sceptic in me seriously thinks that it's less than a coincidence to call something you've invented just for the tourists, charge them through the nose for it and then call it 'you silly idiot'. Nuff said…
Is trdelnik or chimney cake worth trying?
Like with everything else, we should try something at least once, right?
What I would suggest, if you don't know whether to buy one or not, is to buy the basic one (rolled just in cinnamon and sugar or walnuts) and share it with your friends (if you are travelling as a group). If you like the taste, then go ahead and splash your cash on some more.
But, do it on the understanding that Trdelnik is not a traditional Czech pastry, it's not something that we Czech's eat at home and our grandmothers definitely didn't bake this in their wooden cottages in the countryside!
What is the difference between trdelnik and chimney cake?
Both names refer to the same pastry. Chimney cake is the English name for the 'Trdelnik'. And it's called 'chimney' simply because the shape resembles the shape of chimney.
What does trdelnik taste like?
This is a tricky question to answer, because I know what it should taste like, based on the original recipe, but the reality is often very different.
The basic version can taste like sweet warm bread dough with cinnamon and sugar dusting (or whatever dusting/covering you have on your trdelnik). If the dough is made with egg, butter and lard the flavour will be somewhat richer and the pastry not as hard (or it won't go hard as quickly).
The outer layer of trdelnik will always be slightly more crunchy than the inside layer and that's because of the way trdelnik is made.
If you are lucky the trdelnik will be warm (if you are getting plain one) from the fire.
Why is trdelnik sold everywhere in Prague?
Because… it's something that you'll feel intrigued to watch whilst it's being made and the smell of cinnamon and baked bread dough is very inviting.
Because… it's something you can carry and eat as you explore the city's historic sights
Because… the profit is high and the costs of the ingredients are low
Because… it's something that can be twisted into a cute story about 'traditional, old-fashioned pastry' and it sells…
What is the origin and history of trdelnik?
The origin of trdelnik can be traced back to Romania, particularly the region of Transylvania.
It's thought that the pastry recipe was brought with people who had to flee the country when the Turks invaded. Some people from Transylvania settled in the Slovak Republic, which is why similar types of sweet pastry started to be baked in the Slovak Republic in the 17-19 century and in some parts of Moravia in 20th century.
These days, you can find similar types of sweet pastries in many European countries, for example, Austria, Germany, Luxemburg, Latvia, Poland, Switzerland and Slovak Republic.
In the Czech Republic, the modern version of 'trdelnik' the way you see it being sold in the centre of Prague is very new. It started with Ondrej Hladky from Vidce (Zlin – Morava area) who started to sell trdelnik in his town in 2004, based on trdelnik recipe that was given to him by his family. In an interview in 2010 Mr. Hladky wanted to focus on local area only, but soon after that somebody must have seen the potential and brought the idea to Prague. Initially, the stalls sold the plain version of trdelnik with cinnamon sugar, but by 2015 the conical shape become popular too (filled with ice-cream, fruit and lots of toppings).
Historically accurate trdelnik recipe
I also wanted to know if there was proof that trdelnik really existed before 2004 and I'm pleased to say, that yes, it did!
I found a recipe for trdelnik in a Czech cookery book written by Magdalena Dobromila Rettigova in 1912.
This recipe doesn't sound anything like the trdelnik you see being sold in Prague today.
The recipe ingredients and instructions are completely different; the only thing that is the same is the name (trdelnik) and the way the pastry is baked using a thick wooden rod (trdlo).
I suspect that the modern version has been developed over the years. Rettigova is known for writing the most complex versions of the recipes, using expensive ingredients, which would have been made in well-to-do families in the town.
I can imagine, that folks in Moravian villages would probably use the more affordable version of simple sweetened bread dough as a way of using up the leftovers dough from baking bread.
The recipe itself is made first with powdered sugar beaten with egg yolks, which are mixed with flour and firm whisked egg whites with a pinch of lemon zest or vanilla.
The recipe uses (probably) a thick wooden rod (called trdlo) which is placed about 10 cm from the open fire (not coal, but open fire). The rod is wrapped with buttered greaseproof paper and the trdelnik mixture is poured slowly on the rod whilst rotating.
You carry on pouring the mixture and turning the rod until the pastry starts to bake and turns pale golden. As the pastry bakes you also push into the pastry almonds and candied lemon.
When the trdelnik is baked fully, it's brushed with lemon or orange-flavoured runny icing and carefully left to dry.
To serve, the trdelnik is further decorated by thin spun sugar strands wrapped around it, extra decorative sweets and coloured ice (I think that's literary coloured frozen water rather than ice cream, but it could be some form of ice-cream).
Well, I don't know about you, but that's definitely a recipe I'd love to try! This historic recipe sounds very elaborate and the trdelnik flavour absolutely delicious!
Trdelnik in historical literature
I also found a rather touching story about life in a small village in the Slovak Republic, written for a magazine in 1904.
In this story a little boy describes how he got a 'new baby brother' and the village women would come to the house and bring soups, sweets and trdelnik for his mother.
He was excited to have so many lovely treats and took one trdelnik to school. The other boys had never seen one, and immediately he was the centre of attention.
Everyone wanted to talk to him, and other boys offered different things to swap it with – spotted beans, shiny buttons and one boy offered a necklace made out of an old leather shoe heel.
Our little boy exchanged the trdelnik for the leather shoe necklace because he was told that no bear or wolf would ever hurt him if he wore it!
The story ends with him being protected by the older boy at school who became his friend, although his mother eventually finds the strange necklace and throws it into the fire because it was ugly and not particularly hygienic!
Trdelnik's place in food history
The cute little story above confirmed, what I've read somewhere else, which is that trdelnik was made especially for women after they have given birth.
It was a time (for the first 6 weeks) when they would be 'sent to the corner' (in a village house, it would be a corner of a room with long curtains made out of sheets or blankets) and food would be sent to her. In this corner, the woman would have her baby and stay there to look after it for the next 6 weeks.
It was the custom to bring cooked food for the new mother and also sweet treats. Often this would be not just your immediate family, but the whole village would cook and bake and bring food, so that the new mother didn't need to worry about cooking for herself or her family.
All food (for the new mother) would have been easy to digest or simple to eat and hold. This is why trdelnik was often given (it would have been probably just the basic version of round sugared trdelnik) – as it's easy to hold, it doesn't drip anywhere, it can be eaten cold and lasts a few days.
How much is trdelnik?
The price for trdelnik starts from 70-90 CZK for a plain pastry with cinnamon and sugar. Every extra simple topping, such as chocolate sauce, strawberry sauce or whipped cream is extra 20-30 CZK. Fruit fillings and ice-cream are usually extra 50 CZK.
On top of that many stalls offer filled trdelnik with ice creams, whipped cream, peanut butter, fresh fruits, chocolate or fruit sauces and lots of other fillings and toppings.
These types of filled trdelnik start from 150-180 CZK as a minimum and can go up to 210 CZK
By the way, you might see that some prices vary from stall to stall, but overall the stalls pretty much copy each other's prices.
This means that you are not going to get trdelnik significantly cheaper if you walk away from the centre (there simply won't be any there…).
How many calories does trdelnik have?
The basic – plain trdelnik (without sugar and any filling or topping) is about 376 kcal per each 100 grams. The smaller (thinner) trdelnik could be about this weight, but the bigger ones or thicker pastry can be a little more.
Each trdelnik also includes (per each 100 grams) about 13 grams of protein, 68 grams of carbohydrates (mostly sugar) and 7 grams of fat.
Once you start adding cream, ice-cream or toppings, the calories can easily double.
In my experience the plain trdelnik is quite filling and the ones with ice-creams or apple strudel filling (my favourite…) can easily replace a meal!
What are the ingredients in trdelnik?
The main ingredients in trdelnik are wheat white flour, sugar, salt, water and yeast. I suspect that most of the basic trdelnik dough is made with just these few ingredients.
If you happen to find an individually owned stall or shop, the owner might use the more expensive version of the trdelnik recipe, which also includes egg (or egg yolk), milk and butter (and or lard).
These three extra ingredients are relatively expensive, but they make the dough extra soft, rich and deliciously tasting.
This modern trdelnik recipe is a very similar, but a lot lighter version of yeasted enriched dough that's used for making Czech Vanocka or mazanec – Easter Bread recipe.
Dietary requirements & allergens
The traditional trdelnik is made with wheat flour, so it's not suitable for gluten free diets and people with gluten allergies.
I have however seen on some stalls that they will make a gluten free version for you at extra cost.
This might be only 20-30 CKZ more, but do look to see if they have a special area where they make the gluten free version only (with a separate baking area). I suspect that they might not, so whilst the pasty will be gluten free, it might not be prepared in a completely gluten free environment.
The basic (cheap version) trdelnik recipe can be vegan and vegetarian (as long as you select suitable topping and filling too) because it's made without eggs, milk, butter or lard.
If the trdelnik or chimney cake is made with the richer version of this recipe, it will usually include egg, milk and butter or lard.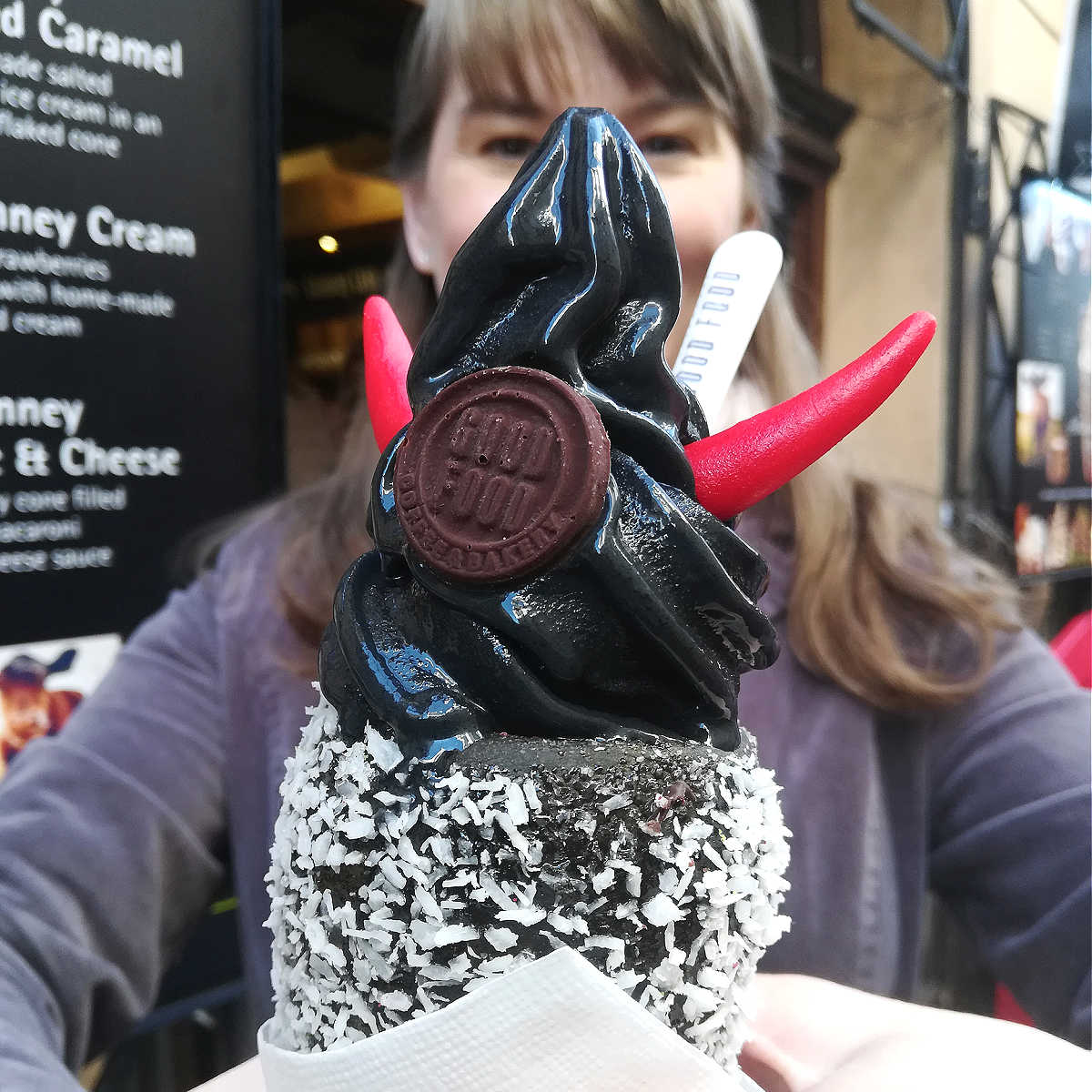 Where to buy the best trdelnik in Prague?
There are many places and stalls you can buy trdelnik in the centre of Prague. They are practically everywhere!
There are a lot of stalls and small shops selling trdelnik in Karlova Ulice – Charles Street – the main walk from the Old Town Square to Charles Bridge.
You can also find more shops after you cross the Charles Bridge as you walk towards the Lesser Town Square and up the Nerudova Street to the Prague Castle.
The streets surrounding Prague caste have also a few stalls or small shops (especially as you walk from Pohorelec – a tram stop on the 22 tram route that takes you to the Prague Castle)
There are also stalls and small shops in Old Town Square, in the back streets around the Estates Theatre and then walking up to the Wenceslas Square or through Na Porici Street towards the Powder Towder.
You will also find a lot of trdelnik stalls at the annual Christmas and Easter markets in the Old Town Square, Wenceslas Square and The Peace Square.
One place you might expect trdelnik stall is at Prague farmer's markets and surprise, surprise you will not (or very rarely) find one there! It just kind of proves my point about the modern version of trdelnik being invented for tourists…
Anyway, I wanted to share with you my favourite independent places to taste trdelnik, because I think the quality is much better and because you will be supporting local businesses rather than a large franchise.
Good Food Coffee & Bakery – Karlova Street 160/8
(follow the Kings Route towards the Charles Bridge and this shop is about 50 metres before the pedestrian light crossing before you get to the bridge area)
I have to say that I've walked around the centre in circles looking for a good trdelnik stall, before I decided on this one.
I liked that the trdelnik menu had many options, such as raspberry, cinnamon, coconut or walnut dusting with different toppings and fillings.
I had the charcoal pastry with black coconut, filled with black charcoal ice-cream and it was pretty good! I liked the healthy element of this combination (charcoal is good for digestion) and the presentation was fun too!
Trdelnik & Coffee – U Starého Hřbitova 42/2 (The Old Jewish Cemetary Street) , Old Town, Prague
This cafe is opposite the Old Jewish Synagogue and as you walk towards the Old Jewish Cemetary.
This trdelnik place sells the only kosher trdelnik in Prague and it's also one of the best ones I've tasted!
There are many different fillings to choose from – I had the apple strudel with ice cream and it was delicious! The prices are also very reasonable and it's good to support an independent local shop instead of the trdelnik chains stalls.
Cafe U Kajetana – Nerudova Street (as you walk up to the Prague Castle or Strahov Monastery).
You can have a delicious trdelnik here, but also waffles, crepes and of course coffee!
They have a seating area here as well (inside and also a very cute garden courtyard), so you can enjoy your trdelnik without worrying that you'll lose half of your ice-cream on the cobbled stones as you are walking up Prague Castle.
There are many fillings to choose from, including peanut butter, chocolate, raspberry and many more.
Prices start from 90 CZK with extra fillings for 50 CZK and toppings for 20 CZK.
This blog post was originally written on 29 January 2023 and last updated on 2 February 2023