The currency in Czech Republic is called 'Koruna' – Czech Crown. Although the Czech Republic is in the European Union, the Euro currency wasn't adopted here and it's usually not possible to pay with it apart from a few tourist places in the centre of Prague.
How to pay in Prague
Honestly, the best way to pay is by card these days. With the current health concerns, many shops that previously didn't accept card payments have now converted their payment systems to cards and often don't even take cash.
While before 2020 you would need small change to pay for public transport tickets, refreshments and toilets or train tickets, nowadays you will find all these services accepting cards.
Saying that it's still useful to have a smaller amount (say 1000 CZK) in coins or smaller bills in your purse, just in case some places won't take card or their card reader doesn't work.
Most restaurants in the centre of Prague take debit and credit cards, but some pubs outside the centre or some smaller traditional self-service canteens might also prefer cash instead of card.
There are also so many free things you can do in Prague to stretch your budget further so that you won't be needing your money as much as you think.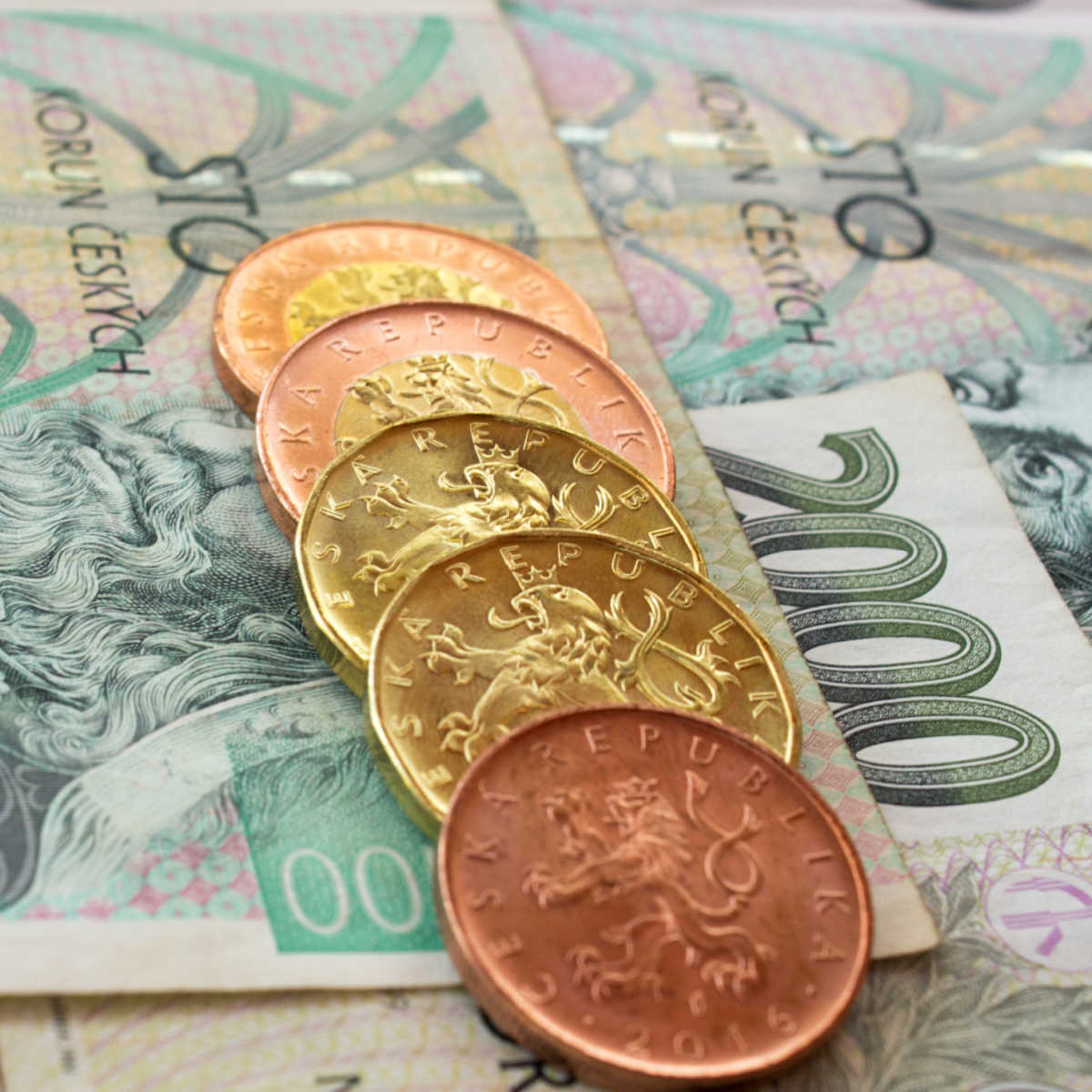 MORE PRACTICAL TIPS
What to do before you travel to Prague
Check your current card/bank policies on payments abroad and their conversion rates and any extra payments they might charge you. Make sure you understand if they charge for each transaction and how much.
If your current bank charges for international payments or the payments are quite high, consider starting another bank account with more favourable rates.
If you know that you'll spend more time travelling or visiting other countries, it might be worth looking into setting up a separate account for your travel only. This is also useful, if for example, you lose your travel bank card, you know you have your home one to fall back to.
For example, my regular bank, while amazing in the UK does charge for payments abroad and international cash withdrawals. Since I spend a lot of time in Prague, it was worth me setting up another personal account with a UK based bank that offers very reasonable rates and much better conversion rates than local exchanges.
I always transfer enough money from my main account to my Prague travel account and then use my card to pay for everything here in Prague.
I also use the same card to withdraw money from a cash point if I need to as my bank doesn't charge for withdrawals.
tips for using an international or non-czech bank card.
Most of the time everything works in the same way as in the UK or USA – you tap with your card to pay and that's that!
Sometimes the cashier might ask you if you want to use a card or cash for your payment, but if they see you holding a card at the beginning of the transaction, they know you want to pay by card.
Sometimes the payment screen comes up with the option of whether I want to transfer the transaction to Euro or pay in Czech Koruna. I always confirm that I want to pay in Czech Koruna as paying in Euro would increase the transaction charge on my card.
The same goes for withdrawing money from a cash point – check with your bank first, but mine suggests always withdrawing the money in the local currency.
Any payment under 500 CZK usually doesn't require a pin number, but it also depends on your bank. For example, my bank requires me to enter pin numbers every 10 or 15 purchases to prevent any possible card misuse or theft.
MORE PRACTICAL TIPS
How to withdraw money from a cash point
First of all, find an actual bank with a cash point. Please avoid taking money from what looks like a cash point in various exchange places around the centre of Prague. Although you can take money from these without any problem, the conversion rate will be much lover than real bank and there might be also a significant withdrawal fee on top of that.
The best way to get some Czech Koruna in cash is to make a withdrawal from a cash point using your card. Any major cards are accepted here (both for payment in the shops and to withdraw money).
I usually only take out what I need for a few days at a time (say 2000 CZK), because I don't want to carry around too much cash, just in case I lose it or worse if somebody takes a fancy to it…
To withdraw money from a cash point safely, first, make sure that the bank doesn't charge for withdrawal. You already should know how much your bank is going to charge you, but you want to make sure that the Czech bank won't charge you as well.
For example, until recently Ceska Sporitelna was charging 90 CZK for any withdrawal. As far as I know, the newer banks such as Moneta Money Bank, Fio Bank, Air Bank, Equa Bank or Komercni Bank doesn't charge, but please check before you make your withdrawal.
If you are not sure, as you go through the process of adding your pin and selecting the amount you want to take out, the display screen will tell you if there is an extra charge at which point you can just stop the withdrawal process using the back button and find another cash point machine.
It's also worth pointing out that helpfully most cash points have an English version of all the instructions.
If you are worried about withdrawing money from a public place on the street, some large branches of most banks have cash points inside the building, so you can go and safely withdraw your money there.
The outside cash points are available 24/7, but banks are usually open just 9-4 – Monday – Friday (and closed on any national holiday).
Supermarkets or shops don't do 'cash-backs' so you can't withdraw money this way in the Czech Republic.
Extra tip on how to get some change
Once you withdraw your cash from the bank cash point, you'll end up with 1000 or 2000 CZK paper bills, which are not that practical to have unless you are paying for lunch and want your waiter to have a generous tip or buying more expensive item in a shop.
I've noticed that the kind of bank cash points that offer smaller denominations also charge quite a bit (like 150 CZK) for taking your money out.
The best solution, I've found so far, is to take the money out in whatever bills they come and then head to nearest supermarket with self-chekouts. Buy one small item and pay at the self-checkout with your large bill. Get your change and carry on with your day!
MORE PRACTICAL TIPS
Exchanging your country's cash currency for Czech Koruna
Honestly, this should be your last resort. If you really don't have another option, make sure that you walk around and check the rates before committing to any transactions.
Also check what their commission rate is because it could be lower than the displayed rate, which might look favourable. In the past there were cases of exchange places scamming people, so please be mindful when you are choosing to exchange money there.
And it should go without saying, that you should never exchange money on the street with somebody who offers you an amazing rate.
The rate is never going to be as good as when you pay by a card or even use the exchange booths. I've also heard people got back the incorrect amount of money or currency that's was not Czech and wasn't worth anywhere near the amount they were trying to exchange.
Exchanging your money before your travel to Czech Republic
This is what people used to do, but honestly unless you want to have some cash on arrival for taxi or bus ticket (say 1000-1500 CZK) it's not necessary.
You can double-check yourself, but every time I checked the exchange rate back in the UK, I could never get a better or even closer rate to the one I can get when I use my bank card.
If you arrive by plane at Ruzyne – Airport of Vaclav Havel, the public transport ticket booths take a card as a payment (or coins, in which case your newly exchanged money is of no use anyway).
This blog post was originally written on 11 October 2021 and last updated on 19 December 2022