Examples of up to date prices in Prague to help you to plan your daily food & drink budget whilst visiting Prague and Czech Republic.
Food & drink prices in Prague have always been reasonable or even cheap, until recently.
In the last few years, the cost of energy, ingredients and labour have risen sharply, which also had a negative effect on food and drink prices. This includes prices across the board – food and drink prices in restaurants and cafes, but also in supermarkets.
Whilst you might think that the prices are about the same or perhaps a little cheaper than in your home country, I know that the days when food and drink in Prague was significantly cheaper than in London are long gone!
The good news is that you can still eat and drink in Prague on budget, but you might need to shop (and walk…) around a bit.
In this blog post I wanted to give you an idea of how much to budget for your food and drink whilst visiting Prague.
Although I do live in Prague and I have the advantage of cooking my own meals, I do eat out too and stop at various cafes when I'm exploring Prague.
The good news is that if you are on budget you will find that you can get a decent hot meal at lunchtime for less than if you tried to cook it yourself!
How much money should I budget for food and drink in Prague per day?
Since the Czech crown is currently going up and down against the dollar, pound and euro, I thought I'd list all the prices in Czech crowns with rough calculations, but please do check these before you travel.
If you are on a low budget and you are happy to try some traditional Czech food at a local self-service eatery, grab a sandwich from a bakery and have a drink at a pub, you can easily fit into 500 Kcz (about 21 Euro, 18 British Pounds or 23 American Dollars).
If you want to eat out for breakfast, have a sandwich at lunch time and eat at a nice restaurant in the evening, you will need to increase your budget to at least 1000 KCZ (42 Euro, £36 or $46).
A good option, I think is to mix things up a bit. Have a low-budget picnic in the park by buying food in the supermarket one day and save the rest of that's day budget for a nice sit-down meal the next day.
How to pay for your food & drink – the Czech Currency
All prices of food and drinks will be listed in Czech Crowns. In Czech the abbreviation for Czech crown is Kc (Koruna Ceska). Although Czech Republic is located in Europe and it's part of European Union, the EURO is not a valid tender here and instead we use our own Czech currency – crown.
You can pay by card in most places, but it's good to have some cash with you for smaller purchases or if you would like to leave a tip in restaurants or cafes.
Cafe and restaurant prices (low to mid range places)
Breakfast scrambled eggs – 100 -130 CZK
Egg benedict 180 – 210 CZK
Porridge/ oats with yoghurt & fruit 80-120 CZK
Pancakes 80-120 CZK
Soup – 35 -45 CZK (in low cost self-catering place) or 80-120 CZK in cafes or restaurants
Lunch menu at self-service eateries (including soup, main meal and soft drink or small cake) – from 109 CZK to 140 CZK
Individual meals at self-service eateries – 100 CZK – 150 CZK
Homemade cakes – 50 – 80 CZK
Patisserie cakes – 70-130 CZK
Mid range pubs & restaurants
Main meals from 180-280 CZK
Fries (to take out – Mackdonalds, KFC or Burger King) 50-70 CZK
Burgers 150-210 CZ or more
Parek v Rohliku (Hot Dog – thin sausage with yellow mustard in white thin bread roll) – 50-100 CZK (at outdoor stalls)
Prague Sausage with traditional rye bread and mustard – 100-130 CZK
Trdelnik or Chimney Cake – (Trdelnik is the large hollow sweet bread pastry dusted with sugar and cinnamon or filled with whipped cream or ice cream – 70- 90 CZK for plain and anything up to 130-150-210 CZK with filling)
Low budget – Breakfast (pastry from a supermarket or local bakery & coffee on the go) about 100 Kcz
Lunch at self-service eatery – 100 – 150 – 200 Kcz (for soup + main meal)
Dinner – self-service eatery – 150 – 200 Kcz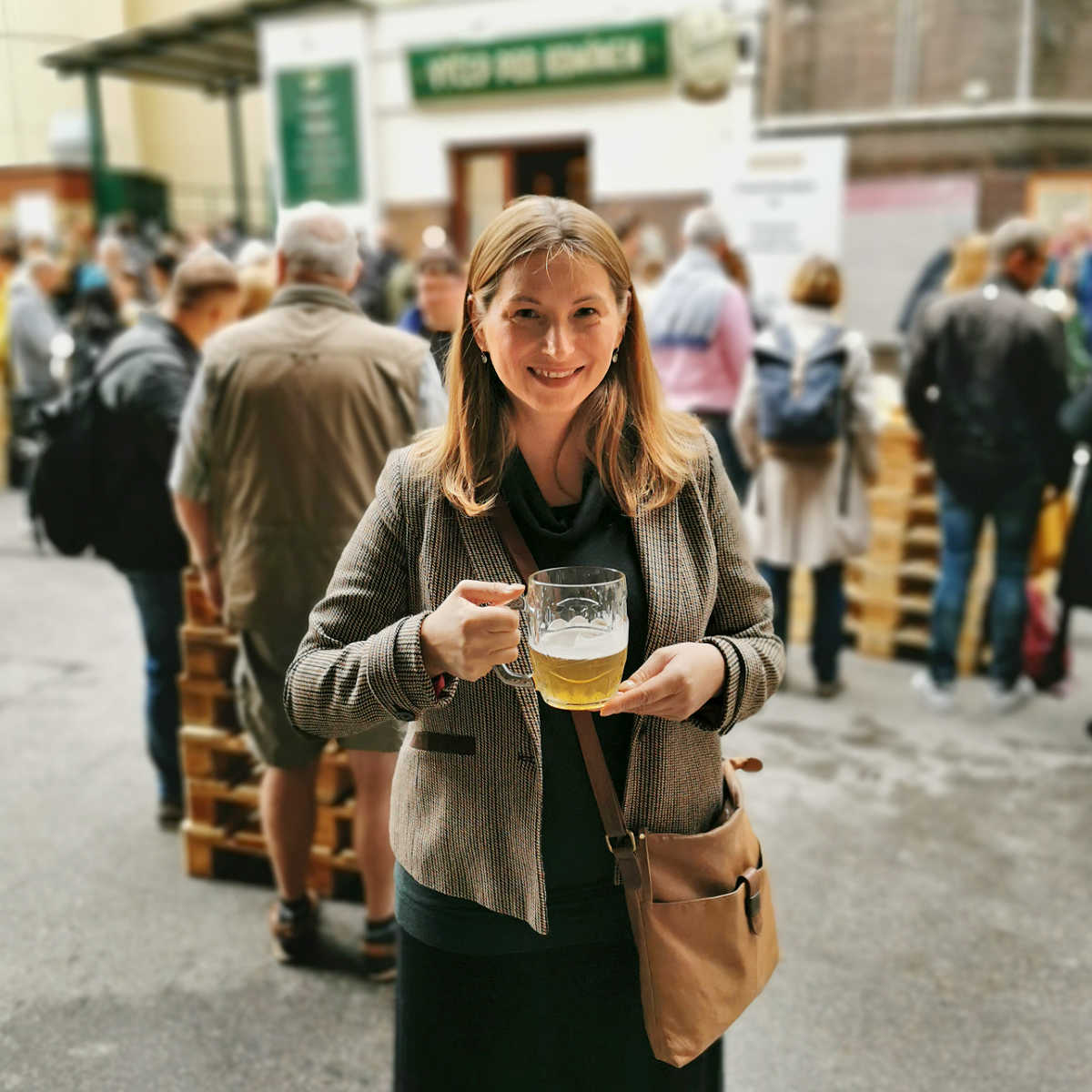 Drinks
As with the food prices, the times when beer was the equivalent of 30 pence are long gone. With the current prices as they are, you will often find that beer is cheaper than hot drinks or soft non-alcoholic drinks.
Beer is usually sold in 500 ml glasses (which is just slightly less than a pint) and sometimes you can also see it being served in 300 ml glasses.
The smaller glasses can be as low as 35-55 CZK and a full glass would start from 55 – 80 CZK
Tea – 60-80 CZK
Coffee – 50-100 CZK ( but you can get coffee from a self-service coffee machine at the train stations for 20 CZK – standard and 30 CZK for large – the hot chocolate is very good!)
Chai Latte – 75 – 90 CZK (Large chai latte at Starbucks outside the Prague Castle is 145 CZK )
Water – still or sparkling 50 – 80 CZK ( 500 ml or 1000 ml glass jug)
Kofola (Czech version of Coca-Cola) 45-60 CZK
Cocktails – Aperol Spritz, Gin & Tonic etc 120-160 CZK
Wine – 30-100 CZK (the prices are often listed per 100 ml, so they look cheap, but if you order a regular sized glass of wine 250 ml the price could be 90-150 CZK)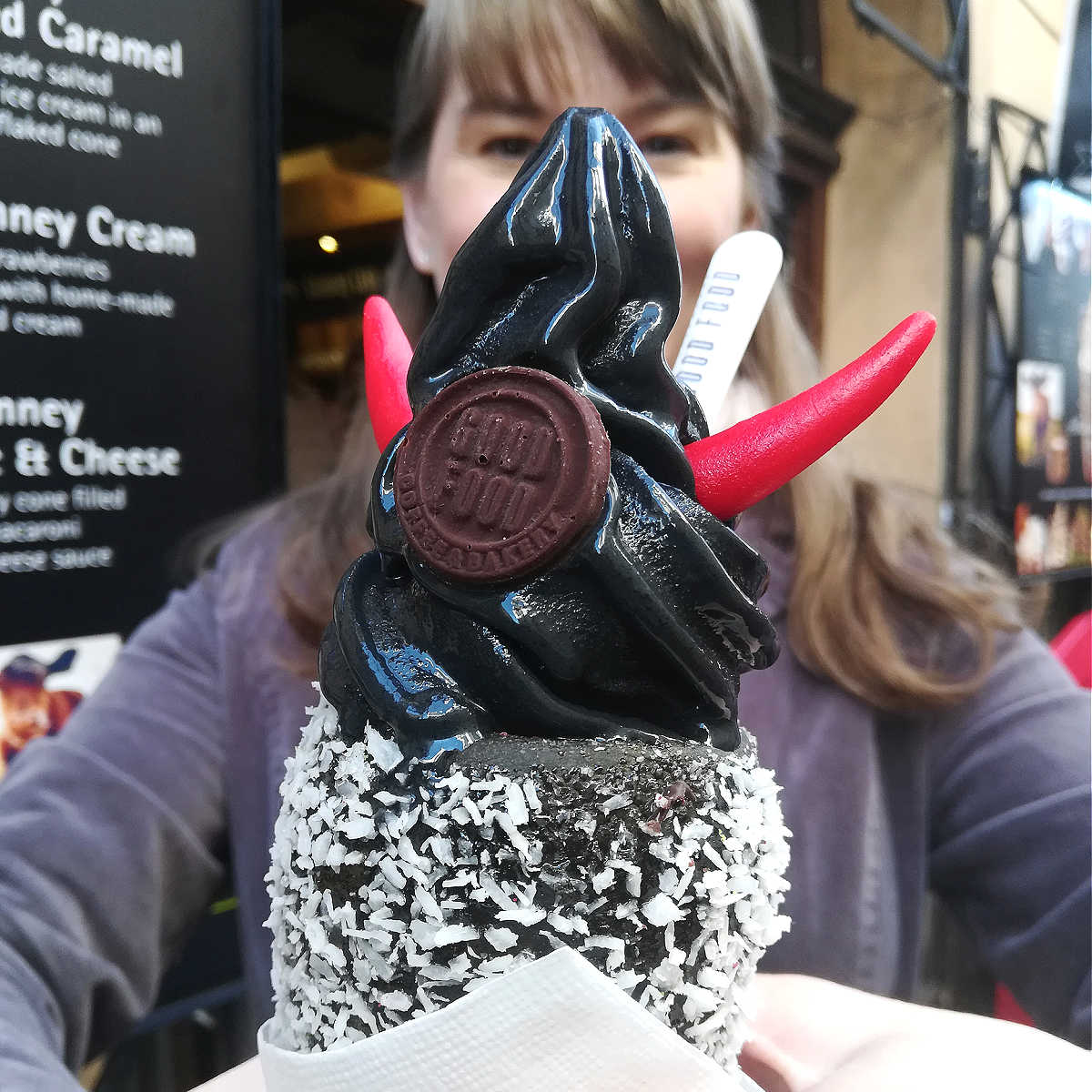 Prices of food and drinks in the centre of Prague
These can vary so much (I've seen mains listed at 295 – 495 KCZ with soups for 150 CZ and some taster menus for 1200 CZK).
My advice is that if you like the look of some restaurant and you want to go in, check TripAdvisor or google reviews to see whether it's the right place for you.
It's not to say, that higher prices mean automatically overpriced food, but you need to know why they are higher. Expect meat-based dishes (especially game and sea food) to be more expensive than non-meat dishes.
Lunch sandwiches
The custom of eating sandwiches for lunch is a fairly new thing for Czech people.
If people have the opportunity they still prefer to have a hot meal for lunch at a basic restaurant or a self-service restaurant, than to buy a prepared sandwich. And if they do have a sandwich, they are probably going to make it at home, instead of buying it.
Because of this, filled sandwiches are not really a 'thing' in Prague, and some of the ones you can see in supermarkets are not very good quality (they are usually large banquettes with not a lot of filling, making them quite dry).
But, if you head over to a street bakery, you get a freshly made sandwich with a delicious filling for a price that you will be happy about (50-80 CZK)
Another thing I should mention, is that because the traditional bread is dark rye bread with caraway seeds, which is a little difficult to make sandwiches with, most filled sandwiches are made with bread rolls, kaiser rolls or small baguettes.
Since soft sliced bread is not really traditional in the Czech Republic, you won't find many UK or USA style sandwiches here.
My favourite places to buy sandwiches
Kabat Bakery
My favourite places to buy ready made filled rolls include a bakery called 'Kabat' (different stalls around Prague, eg. Florenc Underground, inside Albert at Andel Underground – Smichov Prague 5 District, Zlicin Underground).
Liberske Lahudky
Another great place where you can get sandwiches, cakes, fresh bread and also deli food, such as ready made fried chicken schnitzel or fried cheese.
The one I usually go to is close to Andel Underground on the corner facing Bus Station 'Na Knizeci'. Another branch is close to Bila Labut shopping centre – corner of Biskupská 1065/1.
A large branch is also on the street with all the trams leading to Wenceslas Square called Vodičkova number 730/9, which is also very close to Svetozor Independent Cinema and one of the best ice-cream places in Prague).
Prices of food and drink outside Prague
The prices of food and drink shouldn't be any higher than in Prague. Saying that prices will be about the same as in Prague if you visit the major tourist towns, such as Karlovy Vary, Cesky Krumlov, Kutna Hora, Olomouc or Brno. Like with Prague, there will be local pubs and restaurants, where the prices will be 'normal'.
Food supermarkets usually hold their prices across the whole Czech Republic, but there might be some regional differences.
Prices of food and drinks in supermarkets
In the last few years, I've started to experience a strange phenomenon when shopping in Prague supermarkets – I seem to pay more than for my food shopping in London!
The problem is that prices have increased overall and that Czech supermarkets only just have started to offer their own brands which are only a little bit cheaper than the well-known brands.
On top of that, you very rarely get any reduced bargains! The prices are not reduced when they get to their sell-by date, or they get reduced maybe by 10-15%.
This means that if you for example want to buy butter the cost is 55 – 60 CZK depending on the brand, but there is no cheap butter alternative – you just have to go for something slightly different to replace it (to make your own sandwiches get the 'Pomazankove Maslo' – it's like a lighter version of cream cheese often sold with flavours such as herbs, horseradish or ham – it cost 20-35 CZK).
List of major supermarkets you can find in Prague
The main supermarket chains in Prague (and Czech Republic) are Albert, Billa, Tesco, Penny, Lidl and Kaufland.
These large supermarkets are a little bit hidden in central Prague, but here is a list of the main supermarkets closest to the centre.
Albert – Under the Kotva Shopping Centre (Namesti Republiky – The Republic Square 656/8, Prague 1 )
Albert – lower level Palladium Shopping Centre – opposite the Kotva Shopping Centre – The Republic Square)
Billa – entrance next to the Museum of Communism, V Celnici 1031/4 – 2 minute walk from the Republic Square Underground
Penny Market – Revoluční 724/7, Prague 1 – 2 minutes towards the Vltava River from the Republic Square Underground (line B)
Albert – Narodni Trida (Narodni Trida Underground – Line B & Narodni Trida tram stop no 2,9,22 etc) – lower level Quantico Shopping Centre (next to the Franz Kafka Rotating Head Statue)
Zabka – these are smaller versions of supermarkets usually selling the food & drink basics.
Minimarkets – these types of shops seem to have more alcohol, drinks, sweets and savoury snacks than regular groceries. You will find them right in the centre of Prague and Wenceslas Square and they are usually open until late and some even 24 hrs a day. Expect prices to be at least 25% more than regular supermarkets.
Examples of food & drink prices in Prague's supermarkets
Bottled Water – 7-30 CKZ (the smaller bottles are as low as 7-10 CZK for 300 ml or even 15 CZK for 1,5 ltr, but it depends on the brand – to save on bottled water read my tips in this guide about drinking water in Prague)
Milk – 20-35 CZK (1 lt – price depends slightly on brand and whether it's fresh or long shelf life milk)
Iced Tea (Lemon or Peach) – 20-25 CZK (500 ml bottle, but 1,5 lt bottle might be only 35 CZK)
Kofola – 20-30 CZK (large bottles of 1,5 ltr are proportionally cheaper than the smaller bottles, but still about 50% cheaper than in pubs and restaurants)
Beer – 20-30 CZK (500 ml bottle or can) local Czech beer
Cider – 20-25 CZK (500 ml can)
Wine – 80-100 CZK (750 ml – local wine) or 120-300 CZK non-local wine
Sliced Cheese – 22 – 60 CZK (100 grams)
Sliced Ham – 30 – 50 CZK (100 grams)
Yoghurt – 10-30 CZK (large pots are cheaper)
Yoghurt – dairy free 20-60 CZK
Bananas – 35 – 45 CZK
Apples – 20 – 40 CZK per kg
STAY IN TOUCH
Hope this blog post inspires you and as ever I'd love to what you think! Let me know in the comments below or catch up with me over on Instagram.
Magdalena
This blog post was originally written on 27 January 2023 and last updated on 2 February 2023