Is December a good month to visit Prague?
Yes, absolutely! December is just a most magical month in Prague, especially if you love Christmas, old-fashioned traditions and plenty of comfort food!
But, be prepared to be cold! The weather is much cooler than in November, so you'll need warm winter clothes and good shoes.
Most attractions outside of Prague such as museums and castles are closed for winter or might be open only at weekends and for a slightly shorter time.
If you want to plan any day drips, it's worth getting up earlier in the morning as by 3-4 pm it can be virtually dark or very grey.
Prague is very busy during December, especially as you get closer to the Christmas. If you want to get the Christmas feel, but still make it back home for your own Christmas, then the 2nd or 3rd Advent Weekend is probably the best time to visit.
You can still escape the tourist crowds and follow my fun non-touristy list of things to do in Prague to enjoy your stay.
PLANNING YOUR PRAGUE TRIP
What's the December weather like?
Most years, Prague and Czech Republic's December weather is very cold with temperatures dropping well below 0 C.
During the night the temperature can drop down to -3-10 C and during the day (and if it's sunny) might hover around 2-3 C. You might get lovely sunny days in December, but it will feel chilly at the same time and especially when the sun comes down in the afternoon.
Towards the end of December you can also expect snow in Prague and if you venture out for a day trip to the mountains, you can easily get snow on the ground at the beginning of December.
If the weather is warm (for whatever reason), it might rain instead of snow, so bring an umbrella or rainproof jacket.
If you are unlucky you might get days when the sky is grey and permanently cloudy. It will feel like it's getting darker even sooner than 2-3 pm if it's cloudy and raining, so definitely plan some indoor activities.
In the morning the sun (or light) appears just shortly after 7.30 am. The sunset in December is very shortly after 4 pm and by 4.30 pm is completely dark. This means that the day has about 8 hrs of light (or sun if you are lucky!).
One important thing to mention about the cold in Prague. It might be below zero, but because this cold is 'dry' it doesn't feel as cold as if it was 0 or even 2-3 C in London or UK.
This is because of relatively low humidity. The reason why I'm saying this is, as long as you are sufficiently wrapped in good warm clothes and have decent winter shoes, you don't have to worry that you'll be cold!
TRAVELING AROUND PRAGUE
What to pack for your visit
Apart from the general packing advice make sure that you have warm walking shoes, warm fleece or jumper and winter jacket.
I tend to go for warm layers, so I pack a warmer body layer with long sleeve, fleece and a jacket or a coat.
If it's very cold and I decide to wear a shorter jacket I also wear a pair of leggings, especially under jeans. Jeans are one fabric that doesn't actually make your body warm, so leggings or warm tights are a must (for me anyway!).
I also bring a winter hat or a cap as it gets colder in the evening and the wind could be quite freezing.
You'll also need warm gloves and a scarf, depending on much you feel the cold.
If you feel the cold, I really recommend walking shoes with thick rubber soles (that keep your feet off the ground), thick socks (or two pairs of socks), leggings or thick tights under a good warm trousers, long winter feather down jacket, scarf, gloves and a winter hat that covers your forehead.
I find that by stopping the cold from getting into my body through thin shoes and stopping it from escaping by wearing a winter beanie hat, I always feel nice and toasty!
An umbrella is also handy unless you have a good waterproof rain jacket.
If you are planning to do longer day trips, it's a good idea to bring a good day backpack and add an extra layer, hat or extra pair of socks for when the temperature drops in the evening.
Instead of a water bottle, I often take a hot coffee flask with me on my day trips. I'll still stop for a coffee or a tea during the day, but you never know if there is going to be a suitable place open where you are heading.
This is especially useful if you are thinking of travelling further from the centre in the afternoons or weekends.
Important dates
6 December – St Nicholas Day
This was my favourite day before Christmas when I was a child. We woke up very early in the morning to discover a Christmas stocking filled with sweets, chocolates, oranges, bananas and walnuts in our rooms.
We knew early on that this was our mum's doing and not St. Nicholas as we were told to believe, but we could never catch her doing it! I remember we would try to wait for the door to open and the stocking being hung on the door handle, but we'd always fall asleep before that happened. So, in the end, it was a bit of a mystery after all!
St. Nicholas day has never been a national day off, so we would always go to school a bit bleary-eyed (since we got up about 5 am) and high on sugar!
On the 5th of December, you can see a trio of St Nicholas (dressed as an archbishop), an angel and a devil who visit children in their own home and give them treats if they were good or potatoes or coal if they were bad last year. Traditionally children need to sing a Christmas carol or say a little poem to 'deserve' the treats.
If you start to detect similarities between this and the stocking hanging by the fire on the 25 December in the morning in England, going carolling and Santa's naughty or nice list, you are not wrong.
24 December – CHristmas Day – Christmas Eve
The main Christmas event is celebrated on Christmas Eve in the evening. Bizarrely, the 24th of December is not a national holiday (day off), but a normal working day!
But over the years, banks, shops and offices would start closing a bit earlier to allow employees time to get home to their families.
The Christmas markets and other shops will still be open in the morning and there's enough time to get your Christmas tree and a carp to take home to eat.
Most churches will have morning carol singing or a mass and also an afternoon service for children. You can also attend Midnight Mass in many churches, just check out your local one.
25 & 26 December – St. Stephens Day & Second Christmas Day
Most people are with their families or visiting their in-laws during the two Christmas Days. Most shops, banks and offices are closed and the 2 days are official national holidays.
But, unlike, say in the UK, if the 25 & 26 falls on the weekend, there is no 'replacement' day on Monday and Tuesday! This goes for any Czech national holiday, not just the Christmas days.
Most public transport in Prague will run reduced Sunday service and some train services will not run at all, so just double check your travel plans if you intend to travel during the holiday season.
31 December – St. Silvestr
The last day of each year is celebrated in the Czech Republic like anywhere in the world. It's again a normal working day, but by night time every restaurant, pup or club venue will have some sort of event on.
All weekends in December
The last weekend in November is usually the first Advent Sunday marking the 4 weekends before Christmas. Most shops and venues will start to put up their Christmas decorations and food venues will begin to introduce festive twists on their regular offerings.
Outdoor markets and other festive celebrations will start to take place during the last November weekend, so keep an eye on the local news for updates on what's happening around you.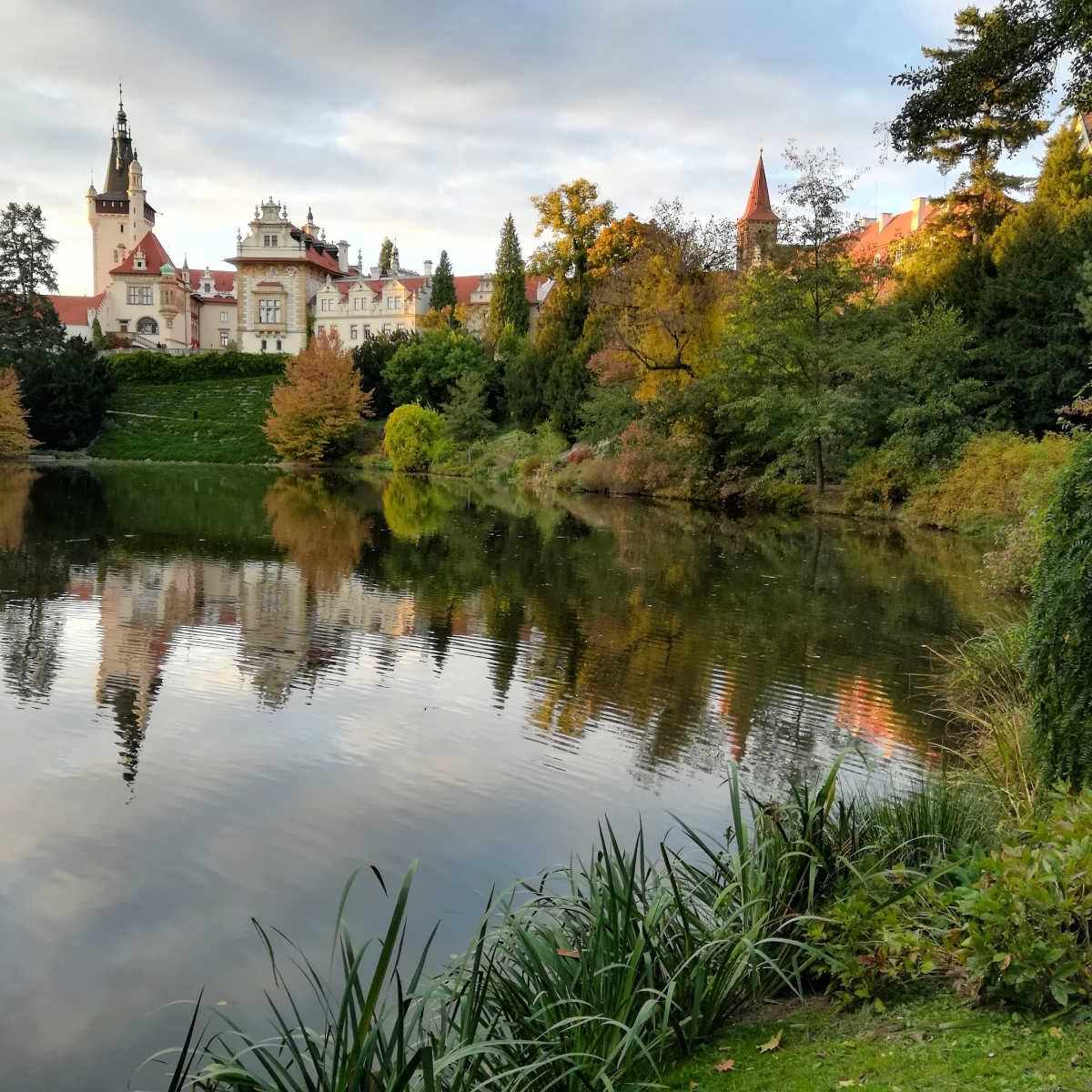 Things to do in Prague in December
Visit a museum
There are so many museums in Prague on so many topics, that I'm sure you'll find one that interests you.
My favourite includes the Technical Museum next to Letna Park, the Public Transport Museum, the Prague Museum close to Florenc or the main National Museum on the top of Wenceslas Square.
Walk across Charles Bridge as it starts to get dark
If you happen to be around Charles Bridge as it starts to get dark, come and watch the old-fashioned tradition of lighting up the gas lights on Charles Bridge.
It's done by an official gas lighter dressed in period costume who walks across the bridge and lights up all the gas lights. It's definitely a one-off experience and a lovely tradition, too.
Visit Prague Castle
You can easily spend a whole day at Prague Castle (both inside the various buildings and outside walking around the different squares and little lanes), which is why I think it's a perfect solution for a cold day.
There are plenty of coffee shops and restaurants within the Prague Castle complex, which means you can really spend the whole day exploring the area at your leisure.
Enjoy a Christmas Concert
Each year, you can find many Christmas themed concerts in the church venues in the centre of Prague.
If you want to try something very traditional (and Czech) go for a Christmas Mass by F. Ryba, who was a music teacher and this mass was his masterpiece.
Go for a coffee in a cosy old-fashioned coffee house
There are so many amazing coffee places in Prague and winter is the perfect opportunity to sit indoors, relax and enjoy some nice hot drinks.
Prague Christmas Markets
From the first advent weekend – the end of November – you'll find outdoor markets, festivals and other events starting to appear to celebrate the start of the festive season.
The Christmas markets are usually held in these areas:
Old Town Square
Wenceslas Square – close to the Mustek Metro – Underground
Peace Square – Namesti Miru – in front of the St. Ludmila Church
Namesti Republiky – Republic Square – in front of the Palladium shopping centre
Andel – next to the Angel Metro – Underground
Prague Castle
Nativity exhibition at Bethlehem Chapel
This is my favourite places to go around Christmas, but the exhibition usually opens during the first advent weekend and it's open throughout the Christmas period until the first week in January.
It's beautifully set out in the chapel's crypt with different sets of nativity scenes – some very old and traditional made from wood, some modern made from textiles, glass or even gingerbread.
There is usually carol singing on the 24 December in the morning (which is when Christmas is celebrated in the Czech Republic).
Taste Czech Christmas
If you want to try something a bit different, taste some of the delicious Czech food available at Christmas. You can get most of these in the Christmas Markets, restaurants or local supermarkets.
Sweet
Vanocka – a light brioche style bread with almonds, dried fruits, which is similar to Easter Mazanec and often eaten for breakfast with coffee or tea.
Stola – Stollen
Pernicky – Gingerbreads decorated with lemon icing
Vanocni Cukrovi – small Christmas biscuits or cookies – different flavours & styles, such as Vceli Uly (Beehive cookies) which are made with egg nog filling
Savoury
Breaded & Fried Carp & Potato Salad – the traditional Czech Christmas Dinner
Breaded & Fried Chicken or Pork with Potato Salad
Fish soup – traditional starter on Christmas eve
Drinks
Svarak – Mulled wine
Hot Apple Juice with cinnamon
Hot Pear Juice with spices
Egg nog
Get your skates on
Each year there are many pop-up outdoor ice-skating rinks; often with a beautiful backdrop of old houses in the middle of the Prague.
You can borrow ice-skates at the rink, so all you need to do is to roll up and be dressed appropriately. Away you go! It's a great way to mix with the locals of all ages.
The largest ice-scating ring is in Letna (oposite the Sparta Footbal Statium – tram stop 'Sparta' or you can walk there from the Letna park) and smaller one is in Smichov (14 October Square – Namesti 14 Rijna) behind the St. Wenceslass Church.