Whilst most people are aware of the centre of Prague (such as Mala Strana – Lesser Town or Old Town – Stare Mesto) when they are researching their trip to Prague, not all visitor attractions, museums, restaurants or fun places to visit are located in the centre.
Prague can also sometimes get very overcrowded (again!), so it's good to go slightly off the beaten path and visit the less touristy places.
Prague has grown over the recent years and it now incorporates 22 individual districts. These are grouped together to form 10 main districts, which have their own history, centres and very different feel.
The 22 individual administrative districts are further divided into 57 municipal parts and then 112 smaller local areas. This is mainly based on how Prague developed and the individual areas, villages or homesteads that eventually become part of Prague.
Prague 1 -including Mala Strana (The Lesser Town), Stare Mesto (The Old Town), Josefov, Hradcany
The centre of Prague is easy accessible by foot, trams and underground (metro) and it's where you find the main tourist attractions, such as the Old Town Square with it's historic clock, Charles Bridge and other famous bridges across the Vltava River that flows in the middle of the town.
On the top of the hill, you'll see the Prague Castle complex and the streets bellow the castle hill are full of amazing palaces, houses and hidden gems, like Vrtba Garden.
If you have just one day in Prague you'll probably want to stay around Prague 1 or 2 to keep central and make the most from your Prague trip.
The centre of Prague gets very overcrowded with visitors and tourists and can be quite expensive when it comes to eating out.
One place that is tucked away from the busy thoroughfare is a Kampa Island, which is easily reachable by the steps on the side of the Charles Bridge.
Prague 2 – includes Nove Mesto (New Town), Vysehrad, Nusle and Vinohrady
The New Town stretches towards Vinohrady, which you can reach by walking up the Wenceslas Square.
You'll find a lot of trendy cafes and restaurants in Vinohrady, which makes it worth it to travel slightly further from the centre.
There are some amazing town houses in the area with their own history and feel. There are also plenty of green spaces and parks for picnics.
Prague 2 also stretches from the National Theatre (Narodni Divadlo), where you can find the Dancing House close to the Jirasek Bridge.
Prague 3 – includes Zizkov
Zizkov is mainly residential area, but it does have quite a few interesting areas that are worth visiting, such as the Television Tower with the crawling babies by the artist Cerny, the Jan Zizka statue and the museum on top of the hill (with a great views of Prague) and one of the best farmer's markets on Jindrichovo Square.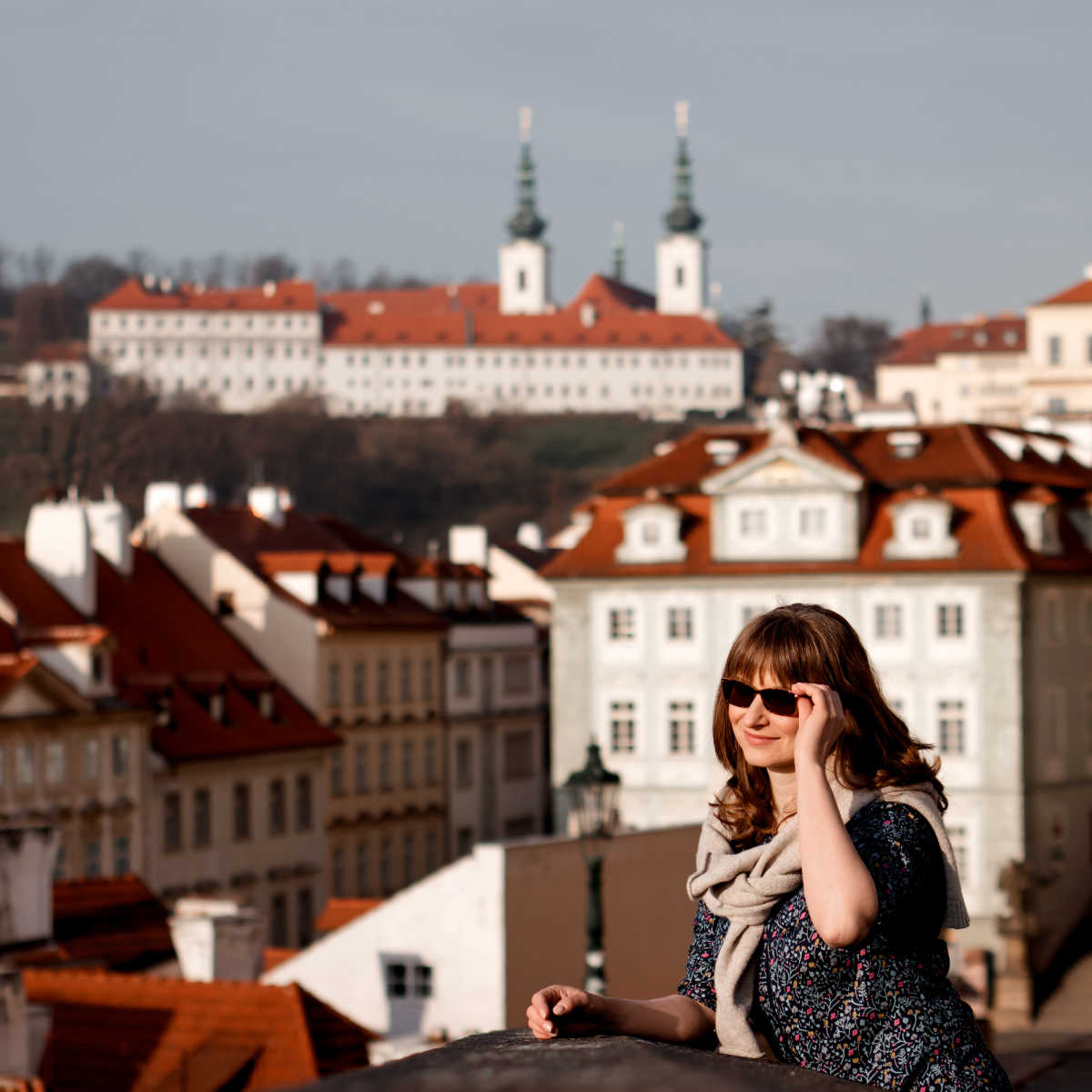 Prague 4 – includes Branik, Podoli, Kunratice
This is quite residential area, where you can find an interesting old houses, but also lots of modern panel houses and high rise flats.
The area around the Vltava river is great for daily runs, walks and inline skating – you can reach as far as Davle and even further.
Prague 5 – includes Smichov, Motol, Kosire
Smichov is only a short ride to the centre of Prague, which makes is an affordable place to stay or eat and explore Prague from.
From the main shopping centre at Andel you can easily walk to Kinsky Garden and then follow the Hunger wall to Petrin Hill (with a great views of Prague) and all the way to Prague Castle.
Prague 6 – includes Dejvice, Stresovice, Brevnov
Dejvice has some amazing villas from the end of 19 century, which are now mainly government buildings or embassies for other countries.
Prague 7 – includes Holesovice,Troja
Whilst Holesovice is industrial and full of buzzing night clubs, restaurants and trendy cafe places, Troja (on the other side of the Vltava river) is built into the hill and it feels like a world apart. This is where you can find the Prague Zoo, Botanical Garden and Troja Chateau.
A great little walk includes walking there from the Stromovka Park on the Holesovice side which is close to the Prague Exhibition Area (Vystaviste).
If you want to stay on the top of the hill, follow the walk from Letna Park to Prague Castle and beyond to Petrin Hill.
Prague 8 – including Kobylisy, Liben, Karlin, Dablice, Bohnice, Cimice
This area is mainly residential with a few historic places, but the ends of tram lines make a good starting point for a walks in the outer Prague.
Karlin had mainly industrial and working class feel, but then it was badly affected by the floods of 2002 and the whole area started to get re-generated. You can now find modern buildings and flats close to the river and older buildings closer to the centre and towards the Zizkov Hill.
Prague 9 – including Vysocany, Prosek, Ladvi, Letnany
Vysocany is an old industrial area, where you can still find the remains of factories (some still working) with some cool art places like Pragovka.
Prague 10 – including Strasnice, Vrsovice, Malesice
There are some lovely villas from the end of 19 century in Strasnice and Vrsovice , especially as Vrsovice border Vinohrady.