It's that time of year again – Christmas is just around the corner and the festive spirit is in the air. And what better way to get into the holiday mood than by visiting a Christmas market?
If you're planning to visit Prague in December, you are in luck because there are so many beautiful and magical Christmas markets for you to visit. From sipping on warm mulled wine whilst listening to the traditional carols to sampling Czech Christmas Cookies and browsing through stalls with handmade glass Christmas ornaments, there's something for everyone.
In this blog post, I wanted to share with you my favourite Christmas markets in Prague, so grab a cup of hot cocoa and get ready to be inspired!
Prague Christmas Markets Opening Dates & times 2023
This year, the main Christmas markets run from the 2 December 2023 to 6 January 2024, apart from few markets that close on the 24 December 2023. Some markets (see below) also open on the 25 November 2023 for the first advent Sunday.
The Christmas Markets are open every day, including Christmas Eve, Christmas Day (1st Christmas Day – National Holiday) and the St.Stephen's Day (2nd Christmas Day – National Holiday). They are also open on the New Year's Eve and New Years Day (which is a national holiday and day off).
The markets are open from 10 am in the morning until 10 pm at night and the entry to the markets is free.
Some food stalls are open even later than 10 pm depending on how busy they are and what's the weather like.
Where is the biggest Christmas market in Prague?
The biggest Christmas market in Prague is located right in the centre – at the Old Town Square (Staroměstské náměstí). This market is the largest and most well known Christmas market in Prague, and it is located in the heart of the city's historic centre.
This Christmas market has over 100 stalls selling a wide variety of traditional Czech handicrafts, ornaments, and souvenirs, as well as food and drink. You can enjoy traditional Czech Christmas treats such as mulled wine (svařák), hot honey wine (medovina), and gingerbread (perník) or roasted chestnuts.
Old Town Square always has the largest Christmas Tree and a beautiful Nativity scene underneath and a large stage for entertainment, which includes music, theatre and traditional dancing.
Which Christmas Markets in Prague are the best ones?
This is difficult question to answer, because it really depends on what you are after. The biggest and the easiest market to visit is the one at the Old Town Square and I always go there to see the decorated Christmas tree. Especially at night the lights are magical and it's a great central place to start exploring Prague from.
But if I actually want to buy something different and get more authentic and less busy Christmas atmosphere I head over to the Peace Square Market or the Advent Markets at Jirak and the weekend craft markets – the Pottery Market and the Dyzajn Market at the Vystaviste (Exhibition Palace, Prague 7 – see my notes below).
If I want to buy practical day to day fresh food, cakes and buy decorations to make my own Christmas wreath I always pop in to Andel Christmas Market, because it's aimed at local people and not necessarily for tourists. (…read…it's not overpriced…).
The list of all Prague Christmas markets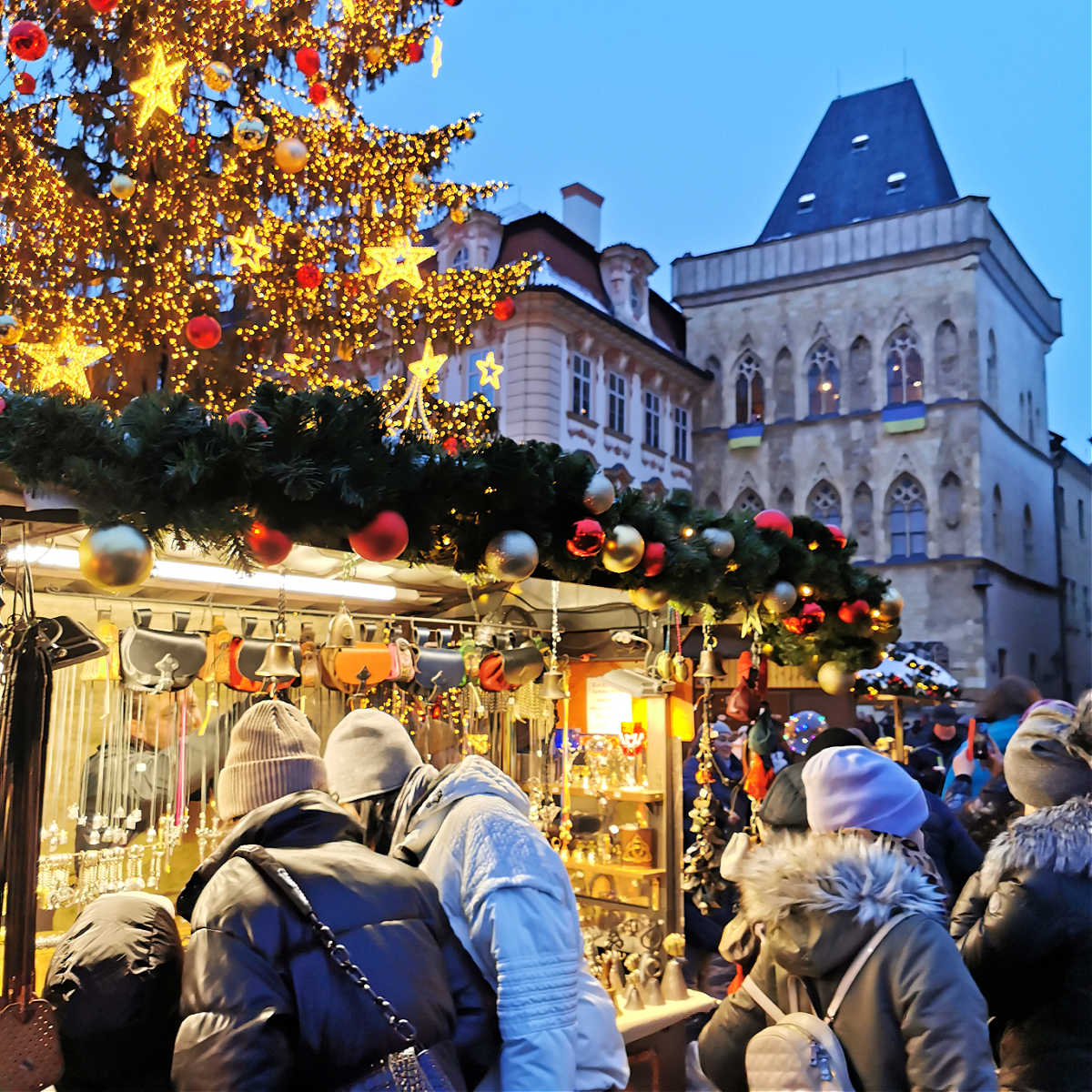 Old Town Square
This is the biggest Christmas Market in Prague and the one that's open the longest and every day. There is live entertainment on the main stage, but you can also walk around the stalls and watch traditional crafts being made or ironmongers creating decorations from metal using real fire. There is a smell of roasted chestnuts, almonds and mulled wine and other festive food – all ready for you to try.
There is also decorated viewing platform where you can take great photos and also see the market below. It's just next to the Christmas tree, so that you can take that perfect selfie or group photo.
Location: Old Town Square, Prague 1, nearest Underground or Tram Stop – Staromestska
Opening Days & Times: 2 December 2023 – 6 January 2024, 10 am – 10 pm
Wenceslas Square
There is another large Christmas Market at the lower part of Wenceslas Square and the stalls are very similar as in the Old Town Square (the markets are run by the same company).
Location: close to the Mustek Metro – Underground on the line B, the nearest tram stop no. 9, 5, is 'Vaclavske Namesti' in the middle of the square.
Wenceslas Square Christmas – Charity and Non-Profit
There is also a second Christmas Market on the square and this one is in the top part, close to the St. Wenceslas Horse Statue and the Museum building. This Christmas Market has stalls run by various charities, so you'll find a different assortment of crafts, food and gifts than at other markets. There are also plenty of food stalls similar to other markets, so you can have a hot chocolate or mulled wine whilst browsing through the stalls.
Location: Upper part of Wenceslas Square, close to the National Museum, nearest Underground is Muzeum and tram stop 'Vaclavske Namesti' no. 5,9
Opening Dates & Times: 2 December – 23 December 2023, 10 am – 10 pm
Peace Square Christmas Market
This Christmas Market is one of my favourite ones as it feels a lot more authentic than the large market at the Old Town Square. Here you have more local or small producers with well made gifts, traditional glass-blown decorations and locally produced and baked food.
My favourite stalls include the lavender farm stall, that sells lavender biscuits, which are absolutely delicious, one of the best local artisan bakeries called 'Our Bread' that produced traditional Christmas cookies that you can try individually or buy a whole box and hand-decorated gingerbread biscuits. There is also a stall with leatherbound notebooks, colourfully painted birds carved from wood, and traditional cookie cutters (so that you can make your own Christmas cookies at home).
The prices are also normal – not hugely overpriced, but right for the work that goes into all the handmade products. I always buy one or two new Christmas decorations for my Christmas tree and also buy some of my presents from there.
I always see locals meeting in front of the St.Ludmila Church, huddling a hot mulled wine and catching up before they get busy again with their own Christmas preparations. The whole market has a lovely feel and it's definitely one I'd recommend you visit if you want to see a bit more authentic Christmas in Prague.
Location: Namesti Miru – in front of the St. Ludmila Church, nearest underground stop 'Namesti Miru' or tram no. 4, 5, 10, 16, 22. This market is about 20 minutes from the centre of Prague by tram or undeground.
Opening Days & Times: 25 November – 24 December 2023 – 10 am – 8-10 pm (depends on the customers & weather)
Republic Square Christmas Market
There are usually two separate markets at the Republic Square. The more visible one is right outside the Palladium Shopping Centre (the large pink building) and includes a lot of traditional food stalls and Christmas decorations.
The second market is in front of the 'Celnice' building (the old custom's house) just a couple of minutes walk. This market includes more winter clothes stalls, traditional gingerbreads and sweets, handmade gifts and mulled wine. It's nice to walk from one market to another and then continue to the centre of Prague, which is only about 15 minutes walk.
Location: Namesti Republiky, in front of the Palladium shopping centre, Underground Stop 'Namesti Republiky' on the line B. Tram stops 'Namesti Republiky', no 5, 6, 8, 15, 19, 26,
Opening Dates & Times: 25 November – 30 December 2023, 10 am – 8 pm (approx)
St. George's Basilica Christmas Market at Prague Castle
This market is slightly smaller than the other markets in the centre of Prague, but it perfectly fits behind the St. Vitus Cathedral in front of the St. George Basilica. There is a good mix of food and traditional decorations stalls, although there seems to be more food than non-food stalls. For once I think that's actually a smart choice, because there is always a shortage of quick snacks at the Castle and this way you can enjoy walking around the castle with a mulled wine or hot chocolate in your hands!
Location: St. George's Basilica Christmas Market – located in the courtyard of St. George's Basilica in the Prague Castle complex, Prague 1 – nearest underground stop is 'Malostranska', tram stop 'Prazsky Hrad', number 22, 23
Opening Days & Times – 2 December 2023- 6 January 2024
Marianske Square Charity Christmas market
This is one of the newer Christmas Markets, but it's quickly become one of my favourite one. There are only about 20 stalls here, but there are all charities chosen by the Prague Town Hall. Each charity has handmade gifts and traditional decorations, so you can always find something very different and unique here. Some stalls have also hot chocolate or mulled wine and small snacks.
What is even more amazing about this market is the entertainment. Last year I came for what looked like a traditional carol concert, but I was blown away by the professional performance of the band who played the carols with a bit of a modern twist. During the day, you also get the local school children singing, which always gets a ton of applause!
Location: Marianske Namesti – nearest underground 'Staromestska', 5 minutes walking distance from the Old Town Square
Opening Dates & Times: 2 -23 December 2023, 10 am – 10 pm
Tylovo náměstí Christmas Market
This is a smaller market on the same place that's normally run as a farmer's market during the rest of the year. At the beginning of the advent, the stall take on more of a festive offerings and there is a good mix of food and non-food stalls.
The market has a real community feel and I've tasted one of the best mulled wines there! (and the cost was reasonable too and without the 'tourist' mark up, which seems to be in the centre of Prague). This market is about 5 minutes from the Namesti Miru – Peace Square, so you can easily see both together.
Location: Vinohrady district at Tylovo náměstí square, nearest underground station 'I.P.Pavlova' or tram stop no. 10, 16, 22
Opening Dates & Times: 2 December – 24 December 2023, 8 or 9 am till late 9-10 pm (depends how busy the market is)
Havel's Market
This is a all year gift, food and souvenirs market in the centre of Prague as you walk from the Wenceslas Square to the Old Town Square. It's a handy market to know about for Prague souvenirs and traditional confectionery and sweets. During the advent, there are more stalls with festive offerings, so it's always nice to have a look.
Location: Havel's Market courtyard, close to the Wenceslass Square on the way to the Old Town Square
Opening Days & Times: Open all year round including national holidays, 9-10 am in the morning till late (depending on how busy the market is).
Kampa Island Christmas Market
The Christmas market at Kampa looks always pretty magical as you see it from the Charles Bridge. Once you come down, you can taste hot food, traditional Czech cookies and gingerbread and of course hot mulled wine and other festive drinks. There are also stalls with crafts and Prague souvenirs. This is much smaller market than the others in the centre, but it's lovely to walk around the historic Kampa Island afterwards and the famous John Lennon Wall is also just round the corner.
Location: Kampa Island in the Lesser Town district as you come down from the Charles Bridge
Opening Dates & Times – 2 – 24 December 2023, 10 am – 10 pm
Festive Farmers Market at 'Naplavka'
This is one of the biggest farmer's markets in Prague, currently around 90-100 stalls every Saturday. Apart from the usual fresh vegetables, fruit and organic meats you can also buy bread and cakes from various regions of the Czech Republic.
There are also plenty of freshly made traditional foods such as 'topinky' (toasted sourdough bread with garlic) or fried savoury potato pancakes (Bramboraky) as well as yeasted sweet pancakes called 'Livance'.
During the Advent the market takes on a festive style with traditional Czech Christmas decorations, cookies, local crafts, handmade products, natural soaps and cosmetics.
Since this is the biggest and most known farmer's market in Prague, it's also the busiest one, so it's worth getting there a bit earlier in the day. There is often a live music and many people use the market as social get together on Saturday morning.
Location: Palackeho Namesti – Prague 2, the closest underground station is Karlovo Namesti, tram number 10, 16, 17, 19, 3 stop Palackeho Namesti or Vyton
Opening Dates & Times: every Saturday, 8-2 pm (or slightly late depending on how busy the market is)
Advent Markets at Jiriho z Podebrad Square
The Advent markets on Jiřího z Poděbrad square are one of the most popular Christmas markets in Prague and very popular with local people. The market has over 70 stalls selling traditional Czech crafts, Christmas ornaments, and souvenirs, as well as food and drinks. The market runs as a farmers market during the whole year, but during the Advent season it's also opened during Sunday.
There are often live performances of Christmas carols and other musical acts and you can also visit the nearby church.
My favourite stall is a family run bakery which produces healthy bread as well as gluten-free cakes and bread.
Location: Jiriho z Podebrad (Underground Station or Tram) – Prague 3, Zizkov, tram no 13. 11
Opening Dates & Times: 29 November – 23 December 2023, Wed, Thur, Frid, Sat, Sun – 8 am till late afternoon
Andel Christmas Market
There are at least 50 stalls with seasonal food produce, Christmas decorations, flowers, Christmas trees, handmade soaps, candles and much more. Just before Christmas (about a week before) you can also see life carps being sold at the market.
There are few local bakeries offering traditional Czech cookies, gingerbread and cakes and there are also hot food stalls.
My favourite is a stall with Moravian cakes and 'frgali' (blueberry cakes), which are so delicious, that you can't stop at just one! You need to get up early if you want to have the best choice of all the amazing bread and cakes on offer.
This is my local market, so I shop there quite often as during the year, it's a regular farmer's market, open every Friday.
Location: next to the Angel Metro – Underground line B, tram stop 'Angel' numbers 12, 20, 5, 7, 9, 10, 15, 16
Opening Days & Times: 25 November – 24 December 2023, 7 am – 7 pm (Christmas trees from 2nd Advent Sunday and live carp fish from 3rd Advent Sunday)
Special weekend Festive markets
Pottery & Traditional Crafts Market (3-4 December 2023)
The market is pretty special as it features over 130 craftsmen and artists from all over the country who bring their handmade pottery products, including mugs, vases, decorations and other art made from pottery and clay. Apart from the pottery stalls, you can also see pretty stationery, earrings, jewellery and handmade clothes.
There are also food stalls with cheeses, sausages, pâtés, pretzels, Christmas cookies, gingerbread, caramels, mead and mulled wine.
Location: Exhibition Centre Holesovice, Prague 7, trams 5, 6, 12, 18 stop right in front of the exhibition area – tram stop ' Vystaviste' and the entry to the event is free
Opening times: 10 am – 6 pm
Dyzajn Market – Winter Edition – 9-10 December 2023
Dyzajn Market is one of my favourite places to go to buy an unusual and unique gift, a little treat and to get inspired by the beautiful designs and art on display.
The winter Dyzajn Market will include over 180 local artists, designers and makers who will present their products including fashion clothes, jewellery, pottery, toys, stationery, gift cards, accessories, and handbags. There will be also fashion show and entertainment programme for both children and adults.
Location: Exhibition Centre Holesovice, Prague 7, trams 5, 6, 12, 18 stop right in front of the exhibition area – tram stop ' Vystaviste' and the entry to the event is free
Opening Times: 10 am – 6 pm
What's the best thing to buy at Christmas markets in Prague?
There are so many great things to buy at Christmas markets in Prague to take back with you as a gift, but some of the most popular items include:
Hand-blown glass ornaments – Czech Republic is well known for its glassmaking, and the Christmas markets offer a wide variety of beautiful, handmade glass ornaments in many different shapes and colours sold directly by the glass making companies. Just be careful when you are transporting your ornaments, they are made from a real glass and are fairly fragile, so wrap them well and keep them in your hand luggage.
Traditional Czech Crafts – You can see variety of traditional Czech handicrafts at the markets, such as wooden toys, hand-painted ceramics, and embroidered textiles. The more traditional gifts are usually seen in the centre of Prague, but the Peace Square Market or the weekend Dyzajn Market and Pottery & Craft Market have more contemporary gifts made by local makers.
Puppets – Prague has a long tradition of puppetry, and you can find a wide variety of hand-carved and painted puppets at the markets.
Gingerbread – Czech gingerbread (perník) is a traditional Christmas treat, and you can get a lot of different types and sizes of gingerbread cookies at the markets. Gingerbread is fairly firm cookie and providing that you wrap it properly it will travel well even in your check in luggage.
What food and drink can you taste at Prague Christmas markets?
There are so many different foods and drinks you can taste at the Prague Christmas markets, but there are the ones, that seems to be at most markets:
Gingerbread (Perník): A traditional Czech gingerbread that is often decorated with white lemon icing. Each stallholder will have a different recipe based on their family tradition, so it's always really lovely to try different ones.
Christmas Cookies (Vanocni Cukrovi): small cookies and sweets made using traditional recipes, popular cookies are Vceli Uly (Beehive cookies with egg nog filling), gingerbreads, sweet vanilla rolls (vanilkove rohlicky) or linzen cookies with raspberry jam (Linecke Cukrovi).
Trdelník: A sweet pastry made from rolled dough that is wrapped around a stick, grilled, and then coated in sugar and cinnamon. Prague Trdelnik is totally not a Czech traditional or Christmas pastry, but it's absolutely everywhere especially in the middle of Prague. You'll notice that the more local Christmas Markets don't have one.
Hot Mead Drinkg (Medovina): A hot honey wine that is a popular winter drink in the Czech Republic.
Spiced Hot Apple or Hot Pear Drink: These are often non-alcoholic apple or pear juice warmed up with festive spices and they make a great Christmas alternative to alcoholic drinks. They can be a little too sweet sometimes, but a perfect 'pick me up' in the afternoon, when it's already dark and cold!
Mulled Wine (Svařák): A hot mulled wine made with red wine, sugar, and spices such as cinnamon and cloves.
Hot Black Tea with Rum (Grog): This is a drink that a most people would make at home and traditionally this would be made with black tea, rum, sugar and sometimes with lemon. I think we've adopted the English 'Grog' name, but the original meaning of rum diluted with water was never going to catch in the Czech Republic, so I only know if as a hot tea with rum drink.
Prague Ham (Pražská Šunka): A smoked, boneless ham that is often roasted over an open flame and served as a sandwich or as a main dish. You will see it mainly at the Old Town Square or Wenceslas market square. It's again something that was invented for tourists (there is no such thing as 'Prague Ham' in traditional cookery books), but if you like meat you'll like this. Just be careful about the pricing. The Prague Ham stall sells the ham by 100 grams, which is a tiny amount and if you have a generous portion it can easily be 200-300 grams or more. The ham is overpriced anyway, but the prices per 100 grams are so difficult to multiply that you might be surprised how much the total costs.
Grilled Sausage (Klobása): A grilled sausage that is a popular snack at the markets. Can be sometimes spicey and served with traditional Czech bread, which is based on a sourdough bread
Hot Dog in a roll (Parek v Rohliku): Basic hot dog in a soft roll with ketchup or mustard is a traditional street food and usually one of the cheapest snacks on offer. My all time favourite any time of the year!
Small Potato Dumplings (Halusky): Halusky are originally Slovak dish, but somehow they made their way to the Prague Christmas Markets and you can mainly find them at the Old Town Square, Kampa Island and Wenceslas Square. Halusky are small potato dumplings boiled in water and often served with pieces of ham and sauerkraut. They actually taste really nice (I often have them, because they are naturally gluten-free), but again be careful about the pricing. Most stalls show the price per 100 grams, but one large spoon can easily be over 300 grams, so need to be firm with them if it's too much for you and you want less.
Roast pork: Apart from the ham I've also seen stalls selling a roast pork which sometimes is roasted in front of the stall, especially at the Old Town Square. Price is usually per 100 grams, so double check how much you want (or want to spend) before you order.
PIN TO KEEP FOR LATER
This blog post was originally written on 27 September 2023 and last updated on 27 September 2023