Prague is a city of stunning architecture, rich history, and vibrant culture that attracts around 8 million of visitors every year. And because of it's popularity as a popular tourist destination, prices have been rising and your trip to Prague can quickly become expensive if you're not careful. The good news is that it's possible to travel to Prague on a budget without sacrificing your experience.
In this blog post, I wanted to share with you my favourite tips and tricks for travelling to Prague on a budget, including where to stay, what to eat, and how to get around without spending a fortune. I'm definitely more of a budget traveller myself, so I'm always looking for the best deal or finding things to do that don't necessarily cost of lot of money.
Whether you're a backpacker on a shoestring budget or a traveller looking to save some money, these tips will help you make the most of your trip to Prague without breaking the bank.
Cheapest season to visit Prague
Most travel guides tell you that the cheapest time to visit Prague is during the off-season (or low season during late autumn to early spring), but I don't think that's quite right.
It might be correct in terms of getting your flight, or train ticket as these seem to go up during the high season and stay reasonably low off-peak, but everything else, in my opinion, is more affordable or completely free in the summer than in the winter.
You also need less luggage with you (since you don't need bulky winter clothes), so you can travel light and save on check-in luggage at the airport. I also find that in summer I save a lot on food because I'm happy to eat sandwiches for lunch or have a picnic in the park and when it's really hot all you need is to eat ice cream all day! In the winter I find myself craving hot and comfort food all day or it's too cold to walk around, so I end up having a long lunch or dinner in the restaurant (which of course all adds up, money-wise).
You can also get better prices for staying during the week than at the weekend, regardless of whether it's the busy tourist season or not. The prices for hotels can be 20-50% cheaper during the week, but hostels tend to keep their prices similar (as they are already really affordable).
If the accommodation cost is the most important factor to you, for example, you want to stay in a nice hotel, then the low tourist season (mid-October – end of November, or January – March or April) will be much cheaper than the middle of the summer. December is also considered a high tourist season especially 1-2 weeks before Christmas and in between Christmas and New Year.
Practical tips for staying in Prague on a budget
What is the cheapest month to visit Prague?
The cheapest month to visit Prague is completely off-season, which is really just the last 3 weeks in January when the Christmas rush has finished and many tourist attractions, restaurants and some hotels are taking a little break.
While January might be the cheapest month to stay in Prague, I'm really not sure that I'd recommend it as your first visit to Prague if you are on a budget. It's dark, cold and gloomy with very little sun. It might not snow, but it might rain and none of that is a good starting point for a good holiday.
If you are concerned about your budget, I'd suggest booking accommodation that's slightly away from the centre and coming during the nicer months (still a little off the main tourist time, so that you can save on travel costs to Prague) – during the spring (March-May) or early autumn – September or October.
Daily minimum budget 1160 CZK ($50)
This budget is absolutely the bare minimum and you'll need more if you want to enjoy eating out more, having a few drinks and seeing more attractions in one day. I'd suggest adding another 300 CZK ($13) for drinks, desserts, snacks, toilet breaks (toilets in Prague are payable), souvenirs and any unexpected expenses. So this would bring my suggested budget for your Prague travel to $63 per day.
Accommodation – Shared Dorm Room at Hostel – 400 CZK ($18)
Breakfast – 100 CZK ($4) (Coffee & Pastry)
Lunch – 120 CZK ($5) (main course at self-service canteen or sandwiches)
Dinner – 160 CZK($7) (main course at self-service canteen)
Transport – 80 CZK ($3-4) (2X 90 min tickets)
Attractions – 300 CZK ($13) – one admission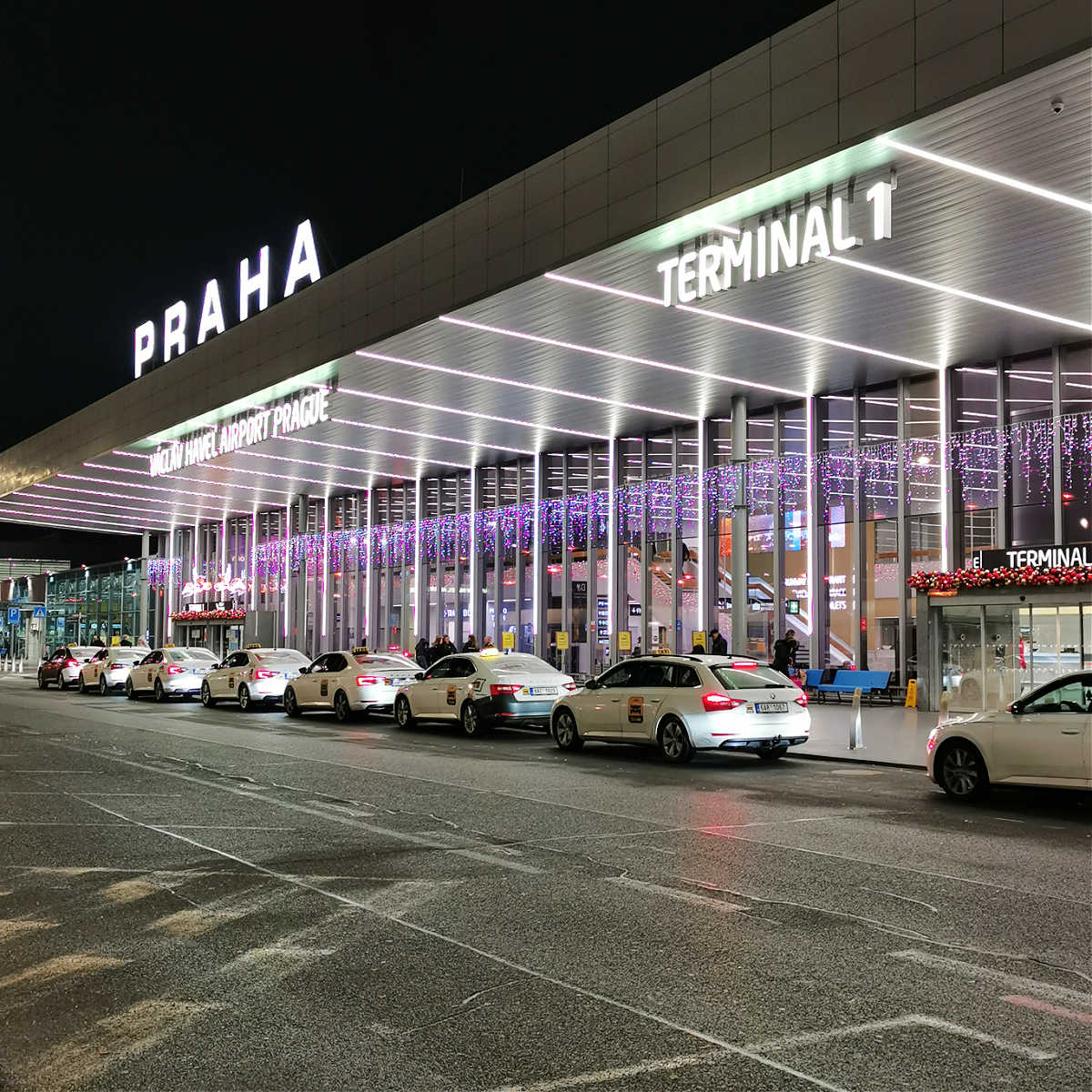 Flights, trains or buses to get to Prague on budget
I also find that when I'm travelling from London to Prague I always find cheaper tickets during the week than on Friday or the weekend. I'm sure that this must be the same travelling from other cities and countries, so do check in case you can save money by simply visiting from midweek to midweek rather than the traditional long weekend.
If you are already in Europe and want to travel to Prague from another city, international buses are much cheaper than trains. Regio Jet or Flit Bus are Czech bus companies that have routes all around Europe and are very budget-friendly. For example, the bus from Brussels to Prague is 990 CZK (about 40 EURO) one way. Again travelling off-peak during weekdays seems to be cheaper than during weekends so also check their website often as they have regular promotions and price drops.
Accommodation on A Budget
As accommodation is likely to be your largest expense (if you are staying for more than 2-3 days), summer (during July and August) is the time when you can find super affordable accommodation. This is because the local university accommodation is rented out during the students' holiday.
Rooms start from 550 KCZ per person per night, which is about £20 or $25. The student accommodation is usually away from the centre, but for example 'Na Vetrniku' has easy access to the centre by Prague underground and tram.
The type of accommodation you can expect is fairly basic (think youth hostel style), but a lot of these rooms are nowadays single or double with their own bathroom. You can find all the details, list of accommodation and how to book on the Charles University Tourist Accommodation website.
More hostels in Prague with low cost starting from 350-450 – CZK per person per night for a bed in a dormitory room. Most hostels also have smaller private rooms for couples or families and these are slightly more expensive (but still much cheaper than hotels)
Czech Inn – Francouzská 76, Vinohrady, 120 00 Praha 2, CZK 400 ($17 USD), private rooms from 1400 CZK
PLUS Prague – Privozni 1, Holešovice, 170 00 Prague 7, CZK 350 ($15 USD)
Hostel & Pension Downtown – Národní 19, 110 00 Nové Město, Prague 1, CZK 400 ($18 USD)
Hostel Fontána – Nerudova 104/13, Malá Strana, 118 00, CZK 400 ($18 USD)
Sophie's Hostel – Melounova 3, 120 00 Prague 2, CZK 450 ($19 USD)
Hostel One Home – Újezd 33, 118 00 Prague 1, CZK 300 ($13 USD)
Hostel Centre – Sokolská 29, 120 00 Prague 2, CZK 400 ($18 USD)
Hostel Mango – Míšeňská 68/8, Malá Strana, 118 00 Prague 1, CZK 400 ($18 USD)
Clown and Bard Hostel – Borivojova 102, 130 00 Prague 3, CZK 400 ($18 USD) 
TOP TIP – Always book directly with your chosen accommodation as this way you get the best prices.
Food, Drink & Eating out on budget
For breakfast check first if breakfast is provided in your hotel or your accommodation. Often this can be cheaper than going to eat at one of the Prague breakfast places and it will also save you time.
If the weather is nice, you can get a take-out coffee and buy pastries in a local bakery or a supermarket and sit in the park. If you want to have a light breakfast on the budget, then you can pop in to 'Liberske Lahudky' in Vodickova Street (off Wenceslas Square) or Andel (Na Knizeci) or Na Porici (a little further from Bila Labut Department Store) where you can pick 'smazenka' (filled omelette on bread with vegetables), fresh bread, morning cakes, pastries, salads, filled bread rolls. They also have a lot of good lunch dishes such as salads and pre-made dishes that can be eaten cold or can be heated if you are in a self-catering apartment with a microwave. It's all good homemade food and the prices are very good too as this is where the locals shop.
In the summer (or late spring or early autumn) you can save money by buying sandwiches, salads and light snacks cheaply in the local supermarkets instead of going out to eat and have a picnic in many of the Prague parks and green spaces. I don't know about you, but I find that I'm not as hungry on a hot day in the summer as I'm in the winter and that helps to keep the food budget down.
For lunch and early dinner, you can also visit the many traditional Czech food canteen style restaurants to keep your food budget down. The soups start from 30-50 CZK and mains from 80-120 CZK depending on which one you go to. From a budget point of view, I like these self-service canteens because you can often mix different side dishes with different main dishes (or just have it on its own) and you don't need to have a drink with your meal if you don't want to. What I also like is that you pay the price on the menu and tips are not expected.
If you want to eat out at a regular restaurant, budget at least 400-500 CZK per person for soup, main course and one drink. To keep your budget low, walk away from the main tourist areas in Old Town Square, Prague Castle, Lesser Town Square or Kampa. Just a few streets away from any of these places, you'll find regular restaurants where locals eat too. Do check the prices in advance (menus are usually displayed at the entrance) as some of these restaurants can be still upmarket and cost a lot more than your budget.
READ MORE
Food supermarkets in the centre of Prague
All of the following supermarkets have fresh pastries, vegetables, fruit, deli section etc. plus other basics such as toiletries. The small 'corner' shops dotted around the centre can be useful if you are in a rush, but the prices there are much higher than in regular shops.
The prices in the supermarkets are comparable, no matter which one you go to, there will be a valued item and a premium item for all the different products you need. There might be special offers or discounts available, but Czech supermarkets don't really discount food that's close to its sell-by date. Penny is probably the cheapest out of these supermarkets.
Quadrio – Narodni Trida – Billa (small) – lower ground floor
Palladium – Namesti Republiky (Peace Square) – Albert – lower ground floor
Kotva – Namesti Republiky (Peace Square) – Albert (large)
Celnice – Namesti Republiky (Peace Square) – Billa (large)
Revolucni Street – off Namesti Republiky (Peace Square) – Penny (large)
READ MORE
The complete guide to supermarkets in the centre of Prague >>
Free or low-cost events, attractions & things to do
From early summer to early autumn, you can find the most free or low-cost events organised for practically every weekend, including concerts, theatre, food festivals or free open government houses during the national public Czech holidays in early July, September, October and November.
Christmas time is also busy with various free events including the famous Christmas Markets, so you can make a visit to Prague in December still budget-friendly.
Another reason, why the main tourist season can be budget-friendly is that I also find that in the summer more attractions are open to the public and I find myself exploring Prague without actually wanting to visit the museum for half a day, as the days are so sunny and it's so lovely to just wander around. All the free things to do in Prague are much more fun to do in the summer than they are in the winter when it's cold and dark very early in the day.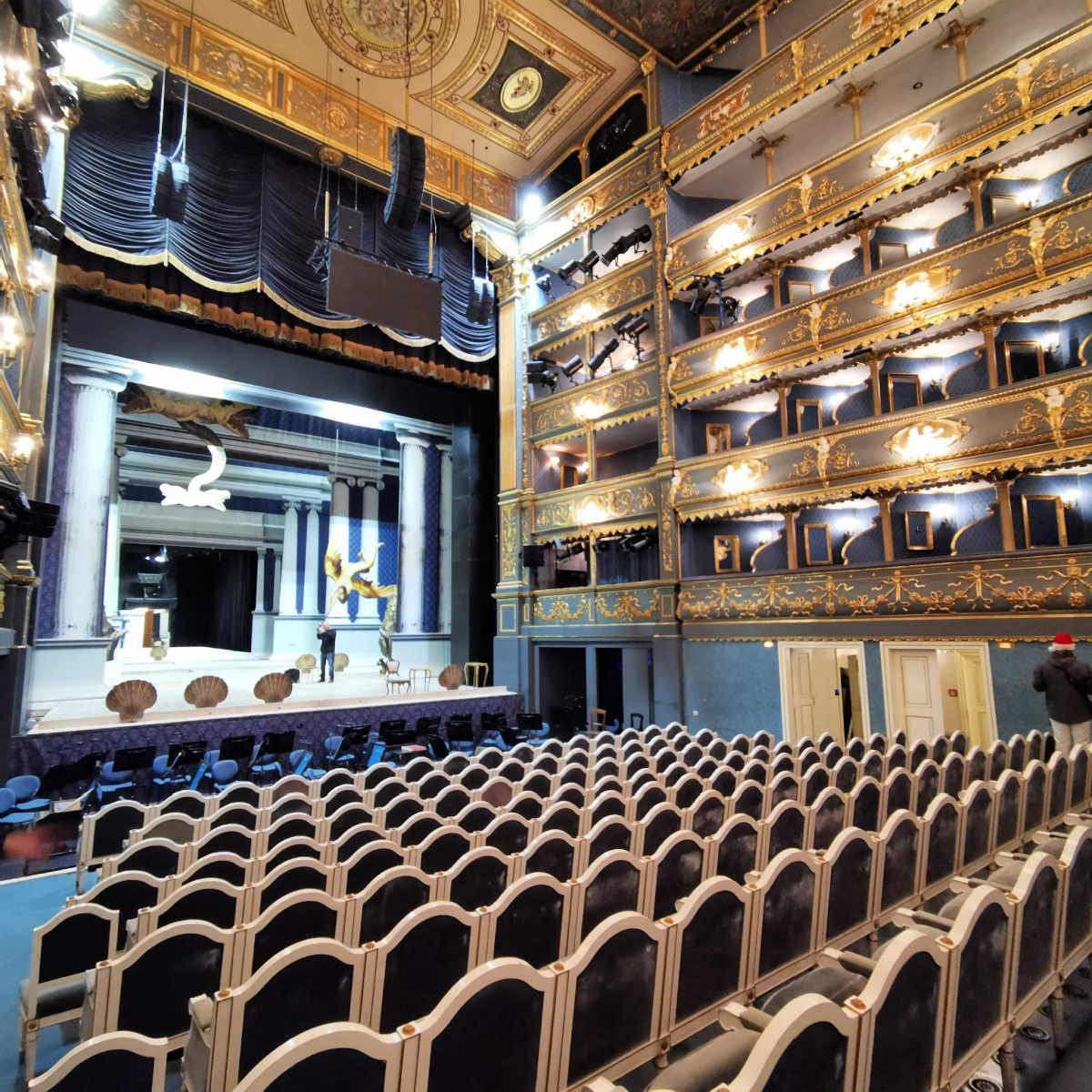 Entertainment in Prague on a budget
All the large theatres such as the National Theatre, the Estates Theatre or Opera sell their tickets at different prices, depending on how close to the stage the seats are. The best-priced tickets are however the 'standing tickets', which are only about 150 – 200 CZK (depending on the type of performance and theatre).
Not only that these tickets are the cheapest, but the view is also a lot better than from the cheapest seats at the top or the back of the theatre. This is because the standing booths are on the side (National Theatre) and right at the back (Estates Theatre) on the first or second floor. The only downside, of course, is that you will be standing up, but you can usually lean onto the balcony.
When I was a student I used to see all the theatre productions like this, because I would go 2-3 times a week in the theatre season. Back then the tickets were the standing tickets were 5 CZK, which was a lot cheaper than the cinema!
The ticket booking office for the main theatres is at the Narodni Divadlo stop – National Theatre close to the Vltava River and you can buy any tickets directly there or online. It's worth checking which performance has English subtitles as a lot of plays do, but some still don't.
READ MORE
Getting around Prague on a budget
Prague is a walkable city, especially in the Old Town, Charles Bridge and the lower part of Lesser Town, which means that you don't need to worry about transportation expenses if you are staying in the centre of Prague (providing that you are happy to walk everywhere).
Saying, that if you want to use public transport to get to the outer parts of Prague, the cost is very affordable and super easy to navigate.
You can either buy tickets for 30 or 90 minutes (30 or 40 CZK). The 90 minute ticket will take you anywhere in Prague comfortably and you can use trams, buses and underground.
If you know that you are going to do a lot of travelling around, you can buy the 24-hour pass for 120 CZK (around €5) or 3 day (72-hour pass) for 330 CZK (around €13). The PID Lítačka app is the easiest way to purchase tickets, as it allows you to buy and store tickets directly on your smartphone. You can also buy a ticket on any tram, bus or underground and use either cash or a card to pay.
If you are coming from the Prague Vaclav Havel Airport to the centre, the cheapest option is by bus and underground (40 CZK for 90 min ticket). You will easily save enough for a whole dinner by not getting a taxi as Prague taxis or car services like Uber or Bolt would cost about 350-600 CZK depending on where you need to go in Prague.
READ MORE
Souvenirs and What to bring from Prague (on budget)
Whilst there are plenty of souvenir shops on the King's Route and Old Town Square, they are not always budget-friendly, unless you are looking for a fridge magnet! I usually buy traditional Czech spa wafers, biscuits or traditional sweets as these taste really great, don't cost a lot of money and people seem to prefer them more than something they will have to dust! You can buy the sweets and biscuits in any large supermarket.
If you want to buy something a bit different, you can support the local artist and craftsmen by buying their handmade creations from a shop that's called 'Cvrk'. This shop has several branches, one is for example in the shopping passage U Styblu (also accessible from Svetozor passage just off the Wenceslas Square)
Visiting Prague with children on a budget
All paid attractions offer cheaper tickets for children (usually 50% discount) and the public transport is 50% cheaper too than the adult ticket. If you are travelling with teenagers that are close to 15 years old, it might be worth taking with your ID with a photograph (either an official student card or passport) to prove their age to receive their discount.
Visiting Prague for the over 60s
If you are over 60s (some places over 65) years old, it's always worth looking at whether there is a concession for the tourist attraction you'd like to visit. Most places offer 30-50% reduction in admission fee, but might ask for proof of age if you look particularly youthful!
Another good news is that the public transport in Prague is also 50% off for 60-65 year olds and completely free for over 65-year-olds. Please make sure that you have an official ID card with you, which in most cases will be your passport.
Affordable Clothes shopping
If you happen to forget something, the weather changes suddenly or you just need more clothes, the cheapest way (and the most environmentally friendly way) is to buy them in second-hand shops. The largest chain of second-hand shops is called Textile House and the closest branch to the centre is in Charvátova 11, Prague 1 (it's on the pavement from the square with the Kafka's Rotating Head).
The prices here are much cheaper than in regular budget shops (like Tesco's or Primark), but the best thing is that about once a month, the shop does a clearout, when everything is 40 or 60 CZK. You'll see big display notices in the windows to advertise when that happens. Normally the prices are 100-250 CZK for tops and can be anything up to 250-350 CZK for trousers, dresses or coats.
My other favourite second-hand shop is at Jindřišská 941/24, 110 00 New Town (side street from Wenceslas Square) and it's called Genesis Clothes. Here they sell everything for 129 CZK, which makes it really good value, especially if you are looking for something like a winter jumper, coat, trousers or long dress.
This blog post was originally written on 29 October 2023 and last updated on 29 October 2023
PIN THIS GUIDE FOR LATER