Here is my Prague tram no 22 route comprehensive tourist travel guide for 2023. I wanted to share with you my favourite quirky and off-the-beaten-track places to visit, cafes, restaurants, as well as the more touristy places to see.
Route no 22 tram is the most well known tram route in Prague, but a lot of tourists only use it to get to the top of the hill at Prague Castle. But, hopefully, as you will see, there is so much more than that to this tram ride!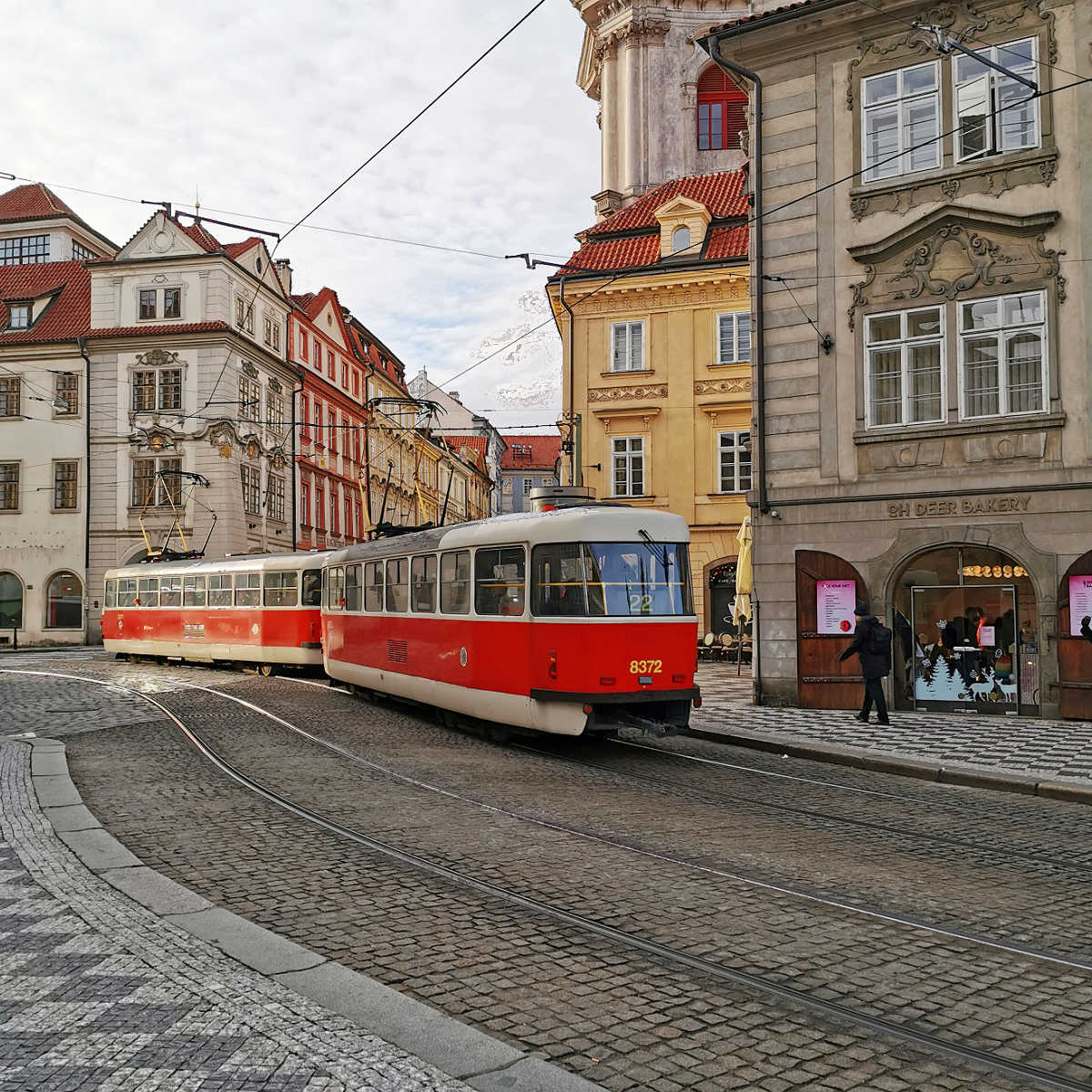 How to use this self-guided tram guide
The best way to use this self-guided guide to tram 22 route is to pick the areas that interest you and start there.
You won't be able to visit absolutely everything in one day. I would say, that each tram stop can easily be seen as a whole or a half a day trip on its own. You can also combine two or three stops together to make a whole day.
If you have a day public transport ticket, you can hop on and hop off whenever you want to and just pick a cafe place, brief visit to the park or walk around the area to get a flavour of what the place is like.
I've visited all the places on my 22 tram guide, but I've done it over a period of several days spread over a few months (years really, as you can see from the varying photos quality….). There are some places I keep coming back to as there is always something I've missed before or there is a new cafe, museum or gallery that has opened in the meantime.
Each heading in my tram guide is the actual name of the tram stop. I've listed them in Czech, but included the English translation, where possible. The tram timetables on each tram stop (or on the tram website or on the tram itself) only list the names in the Czech language.
The tram stops are always announced in the tram, so that you know what the next stop is going to be. You also have a digital display of all the tram stops inside each tram carriage, so hopefully, you shouldn't miss your stop.
If you do miss your stop, you can usually walk back as the tram stops are fairly close to each other.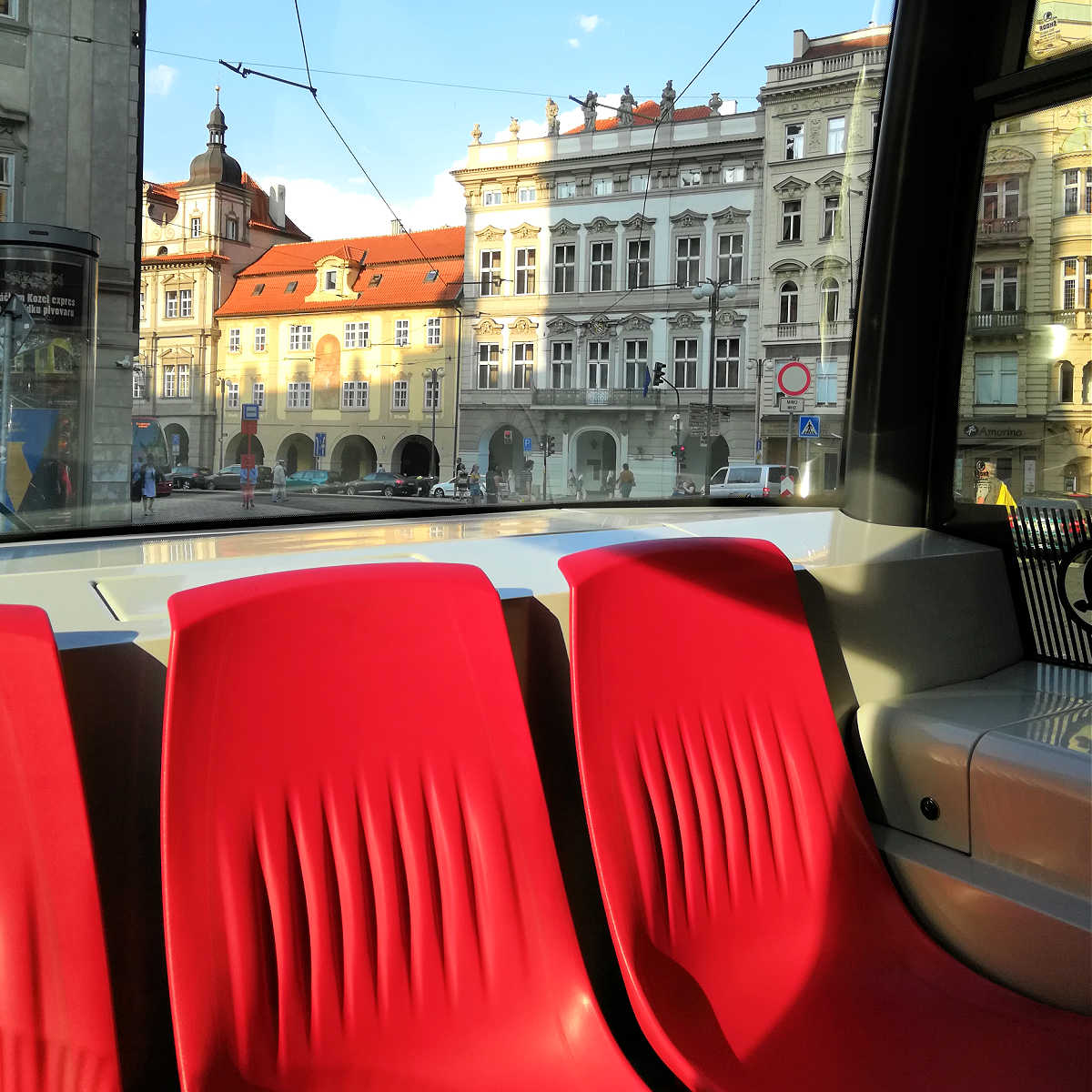 My criteria for including sights and places in this guide
To make this self-guided tram guide as easy as possible, I've only included places that are visible from each tram stop or very close by (like 3-5 minutes walk).
Since there are literary hundreds of different places I could have included in this guide, I wanted to include the ones I've personally visited and keep coming back to.
Of course, I'll mention the main tourist sites, but I also wanted to share with you my favourite places, that you might not find in the more traditional tourist guide.
How much does a tram ticket cost?
You can use a single 30 CZK ticket (for 30 minutes only), 40 CZK ticket (for 90 minutes only) or buy a 24 hr ticket for 120 CZK.
The day ticket is best if you want to do shorter visits to places and don't want to be constrained by time (and constantly remembering to buy tickets or have spare ones).
You can buy tram tickets at larger tram stops (from self-service machines) or inside the tram itself. For more detailed instructions, see my Prague Tram Guide below.
READ MORE
Bila Hora – The White Mountain
Bila Hora is the last (or first) stop on the 22 tram route and it's here where you can find a beautiful baroque church complex of Virgin Mary Victorious with a peaceful garden. There is also a lovely little cafe in the grounds of the abbey complex, perfect for a quiet coffee and contemplation (whether you are religious or not…).
On the side of the main road, there is also an old chapel marking the pilgrimage journey from Prague Strahov Gate to Hajek Pilgrimage Church and Abbey about 20 km from Prague. The Bila Hora chapel is the 8th out of originally 21 chapels and whilst nowadays it is quite plain (without any decoration), it's still a very imposing structure of 8.5 metres tall.
If you follow the path behind the chapel, you will soon see a large area with a slightly hilly part in the middle. This is the sight of the 1620 Battle of White Mountain.
The Battle of White Mountain was one of the most important battles at the beginning of the Thirty Years' War. It lasted only about two hours and was won by the Habsburg army. The Czech (Bohemian) army was defeated and for the next 300 years the country was governed by the Habsburgs kings.
Obora Hvezda – The Star Enclosure
This is a large park with a gallery set in the original Star Hunting Lodge. There is also a cafe place, picnic areas and plenty of walks in the enclosure woodland area. The park is free to enter.
Vypich
Head over the road to Ladronka Park for a run, walk or to hire inline skates at the Ladronka Shop & Cafe. Ladronka is one of the largest parks for inline skating in Prague, but it's a lot less busy than the skating lines in Stromovka Park or by the Vltava River.
The name comes from a baroque house built in the area, which is now a restaurant and community art space. The whole area was originally used for growing wine and for a long time it was a separate part of Prague with no other houses.
Brevnovsky Klaster – Brevnov Monastery
Large monastery with gardens, church, restaurants and coffee shop.
The monastery brews its own beer, and you can buy some at the pub inside the monastery grounds. Free to enter the grounds and gardens – great for walks. Guided (paid-for) tours of the monastery are available.
Pohorelec
This is the furthest away tram stop, that you can get off to see all the Prague Castle Grounds. You will have great access to the Strahov Monastery and can walk on the top of Petrin Hill following the Hunger Wall into the Kinsky Garden.
As you walk down towards Prague Castle, you can also see the Loretta Monastery and Church and take a detour via the quirky streets of New World Town (Novy Svet).
Brusnice
This is the closest tram stop if you want to access directly the cobbled streets of New World, behind Prague Castle.
Prazsky Hrad – Prague Castle
Get off here for the most direct access to Prague Castle and gardens. Once you've had a look around, you can walk down the hill (either via the Castle Steps, which will lead you to Malostranska tram 22 stop or via Nerudova Street (which will take you to Helichova street tram 22 stop).
Kralovsky Letohradek – The Royal Summer Palace
Visit the gardens of Queen Anne's Palace and walk through Chodkovy Gardens (one of many Prague's parks and green spaces). You can also visit famous sculptor Bilek's Villa and museum, where you can see his work and get insight into his family life
If you cross the road you can continue to walk on the top of the hill through Letna Park to the Technical Museum or Farming Museum.
Malostranska
See the Vojanov's Gardens with peacocks just around the corner, visit Kafka's Museum, Gingerbread House shop and walk towards the Charles Bridge to explore Kampa Island.
You can also walk up the old Castle stars to Prague Castle (which is quite a steep hike!) or stay on the same level and explore the lower Prague Castle Gardens (moderate entrance fee) or the Furstenberk's Garden (low entrance fee) or Valdstejn's Garden (free to enter).
There are also a couple of large art galleries very close to the Malostranska stop. The more traditional one is Valdstejn's Art Gallery (in Valdstejnska Street, as you walk through the little park next to the tram and underground station.
The second one (in a re-built old electric transformer station) is the modern Kunsthalle Gallery recently opened, but already getting a great reputation for innovative building design, interactive exhibitions and unusual ways of displaying art.
The gallery coffee place has a great selection of coffees, pastries and sandwiches.
Malostranske Namesti – The Lesser Town Square
Walk up Nerudova street to the lower Prague Castle stairs or cross the Vltava River by walking on Charles Bridge (the most famous bridge in Prague).
If you like to see this part of Prague from a great height, visit the St. Nicholas tower (by the side of the same church). You will not only get great views, but also see a good example of how towers were operated in olden times.
You'll see two different flats of the people who looked after the tower and there is even a better surprise on the top of the tower. In the 1950s the Czech secret service used the tower to watch and listen from.
Hellichova
Visit the church of Infant Baby Jesus for quiet contemplation and great baroque church art and decorations.
I always stop at the coffee cart at the front of the church run by the church staff. The coffee is great, the money goes to a good cause and I love the name! The coffee cart is called 'Bozi Kafe', which means in Czech 'God's coffee' but 'Bozi' also means 'amazing' or 'superb' in Czech slang).
If you walk a few steps back on the same side of the road, you find the entrance to the beautiful Vrtba Garden hiding behind townhouse gates. It's a very pretty garden designed in several layers in an Italianate style with flowering plants, trees and decorated with statues.
There is a moderate entrance fee to pay, but I think it's worth it as you can also get a brilliant view of Prague Castle and the centre of Prague from the top layer of the garden.
Ujezd
Get off here to taste great ice-cream at Angelato (one of my favourite ice-cream places in Prague) and take the funicular to the top of the Petrin Hill (or walk up through the gardens if you like).
The top of Petrin Hill has amazing views of Prague and you can either walk towards Prague Castle following the Hunger Wall or the other way to Kinsky Garden and the National Folk Museum.
There is, of course, the Petrin Lookout Tower to explore, Mirror Maze Castle, Rose Garden or Observatory on the top of the hill, or you can just enjoy a light lunch in a couple of different coffee places on Petrin Hill or Nebozizek – a pretty restaurant half-way up the hill between Ujezd and Petrin Hill.
Narodni Divadlo – National Theatre
I always check out what's on at the National Theatre, as a lot of performances now have English subtitles, including plays, operas and ballets. Performances are nearly every day, including matinees on some days, and tickets are available in different price tiers (with standing tickets for only 150 – 250 CZK depending on the type of performance).
Right across the National Theatre is the famous Cafe Slavia, where famous artists, writers and philosophers used to hang out and work from.
If you walk towards Shooter's Island, you can get some great photos of Prague Castle together with Charles Bridge.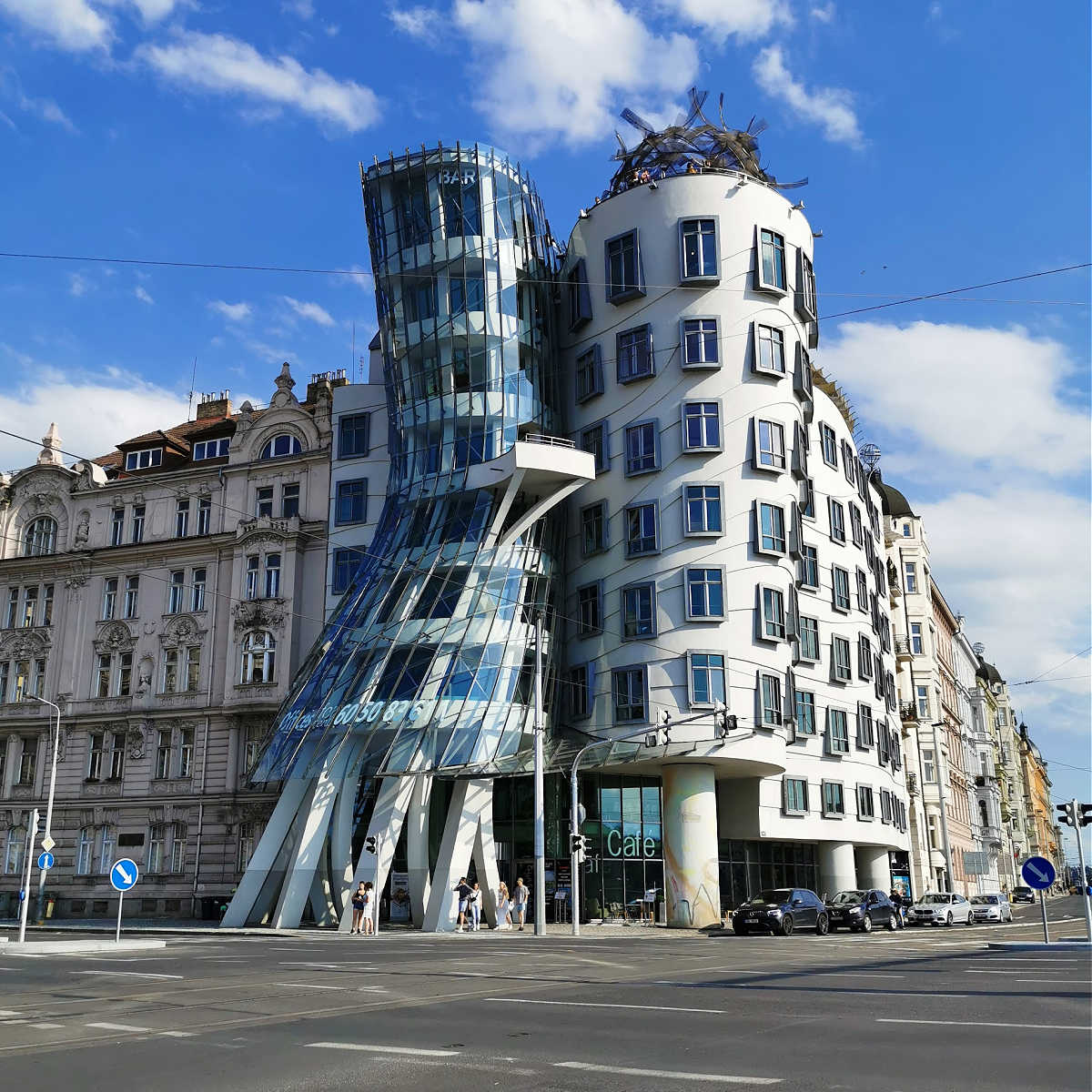 If you want to take a little detour, the Dancing House is only about 5 minutes walk following the river Vltava.
You can also visit Shooter's Island (which is accessible via steps from the bridge between Ujezd and Narodni Divadlo). Shooter's Island is one of my favourite places to visit when I want to escape the crowds in Prague.
There are a couple of places to get coffee or a drink, light snacks and there is also a restaurant and during summer there are concerts and in the winter an ice-skating rink. It's also the only place in Prague where you can watch nutrias (coypu) (looks like a very large otter, but it's related to rats) playing freely in the water.
Narodni Trida
Get off here to carry on walking on Narodni Street to get to the bottom of Wenceslas Square and to the Old Town Square or further into the historic centre.
There are a lot of historic cafe places around Narodni Street, for example, 1930s style Cafe Louvre, which is a great value for breakfast. Last time I visited, the breakfast offer was reassuringly old-fashioned, the staff lovely and the setting just perfect. It can get very busy at the weekends.
If you want something more down to earth and a bit quirky, I also love the new Super Tramp Coffee, which is hidden in the courtyard of an old printing building. I found this place a couple of years ago and I keep coming back for a good coffee and homemade cakes.
To get there from Narodni Trida, follow the tram towards Karlovo Namesti and then find a little passageway just opposite the Diamond House, house number 15/89. If the passageway is not open the coffee place is closed, too, so don't worry trying to find another way in.
There is a large shopping centre straight as you step out of the tram (with a good supermarket) and you can walk through to get to Kafka's Moving Head statue by David Cerny. The statue is made out of 42 separate layers, which slowly rotate around for about 15 minutes every hour.
If I'm around there lunch time, I always pop into Vegetarian Dhaba for a quick lunch. This is all vegetarian food in Indian style set out as self-service. You plate up your own food, selecting what you like and the price is based on weight. There is always a good selection of various salads, mains, sauces and sides.
Another walk you can take from the Narodni Trida tram stop is to walk to the Old Town Square through the narrow cobbled stone streets – just head towards the street 'Na Perstyne' and continue to whichever street you want. No matter which street you turn to, you will find interesting houses, churches, shops and restaurants on your way.
Karlovo Namesti – Charles Square
Karlovo Namesti – Charles Square is always listed as one of the largest squares in the world and was the largest square in medieval Europe. The problem is that in 19th century the area went through a gentrification rebuild and what was known as the 'Cattle Market' became a town park with trees with middle class town houses around.
As the tram turns up to start climbing towards the Stepanska Street, you are basically riding through what was the main church in the centre of the old square, which was demolished when the tram lines were put in.
The park is nice enough to take a seat or have a picnic on the grass. You can also visit the New Town Hall which has great views of Prague and an exhibition about the development of New Town under Charles IV.
Or you can visit the MAT cinema (one of the independent cinemas in Prague) for the latest movie (in English) or a Czech film with English subtitles.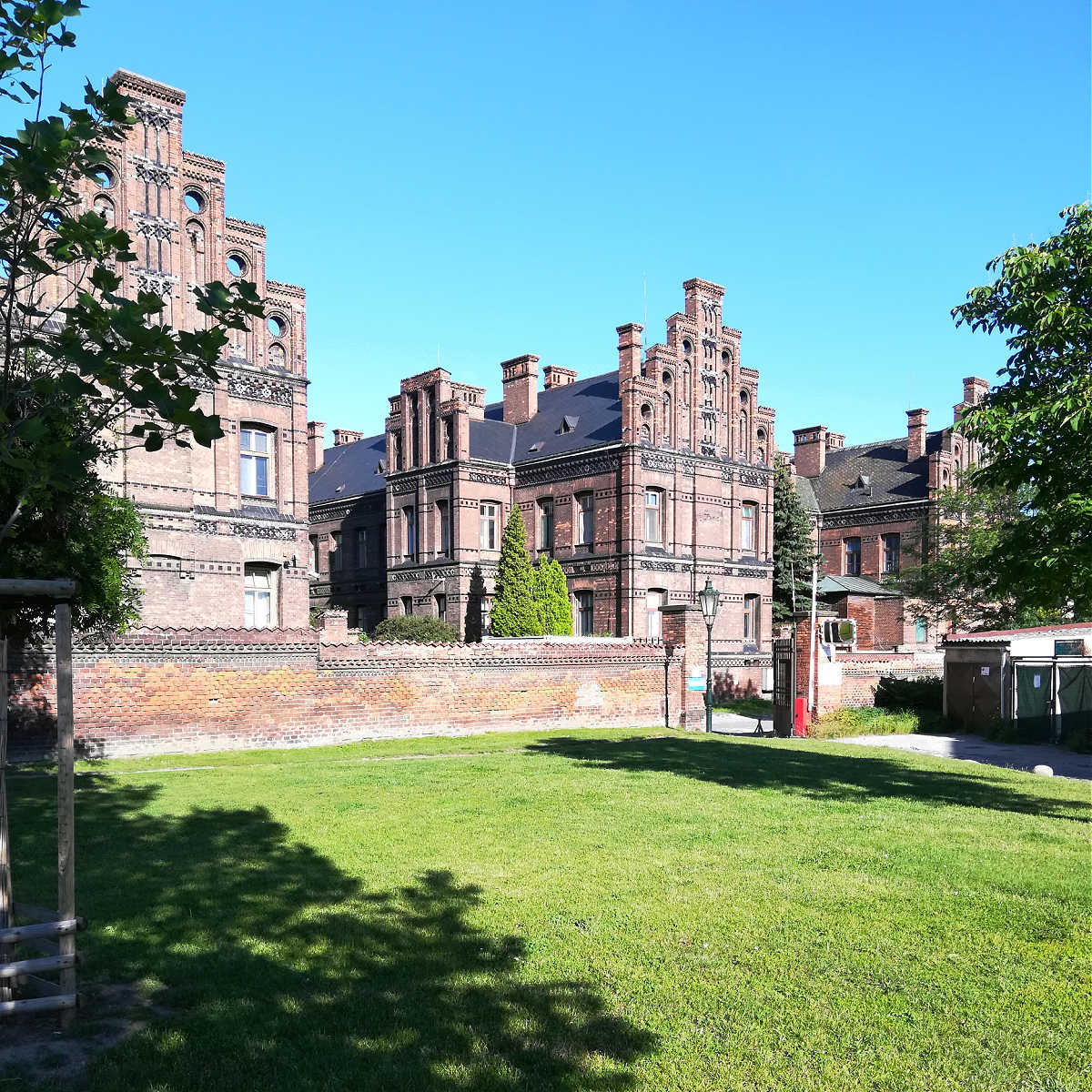 Stepanska
Walk up the hill a little until you reach 'Ke Karlovu' street on your right. In about 3-5 minutes you'll reach the Museum of classical music composer Antonin Dvorak. The museum is set in a beautiful baroque house built by the famous architect Kilian Ignaz Dientzenhofer and it was one of the first houses built in that area.
The museum is very interesting if you want to learn more about Antonin Dvorak, but to be honest, the reason why I visited was to see the house. There is a beautiful painted ceiling on the first floor and all the original parts of the house were restored and kept as they were. There are statues by the sculptor Matyáš Bernard Braun in the garden behind the house. There is a very modest entry fee and the museum is well worth the visit.
If you carry on walking further on the same road, you'll get to a complex of old hospital buildings in an English style with red brick walls.
This is 'U Svatého Apolináře' hospital, which is one of the oldest maternity hospitals in the world (continuously used). The buildings were designed by architect Josef Hlávka and built around 1875. Entrance is, of course, not permitted (unless you are a patient), but you can see a lot of the buildings from the outside.
I.P Pavlova
There is a regular farmer's market at Tylovo Namesti – Square, one of my favourite farmer's markets in Prague, which has local food, drinks, flowers, meat and fresh bread and cakes, perfect for a snack or even a typical Czech breakfast!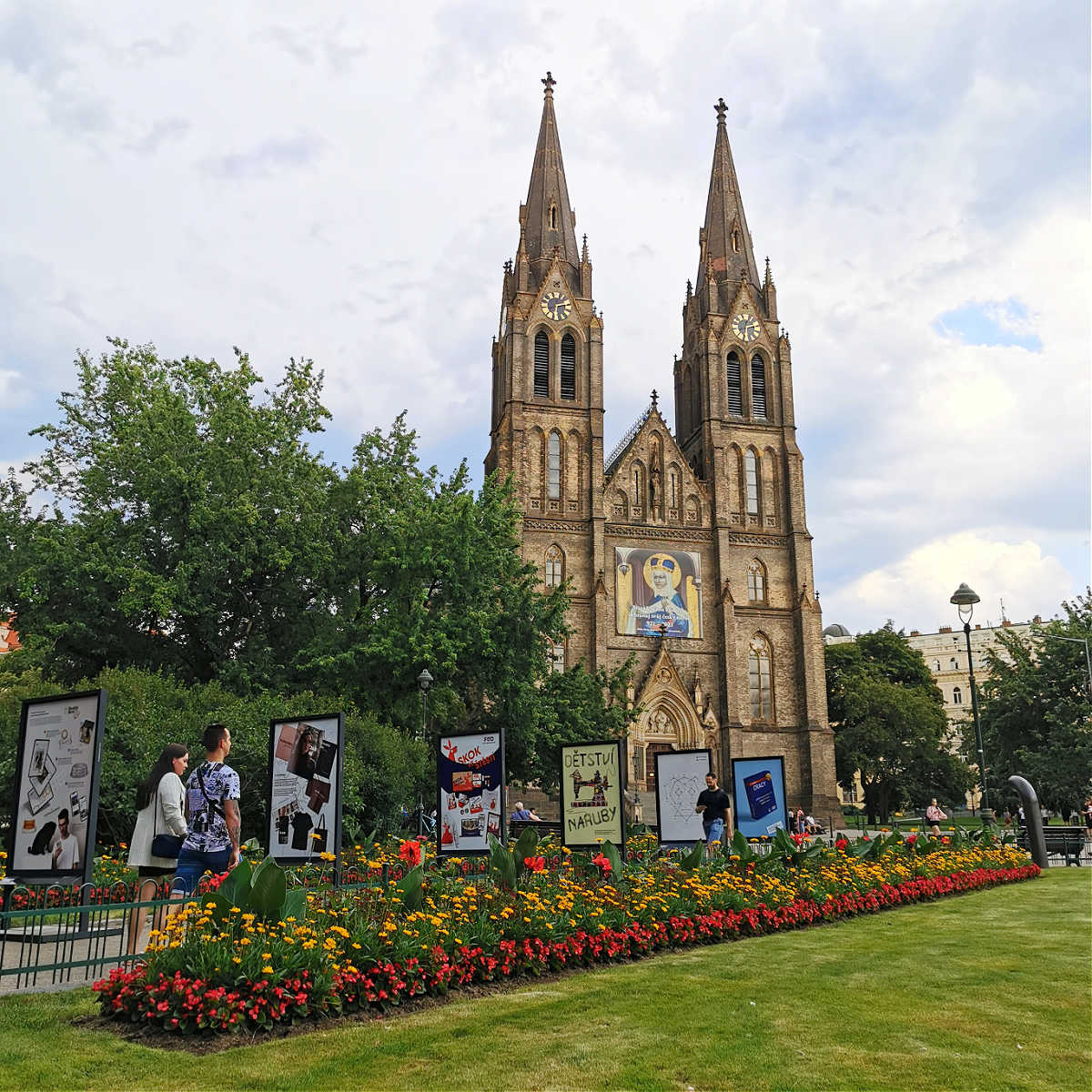 Namesti Miru – The Peace Square
Visit the church of St Ludmila, and during Christmas or Easter, you can also browse through the stalls at the outdoor markets in front of the church.
As you go towards the underground (Namesti Miru), you can also buy one of the best hot dogs in Prague (Parek v rohliku). It's still the traditional thin type of sausage served in a proper Czech white roll. They also use different types of mustard, including spicy Kremzska Horcice.
When I was growing up, these hot dogs cost 2,50 CZK and I used to have them for lunch (as a treat!) when I was studying at Charles University nearby. The Czech style hot dogs are probably not at the top of 'balanced diet' choices, but for the memories they bring, they are well worth it!
Krymska
There are quite a few independent coffee places, including first republic themed coffee place (Kavarna Slagr) that serves great breakfasts (go up the hill from the tram stop) or Cofee Source – one of the first Prague's independent coffee companies that started to import and roast their own coffee beans after 1989 (go down the hill from the tram stop)
If you follow the walk through the park to the top of the hill, you'll see a lot of beautiful 19th century villas, built for local artists, business owners and actors.
Krymska is also the closest tram stop to Grebovka Park with beautiful views of outer Prague valley and its own vineyard on a little hill with a cafe place where you can taste the local wine.
Ruska
Get off here to have a coffee at 'The Flat Cafe'. This place has British owners, so you'll be able to speak to staff in English without any problems. The cafe has a cool British look and if you happen to use the ladies toilet you'll need to walk through a wardrobe!
Vrsovicke Namesti – Vrsovice Square
Vrsovicke Namesti is a small quiet square with a beautiful Vrsovice Chateau on the hill with a small park called Herold's Park. The chateau is currently used as a town hall, but it's really pretty to look at.
On the side of the square there is also a large bank building (Ceska Sporitelna – Czech Saving Bank) decorated in 1930s style outside and inside (the inside is sometimes open on a special public holiday, but you can of course, walk in if you are a customer).
Prubezna
Get off this stop to take a walk through Strasnice 19th century built villas. Walk up 'Nad Olsinami' and then take 'Vilova' Street on your right. This is the centre of the villa's suburb and you can take any street left or right to explore more of the houses.
The most famous one is Trmalova Vila (Trmal Villa) which was designed in 1902 by a famous architect Jan Kotera for Frantisek Trmal, who was a teacher and school inspector.
The villa was built in the English modernist style and it's also inspired by the Arts & Crafts Movement. The villa is now open to the public, with various events put on throughout the calendar year.
I used to walk past this villa every single day to nursery and then to school, when we lived in Strasnice and I was always intrigued by the villa as it was so different from all the other houses.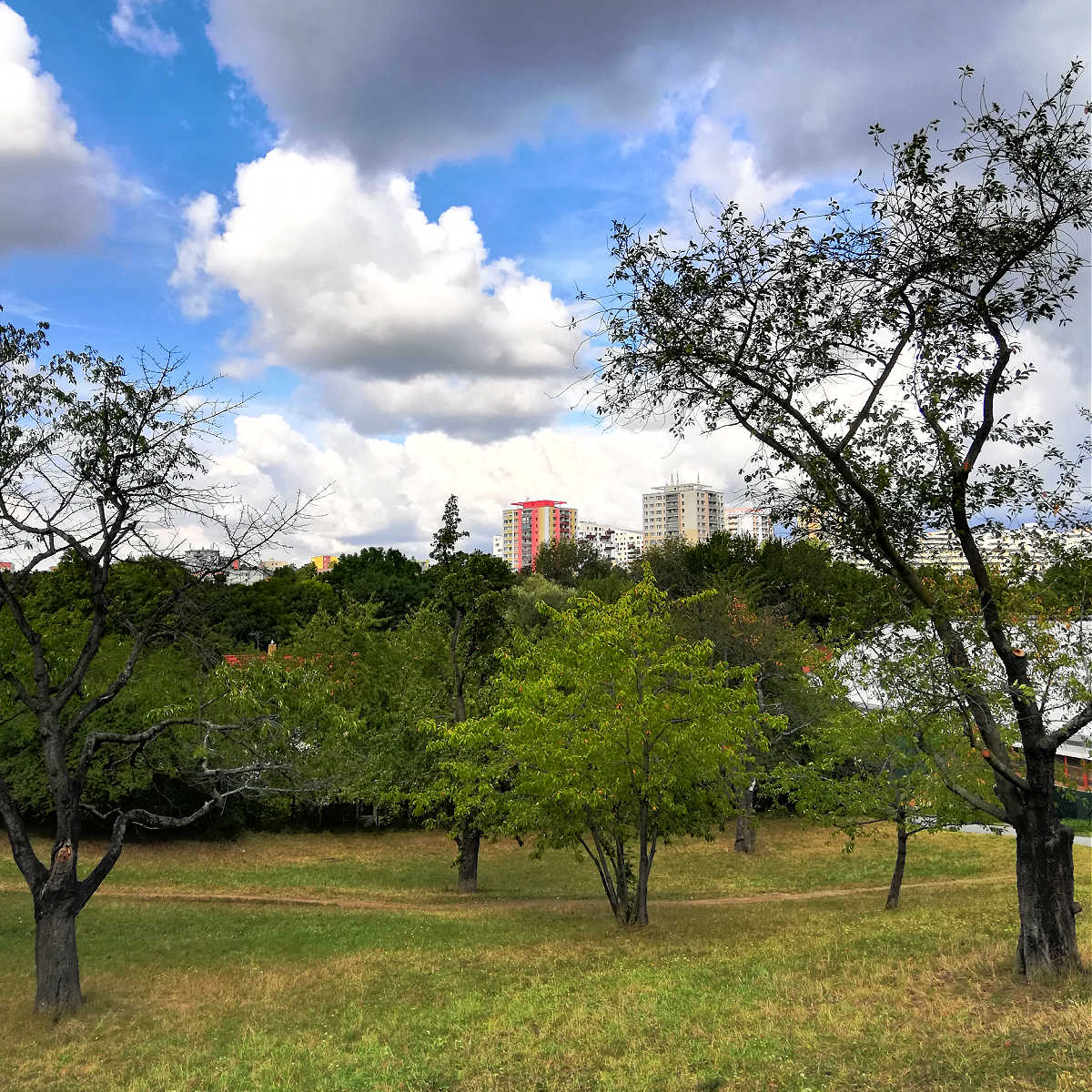 Hostivarska
Here you can find the nature park Hostivař-Záběhlice which is one of the largest green areas in Prague. You can easily spend the whole day there, as the park connects with other woodland areas and you can either continue walking away from Prague or even follow the Botic stream back to the centre of Prague.
There are woodland walks, lakes, beaches for swimming and water sport, restaurants and coffee places together with children playgrounds and outdoor gym areas.
When I was growing up, we lived in Prague 10 District – Strasnice and Hostivar park was our nearest bit of countryside. I remember spending many happy weekends there, always finding new paths or places to explore.
STAY IN TOUCH
Hope this blog post inspires you and as ever I'd love to what you think! Let me know in the comments below or catch up with me over on Instagram.
Magdalena
This blog post was originally written on 7 January 2023 and last updated on 2 February 2023