Pruhonice Park is just outside of Prague but is well worth the visit. It's one of the biggest parks set in wonderfully landscaped countryside with a great view of a large chateau. It's also a UNESCO site.
Where is Pruhonice Park?
Pruhonice Park is just outside Prague and it's best to visit as a longer 1/2 day or a whole day trip.
Why visit
Large woodland park in a lovely setting
Great for a long walk as it's largely flat to walk around and the paths are well maintained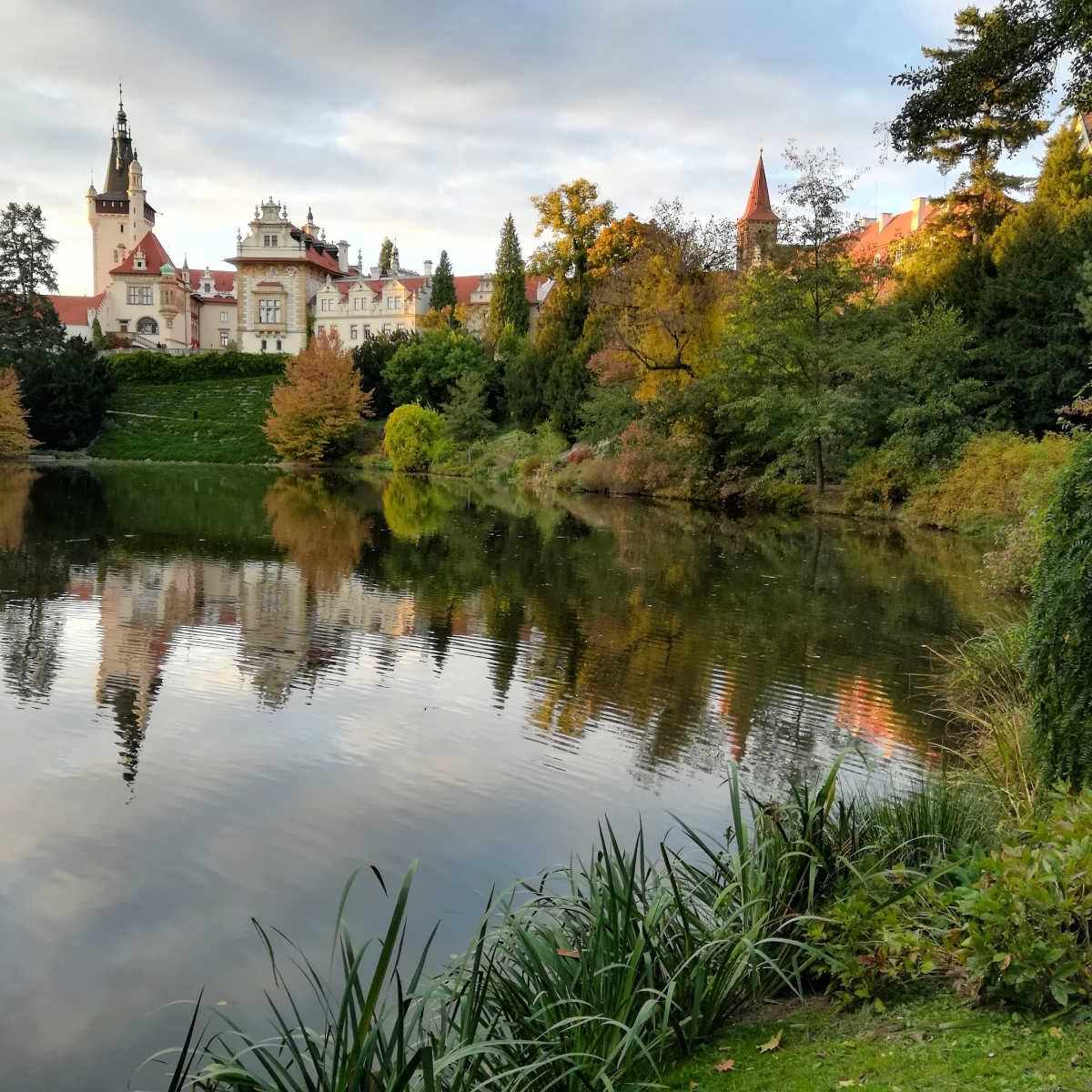 History
The park was established by Arnost Emanuel Silva-Tarouca, who started the grand work of re-modeling the park in 1885 and it took him a good 40 years before the park was completed. He used the natural valleys of three local streams – Botic, Dobrejovicky and Zdimericky to create a woodland paradise full of seasonal plants, trees and special shrubs.
What to see in Pruhonice park
Pruhonice Chateau Exhibition
The castle was built in the 19 century, but in a neo-Renaissance style, which was very popular at the time. It's beautifully painted, decorated and has a truly wonderful inner courtyard with magnificent views of the lake below the castle.
The castle is not open to the public as such, but you can visit a few rooms on the ground floor where there is an exhibition about Pruhonice Park
The Park's Main View
From here you can see the castle through the trees and shrubs and in the springtime you'll also see colourful rhododendrons. The view is beautiful, although unless you have a good camera, you get better views of the whole castle from the other side of the main lake (follow the shortest walk)
Gloriet Tower
This is the highest point of the park, which used to be a house. Only a tower and a little chapel remain today. You can climb the steps to the top of the tower to view the park from the top (you won't be able to see the castle from there).
Czech Cottage
This is a pretty little cottage build in a traditional way and you can find it close to the second entrance or exit from the park and close to Labeska Pond.
Three different walks within the Pruhonice Park
All walks are signposted although it's a good idea to pick up a leaflet from the ticket office in case you need to double-check your directions. I found that couple of places were not as clearly marked as I'd expected them to be.
Short loop
This shorter walk is great for an undemanding mid afternoon stroll with children and it's also suitable for wheelchairs or prams. Perfect if you have only 1 hour as this route is about 2,5 km long.
Mid length walk
This mid length walk will take you through the best parts of the park, including the lake, view points, tower and the Czech cottage. It can be done comfortably in 2 hrs as the walk is about 6 km long.
Long Walk
This walk is nearly 10 km long and will take you to the furthest parts of the park. It's marked with visible signs, so that you can't get lost.
Location
Pruhonice – Centre of Pruhonice town is about 18 km from the centre of Prague – towards Ricany.
How to get there
The best way to get to Pruhonice is to take the underground to Opatov (Line C) and then take the 385 or 363 bus. From the underground, you'll need to walk up to the road level. There are plenty of buses during weekdays, but only about 2 buses an hour at the weekends and late evenings.
It takes 20 minutes to get to Pruhonice from Opatov, but because Pruhonice is in the outer ring (1 zone), you'll either need to get a ticket for 2 consecutive zones (the cheapest one for 14 CZK) if you have a day or three or monthly day Prague transport pass.
Your Prague pass is valid until about 3 stops before Pruhonice, so the cheapest ticket will pay for the difference between these zones.
If you don't have any ticket, you can buy a longer time ticket valid for at least 4 consecutive zones.
Alternatively, you can buy a ticket at the driver or online via the Litacka app or a website.
Entrance Fee
An Adult ticket is 100 CZK in the summer season and 70 CZK in the winter. Children, family and OAP tickets are also available at a discounted price. The park also sells yearly passes, which unless you intend to visit at least 10 times a year is not really worth it.
Opening times
Unlike some other pay to enter parks in Prague, Pruhonice Park is open all year round. The park usually opens at 7 am each day (8 am or 9 am in the winter) and then it closes based on when the sun goes down. In the summer this is around 8 pm and winter around 4pm. Last time I visited, it was a beautiful autumn day in October and the park was open from 7 am to 7 pm.
Facilities
Refreshments
There are several restaurants and coffee shops in Pruhonice town, very close to the entrance to the park.
There is a convenient street food kiosk at the entrance of the park (just before you reach the ticket office). You can get the traditional 'Parek v rohliku' (Hotdog in a roll) or Smazeny Syr (Fried cheese) as well as tea, coffee or other snacks and drinks. All reasonably priced and quickly made.
There is also a lovely coffee place inside the chateau, where you can get a coffee or tea to go or sit down and have simple hot snacks, drinks and homemade brownies.
Once you get deeper in to the park, you are on your own, so bring snacks and drinks with you or have a refreshments break before or after your walk.
Toilets
Toilets are located behind the main entrance from the Pruhonice town. There are also toilets located in the smaller car park close to the Czech Cottage – in the middle of the park.
There don't seem to be any other toilet facilities once you enter the park, at least I didn't see any last time I visited and walked through most of the park.
Other sports & activities in the park
This park is intended for walking only – you are not allowed to cycle, use skates, push bikes or anything else. You can, of course, bring a pram for your child, if you are travelling with little ones.
Dogs can enter but should be kept on a lead (at all times).
STAY IN TOUCH
Hope this blog post inspires you and as ever I'd love to what you think! Let me know in the comments below or catch up with me over on Instagram.
Magdalena