While I know that some people will arrive by train or bus to the centre of Prague, most visitors will travel to Prague by air.
If you do, you'll arrive at the only airport in Prague – the Vaclav Havel Airport (originally called Ruzyne). Unlike other airports, Prague airport is fairly close to the centre of Prague, which makes it easy enough to get anywhere you need to in a short amount of time.
Still, for some reason, a lot of people are worried that the only way to travel from the airport is by expensive taxi. This is probably because they are concerned about using public transport for the first time when they visit Prague and finding their way to their accommodation after a long day of travelling from their original destination.
This is why in this blog post, I want to show you the different options you have when you arrive at the Vaclav Havel airport and how best to get to the centre of Prague.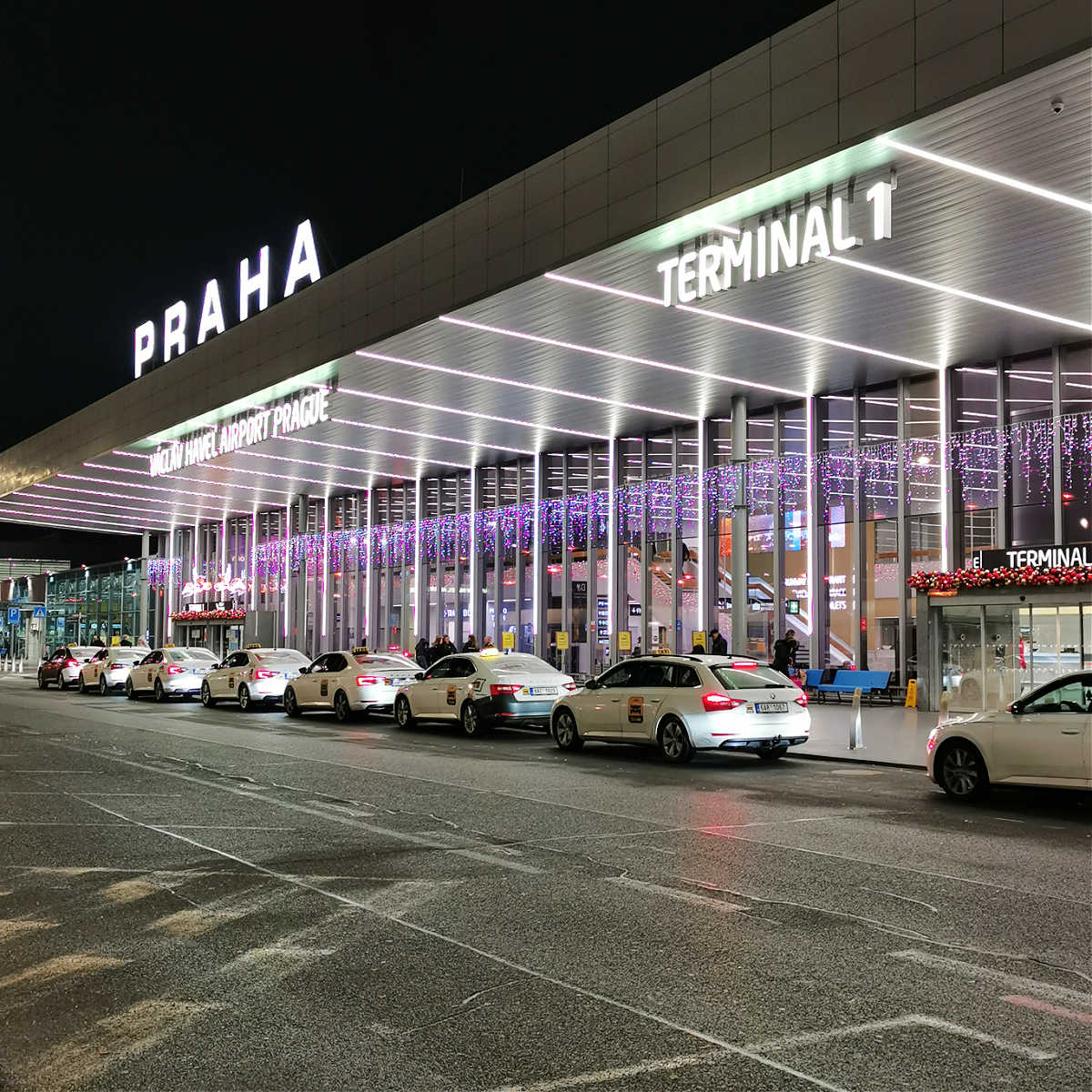 The Vaclav Havel airport
There are only two terminals – one from countries surrounding Czech Republic (so-called Schengen area) and one for all the other destinations.
London and all UK flights and most international flights are usually terminal 1.
In case you make a mistake and go to the wrong terminal, they are about 5-10 minutes away from each other by foot. So, please don't worry, you can't get this wrong!
Once you arrive and go through the security doors and passport checks, you'll be able to collect your luggage and then you can head straight out (through a customs office/area).
After that, you have several options.
I would decide on how you travel from the airport before you arrive when you are getting ready for your trip. Depending on your accommodation location one form of transport might be easier than another.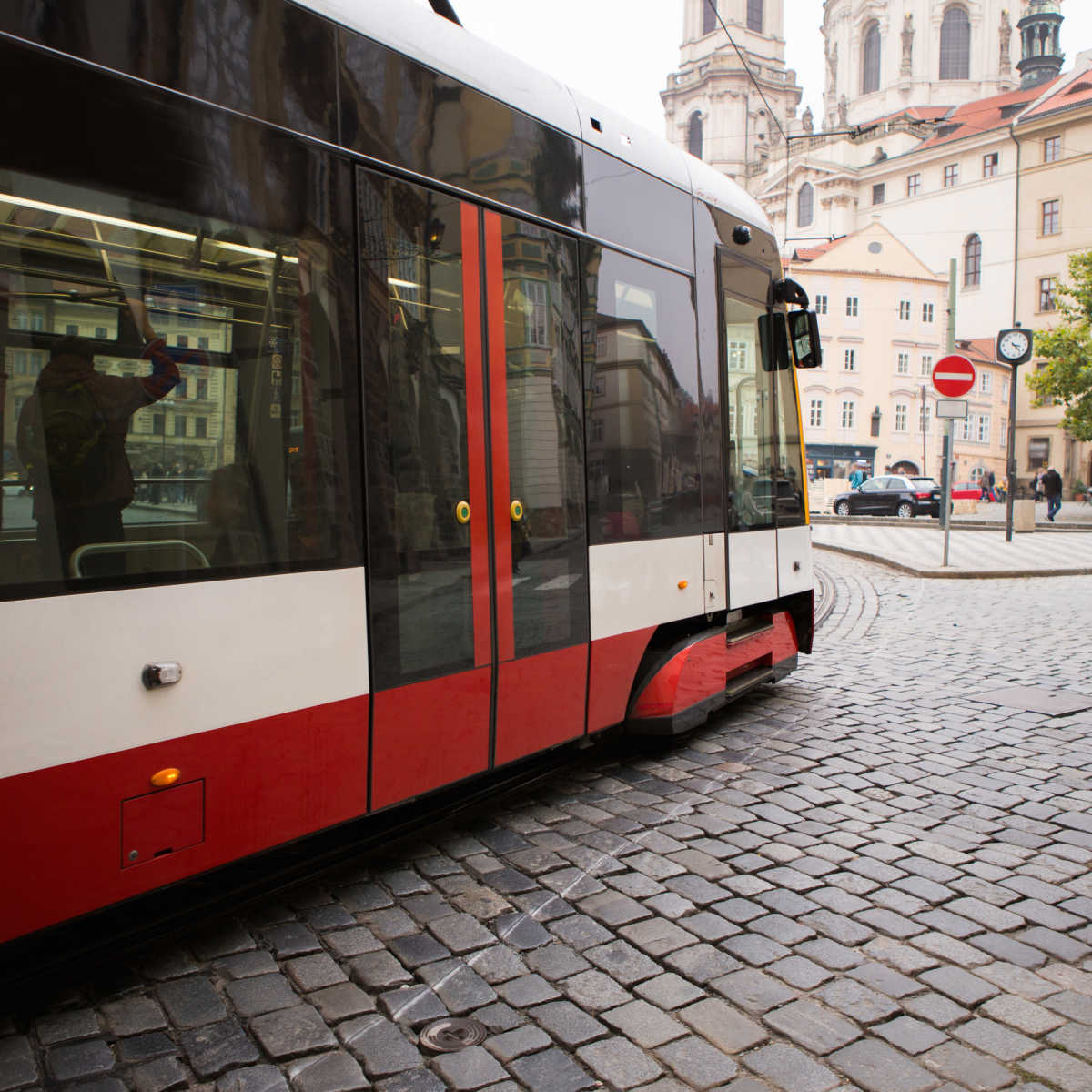 Public Transport
There is no underground, tram or train at the airport, so the bus is your only public transport option.
Bus no 119 – Veleslavin – Underground – Metro A
Goes every few minutes during day and at longer intervals in the evenings and weekends.
The no 119 operates a long double bus with a low level floor and plenty of space for your luggage and for you to sit down.
The ride takes about 15-17 minutes and from Veleslavin you can get Metro line A to straight to the centre and change anywhere.
Bus no 100 – Zlicin – Underground – Metro Line B
Goes only about 3 times an hour and takes 15 minutes to reach Zlicin – Metro B line. This is great if your accommodation is in Smichov, Andel or Prague 5. You can also get to the centre and change to Line C or A.
Zlicin also directly connects to Smichov Train Station (via underground), which is handy if you have further connections
Bus no 191
Goes about 3 times an hour and takes about 55 minutes to get to Andel – Smichov, but unless your hotel or accommodation is on route it's much more of a scenic tour than a useful way to get to the centre of Prague. Saying that, since this bus goes straight past my flat building, I usually take it during non-rush hours.
Special bus to the main train station from Vaclav Havel airport
The Airport Express bus ('AE') is a direct shuttle bus (using low level buses with plenty of luggage space) from Prague's Vaclav Havel airport to Prague Main Train station and runs every 30 minutes.
This special bus runs every day including public holidays, day and night, so you can get to the airport any time you need.
This special bus service has a lower level of luggage storage and will comfortably fit any amount of luggage you have.
The journey takes about 40 minutes and the only pick up stops are Airport Terminal 1 and Airport Terminal 2 – after that, the bus goes directly to the main train station without stopping.
Since this is a privately run bus service, normal public transport tickets are not valid on this particular bus and you have to buy tickets from the driver as you enter the bus.
The tickets are 100 CZK one way per person and you can pay by card or with cash. This is about 2,5 times more than regular ticket.
The price is worth it if you want to get directly to the main train station to get your train connection out of Prague (or if you have a hotel in the upper part of the central Prague or close to the Wenceslas Square).
Public transport from Vaclav Havel airport to Prague at night
The same public buses operate during the night too. By 8-9 pm in the evening the frequency usually drops to few an hour. After midnight the frequency is about every 30 minutes or 45 minutes.
This is still a very good frequency, but the problem is that the underground stops running at midnight.
You can still take the bus 119 and go to Veleslavin, but then you will need to get a tram to the central Prague. The trams still run regularly through the night and they all connect in the middle of Prague, so that you can change to whatever other tram you need.
If you are new to Prague, this is actually easier to navigate than the tram system during the day, when you have so many options to change and if you miss your stop you have to go back.
Unless your accommodation is in Prague 5, Zlicin, Stodulky or Repy, it's probably not a good idea to take the number 100 bus.
Zlicin doesn't have any trams and whilst the busses run during the night, there are no connections to the central Prague, only to Prague 5 or 6.
The night route of bus 191 is slightly different and it can take you all the way to the centre of Prague. If you get this bus, it will take about 45 minutes to get to Andel (Prague 5) and then the bus goes closer to the centre via Prague 2 – Charles Square.
Tickets for public transport at night cost exactly the same as the day tickets (see below).
Buying ticket for bus (and public transport) from Vaclav Havel Airport
As you walk out of the airport terminal, you'll see yellow ticket machines, which sell bus/tram tickets. There are several more situated at the bus stop, once you cross the airport approach road.
Depending on where you are heading, buy 30 CZK ticket for 30 minutes or 40CZK for 90 minutes. Unless your accommodation is close by to the Veleslavin or Zlicin areas, I would strongly advise you to buy the 90 min ticket, because 30 minutes might not be enough to get you there.
Once you buy your ticket, make sure you validate it in the smaller yellow ticket machine on any bus or at the bus stop. The machine stamps it with a date and time and you have either 30 or 90 minutes to get to your destination, including any changes.
You don't need to validate the ticket again when you change, say from a bus to a tram, just keep it in your pocket somewhere safe.
You can get paper ticket or e-ticket send (and validated) to your smart phone.
If you know that you are going to be using public transport during your stay ( personally I think it's the best way to get around the town), you can also buy 24 hrs ticket (120 CZK), 72 hrs ticket (330 CZK) or even a monthly ticket (1000 CZK).
The monthly ticket (valid for any consecutive 30 days) might look like too much money, but even if you are in Prague for 2 weeks, it's still cheaper than buying individual tickets.
More importantly, for the sum of approx £33 (1000 CZK) you can use any tram, bus or train within the greater Prague public transport system and you don't need to worry about getting tickets every time you want to catch a tram or remembering to get off because you've run out of time on your ticket.
The monthly ticket is also useful if you are thinking of doing any day trips from Prague. Since the ticket covers you for the inner part of Prague (zones 0, B) you only need to buy a train ticket for the rest of the journey.
When you are buying your train ticket, just show the monthly ticket and the ticket officer will sell you a ticket to top up your Prague ticket. The same applies to buses and outer Prague buses. I've worked out that on average I'm saving about 20-25 CZK each journey.
A word of warning – ticket inspectors are in plain clothes (not uniforms) and do regular spot checks. Currently, the fine is 1500 CZK, but if you pay on the spot or within 2 weeks, you'll only pay 800 KCZ.
Taxi
Taxi is a comfortable and convenient way to travel from the airport to the centre. It's also particularly good if you are not sure where your hotel is exactly and you have a lot of luggage or tired children with you.
The ride to the centre could be 500-800 CZK (not including a tip for the driver) depending on the taxi company, distance or whether it's a state holiday or weekend.
If you can, check with the driver how much it would be to your destination, so that you have at least some idea of how much your ride is going to be.
Bolt, Uber, Liftago
The equivalent of Uber, Bolt app can be downloaded to your smart phone and you can have your car ready in a few minutes. The last time I checked, Bolt charged about 450-500 CZK for a ride to the centre.
walk from Vaclav Havel Airport to the centre of Prague
Only kidding…but actually, if you want to have a go, the airport is 17 km on foot from Old Town Square, which shouldn't take more than 3.5 -4 hrs.
The Vaclav Havel Airport is surrounded by fields, green spaces and woodland areas.
There is no official walk marked from the airport to the centre, but when you look on the map, you can easily connect the wooded areas, parks, Prague Castle and the most picturesque part of central Prague to get a pretty good walk itinerary!
Although I've not walked this walk in one go, I have walked the section from close to the airport via Sarka Valley Park (see my route 22 tram guide), Breznov Monastery, Vypich, Ladronka and Kinsky Park, Petrin and down through the Prague Castle area, crossing the river on Charles Bridge and arriving in the Old Town Square via the old King Street.
I know this walk idea sounds slightly mad, but the other day, because of train delays, it took me the same time to get back from Stansted London to where I live on the borders of Kent/London and I was travelling by train!
By comparison, a scenic walk through a historic city sounds much nicer than an overcrowded London tube!
STAY IN TOUCH
Hope this blog post inspires you and as ever I'd love to what you think! Let me know in the comments below or catch up with me over on Instagram.
Magdalena
This blog post was originally written on 13 October 2021 and last updated on 16 January 2023