September is my favourite time to be in Prague – the weather is perfect, all attractions are open and there is less people. If you are thinking of visiting Prague in September, then I've put together practical travel tips, my favourite places to go and events to help you to plan your trip to Prague.
Is September a good month to visit Prague?
I would say, most definitely! The weather is much cooler than in July or August, but it's still warm enough to walk around in shorts and T-shirts most of the time.
The children are back at school (Czech school starts on the 1 September) and most people are back at work after their summer holiday.
All the must see Prague attractions, museums and castles are still open most weekdays and weekends (some close for the winter at the beginning/middle of October).
Prague is generally a lot quieter and it's much easier to escape the crowds and not as cold as if you were to visit Prague in October.
Travelling to Prague for the first time
Planning your stay in Prague in September
What's the September weather like?
Most years, Prague and Czech republic would have warm autumn, something we also call an 'Indian Summer'. The temperatures could be as hot as 23 Celsius (or 73 Fahrengheit) in the shade and much warmer on the direct sun.
You might also get the odd shower and storm, much like in the summer, but most of the time the weather is balmy warm.
Early mornings and late nights are starting to get very cold, so bring an extra layer and make sure you have it with you if you are starting your day early or planning to stay out late at night.
Day light in September
In the morning the sunrise is from 6.16 am at the beginning of the month and from 6.37 am by the middle of the September. By the end of September the sunrise moves to 7 am.
The sunset is at 19.47 pm at the beginning of the month, moving towards the 19.16 by the middle of the month and to 18.43 at the end of the September. You also have an extra 40-45 minutes after the sunset when you can easily see and you can carry on exploring the town.
Overall this gives you about 12 – 13, 5 hours of day light each day to plan your activities in Prague!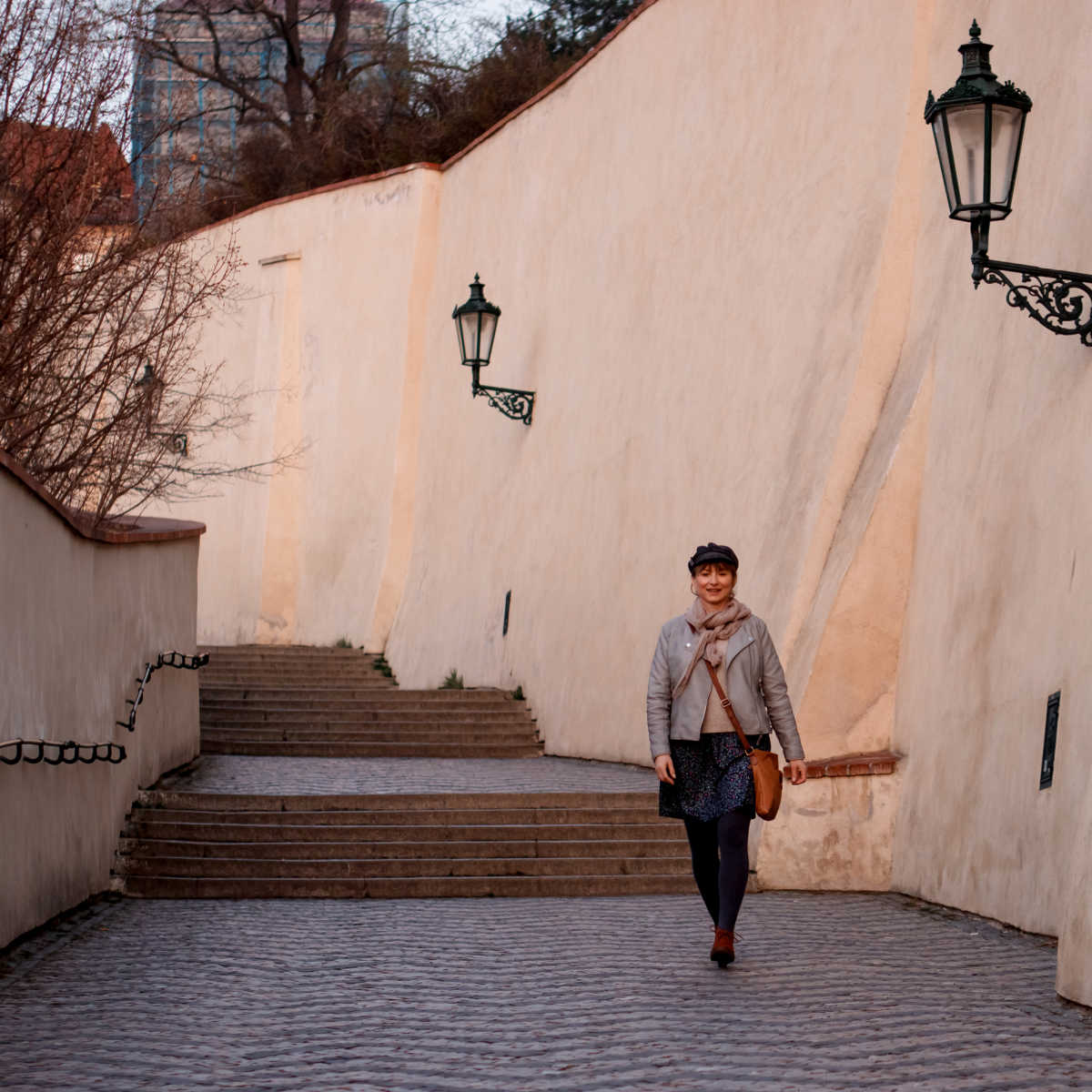 What to pack for your visit
Apart from my general packing advice make sure that you have warmer shoes and second layer (light or mid light jacket) with you.
I also pack short sleeve T-shirt as sometimes during the day it can get very hot. Often (especially if you are travelling at the beginning of September) it's warm enough to wear summer dress or light linen shirts, trousers or skirts.
I would always carry with me second thin layer (like a soft hoodie or warm thermal layer with long sleeves) that I can easily put on or take off as I need to. When I'm wearing dress or a skirt I also take with me a thin black leggins, that I can wear in the morning and in the evening when it's little cooler.
READ MORE
How to get around Prague
I find that the best way to get around Prague is by using public transport and then walking in the historic centre of Prague.
Prague has an extensive and efficient network of trams, buses, and metro lines that can take you to all parts of the city. The metro system is particularly useful for getting around quickly and it operates from 5 am until midnight every day.
You can buy one ticket (from 40 CZK for 90 minutes) that covers all trams, buses and underground and the easiest way to do that is at any metro station, from ticket machines, or via mobile apps.
My preferred way of getting around is to walk as many of the historic Prague attractions are within walking distance of each other in the centre of Prague. The centre doesn't have much of a public transport anyway, but trams tend to get fairly close to the centre and then you only need to walk few streets to get to the middle.
You can also rent a bike or a scooter, although I wouldn't recommend using it unless you have a bit of experience and are happy to ride over cobble stones (which are everywhere in the middle of Prague).
Local taxis and app taxis such as Bolt or Liftago are also available, but they are more expensive than public transport.
READ MORE ON HOW TO TRAVEL AROUND PRAGUE
Important dates
28 September – St.Wenceslas Day
St. Wenceslas was a Bohemian Duke in the 1st century. He was very kind and popular amongst his people, but his younger brother killed him before he could become a king.
After his death, Wenceslas was given the status of a saint and there are many legends, stories and songs sung about him, including this English Christmas Carol.
28 September is officially a Czech National Holiday, which means that people have the day off and most offices (including banks) will be closed. Shops, attractions, restaurants, museums remain open and there are lots of extra events on to celebrate the day.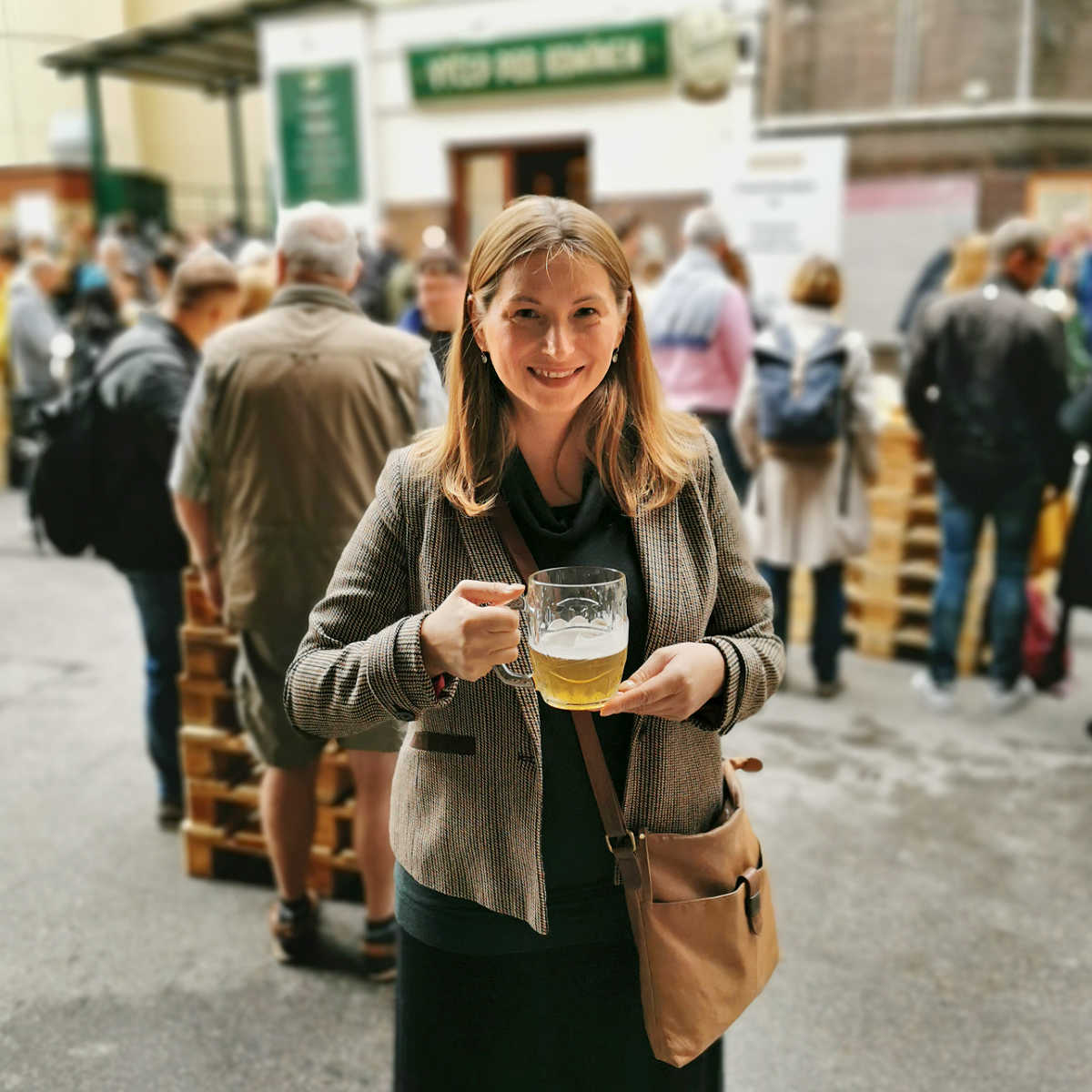 Things to do in Prague in September
Visit local food & music festivals
The first week in September is always busy with local festivals, whether it's music (Concert for Europe on Vltava River or Folk & Harvest Festival at Letna Park), food (Asia Culture & Food Festival in Pankrac) or 'Back to school' children fun activities.
Pretty much every major district of Prague has something going on in the local park, music or theatre hall.
Because the first weekend in September is still (usually) very warm, most festivals take place outdoors and it's everyone's way of saying 'Good Bye' to the summer.
READ MORE
Prague Harley Days – 1-3 September 2023
Bikes, music and food… what's not to like? There are over 200 exhibition stalls, 3 different music stages and over 4000 bikes to see. Tickets start from 300 CZK for one day or 700 CZK for the whole 3 days (and there is also option to combine the entry to Burgerfest which is happening at the same location and time).
Location: Vystaviste Exhibition Grounds, Holesovice, Prague 7, Tram 12, 17.
Burgerfest Festival – 1-3 September 2023
This food festival is all about hamburgers, meat and BBQ cooking. There are plenty of food stalls, music and drink stalls and you also get to see chefs competing against each other for the best hamburger in the show.
This festival takes place at Exhibition Park – Holesovice, Prague 7, next to large Stromovka Park.
Birell 10 Km Run Race – 2 September 2023
Birell is a non-alcoholic beer often flavoured with fruit and quite popular in the Czech Republic. Each year Birell hosts an evening run, which is a great introduction to race running if you've never done one before.
The event is held at sunset and you will run through the main historic centre and around the Vltava river and over many famous Prague bridges.
The race includes 10 km, men or women's race, team races and also shorter runs for children. There is a small fee to enter the race and you do need to register in advance on the RunCzech website and pick up your running number ahead of the run.
Harvest Festival – 2 September 2023
The Harvest Festival (Dozinky na Letne) takes place on the first Saturday in September at Letna Park (Prague 7). It's a free event organised by the Ministry of Agriculture.
You can also visit the Farming Museum at Letna for free on that day and there is even a reduced entry fee to the Technical Museum at Letna.
The Harvest Festival is layed out as the biggest farmer's market in Prague with over 100 different food producers from Czechia and Moravia.
There is plenty of entertainment for children, including taster sessions of traditional crafts and you can also see a large display of outdoor farming machines both historic and modern ones.
During the day, you'll also hear a lot of traditional folk music performed on stage by local folk groups dressed in the traditional costumes.
Wine Harvest Festival at St.Claire's Vineyard – 16-17 September 2023
September is also a month, where you can visit Prague's wine making areas and celebrate the wine harvest with wine tastings, food and music.
The Wine Harvest Festivals are usually held the 2nd and 3rd weekend in September and are held in Troja Botanical Garden and Grebovka Park Vineyard.
There is a beautiful view from the St. Claire's Vineyard of Troja Chateau and the rest of the Prague (Holesovice and Prague 6 on the other side).
You can combine the wine tasting with a visit to the Troja ZOO, Troja Chateau Gallery and Gardens or Botanical Garden, all at the same location (Trojska 800/196, Troja, Prague 7 – nearest underground stop is Nadrazi Holesovice and then 112 bus to 'Kovarna' stop (or Prague ZOO for the ZOO or the Troja Chateau).
The entrance ticket (180 CZK) includes vine tasting.
St. Wenceslas Wine Festival – 23 September 2023
This is a perfect opportunity to combine wine tasting with beautiful views from the vineyards of Prague Castle and also see the Villa Richter (from the outside) in the garden grounds.
The entrance fee is 250 CZK, but it does includes wine samples and you don't need to pre-book – just turn up any time between 11 am-7pm.
Location: St. Wenceslas Vineyard at Villa Richter – access is from the Old Castle Stairs – walk up directly from Staromestska Underground Station.
Open Heritage Days
The 3rd weekend in September is also a weekend, when a lot of usually closed heritage places are open for public and entry is free.
Some museums, palaces and historic houses (that are usually open) are also open for free or at reduced rate, so it's worth checking out whether your favourite place is open during that weekend.
White Mountain 1620 (Bila Hora) Battle Re-enactment – 23-24 September 2023
I love history and battle re-enactment are a great way to make the history alive. I try to go to the Bila Hora 1620 re-enactment every year, as it's so well done. The whole battle is re-enacted, including the different group of soldiers in authentic costumes, horses and weapons. If you are coming with small children, there is quite a lot of loud shots from firing the guns, so be prepared.
There is an entrance fee (about 100 CZK) and you need to pay extra (last time this was 50 CZK) if you want to watch the battle from a risen seated platform in the middle. There is no need to pre-book, just turn up. There are plenty of stalls with food, crafts and a historic tent village where the soldiers are stationed.
Location: Vypich – next to Obora Hvezda (The Star Park Enclosure), Prague 6, Tram 22, bus 191 or many more.
Government Buildings Open Day – 28 September 2023
The 28 September is always celebrated (amongst other things) by the Czech Government opening some of their historic buildings, which are normally closed to public. These vary from year to year, but each year you have at least 5-10 different buildings to choose from.
The buildings are usually open from 9 am -16 pm hrs (sometimes 10 am -16 pm). Entry is free and no booking is necessary, but what that means, is that if you want to get in, you usually need to wait 60-90 minutes before it's your turn. The entry is by guided tours only and these are usually starting every 15 minutes.
The tours are led by the staff from the government department that the building belongs to and are only in the Czech language. I think, it's still worth going to these as you get to see a buildings that you normally wouldn't be able to visit.
I've recently visited the Lichtenstein Palace at central area of Kampa Island, the representative flats at Prague Library, old Skoda Factory meeting rooms, the new Prague Town Hall, Straka's Academy Gardens and the Ministry of Foreign Affairs.
In my experience, you can do about 2-3 of these visits in a day, because you will need to wait at each building and although the buildings are very central, you do need to get from one to another (and usually you need to walk as there is no public transport in the centre of Prague).
If you are interested in planning ahead, the government buildings are also open on the 28 October and 17 November and each year, there are different buildings open each time.
'Experience town in a different way' Festival
During most weekends in September local areas of Prague put together various activities and events on a fairly small scale to get people to experience their local area of Prague in a different way.
This includes food, music, theatre, dance, activities for children and just about anything that local people, shops and businesses want to offer.
These festivals are always held in local areas outside the centre, which is a great way to explore more of Prague, than just the tourist areas.
There is something new every year and last time I managed to visit an old town house just a street away from the Wenceslas Square where there was an amazing view from the roof tops (see my photo above).
Czech Design Week
Czech Design Week focuses on presenting Czech innovative designers in a series of exhibitions. This year, the festival is in it's 9 year and it's usually held in the first weekend of September.
Exhibitions and venues are usually in the centre of Prague (such as Manes Water Tower – opposite the Dancing House in Prague 2) or large historic buildings not always open to public (such as the convent and school close to Kinsky Garden in Smichov, Prague 5).
There is an entrance fee for all exhibitions, which is about 200 CZK (£7 or $9).
Letni Letna Festival – 17 August 2023 – 3 September 2023
This is a fabulous celebration of the end of the summer, stretching over 2 weeks. Every day there is something new happening including different performances, circus, film screenings, concerts, workshops and more. Most entertainment is free and there are also many food and craft stalls to accompany the festival.
This festival (as the title suggests) happens at the Letna Park in Holesovice, Prague 7
This blog post was originally written on 4 November 2021 and last updated on 14 May 2023