My practical tips on what to pack for a trip to Prague in 2023 with suggestions on what to bring depending on what season you are visiting.
Prague is a very relaxed city fashion style-wise, and as such there are no hard rules. Within reason, anything goes! You'll see that most Czech people prefer to dress casual unless they are going to a particular function.
I'm sitting on my bedroom floor, surrounded by piles of clothes, shoes and bags, thinking what do I need to pack for my next Prague trip. I used to be good at packing, always making super efficient lists and making sure I don't forget anything.
That was when I was a scouts leader and about 14 years old! Since then I become quite slapdash with my packing, throwing in my suitcase whatever I fancied at the time, hoping that when I get to my destination, it will miraculously become an outfit.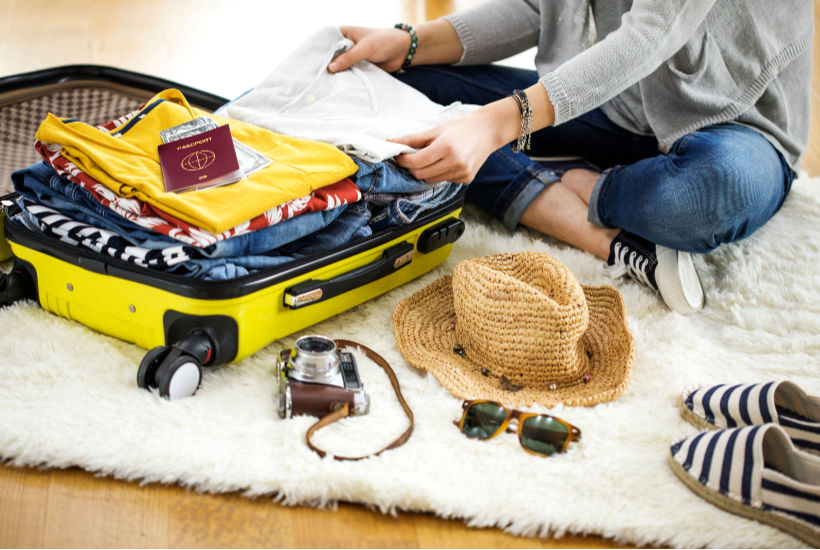 But in autumn last year, I booked a few days in Prague on my own, and since it was a last minute booking, I tried to save money on not booking a checked in luggage.
I was pretty pleased with myself when the confirmation e-mail pinged to my inbox, at which point I realised that I'd need to pack all my stuff into a fairly small backpack!
---
MORE PRACTICAL INFO
---
So, I thought I would go back to basics, conger up my 14 years old myself and become the packing ninja again!
And here, rather than give you a general list of what to pack for your next trip to Prague, I wanted to highlight the things you might not know about Prague, which will be helpful when you pack for your next trip.
Important documents – Passport, travel insurance, covid passport, doctors notes etc.
You need a valid passport (with at least 6 months left on the validity of your passport) to enter Czech Republic. Depending on your country of origin, you might need a tourist visa, although the majority of visitors are allowed to visit for up to 90 days without any specific visa.
Since the Covid 19 rules are now fully relaxed, you currently don't need to bring any documentations regarding vaccinations. You also don't need to show any negative tests or Covid Passport when you enter Czech Republic or visit any event, museum or a castle.
Saying that, I do have my UK vaccination documents always with me, as I often stay for 1 or 2 months at a time and it's difficult to know how the local government might react if there is another wave of the virus.
But, you'll definitely want to have your travel insurance documents (or at least contact details) with you. Make sure that you know how to contact your insurance company in case something happens and you need medical or other assistance.
Czech Currency
It's a good idea to bring small amount of Czech currency – the Czech crown with you (or take out Czech crowns from a cash point when you get to Prague).
More and more places take cards these days, so there is very little point to bring cash to last you for the whole trip.
General Notes on Czech Fashion Style
Prague is a very relaxed city fashion style-wise, and as such there are no hard rules. Within reason, anything goes! You'll see that most Czech people prefer to dress casual or smart casual unless they are going to a particular function, like a dinner at a posh restaurant, theatre or a dance ball.
If you happen to be on the underground or a tram before 8 am on a weekday, you'll be probably wondering why there are so many people who have the day off!
Well, they are not having a day off, but unlike in other western countries, Czech people don't always wear suits to work. The people who do are probably going by car…
And it's worth noting, that there are no religious requirements regarding clothes, but it's a good manner to wear non-revealing clothes and shoes when entering a church.
Choose the right Luggage for your Prague trip
Your choice of luggage will, of course, depends on what type of trip your Prague visit is and for how long you are staying for. But what's worth bearing in mind, is that Prague, unfortunately, doesn't have much level access.
For example, not every underground has a lift, and you'll encounter stars, steps, cobbled stones pavements and uneven pavements everywhere. Combine that with one heavy suitcase and a tired tourist who is trying to get to her hotel, and you have the picture!
If I can, I opt for a carry-on suitcase (a small suitcase of about 56 x 40 x 25cm max) a backpack of a similar size, that I can easily take with me on the plane.
Not only that it's easier to get around Prague with something like this, but it also makes me to be super organised with my packing and take just the stuff I need.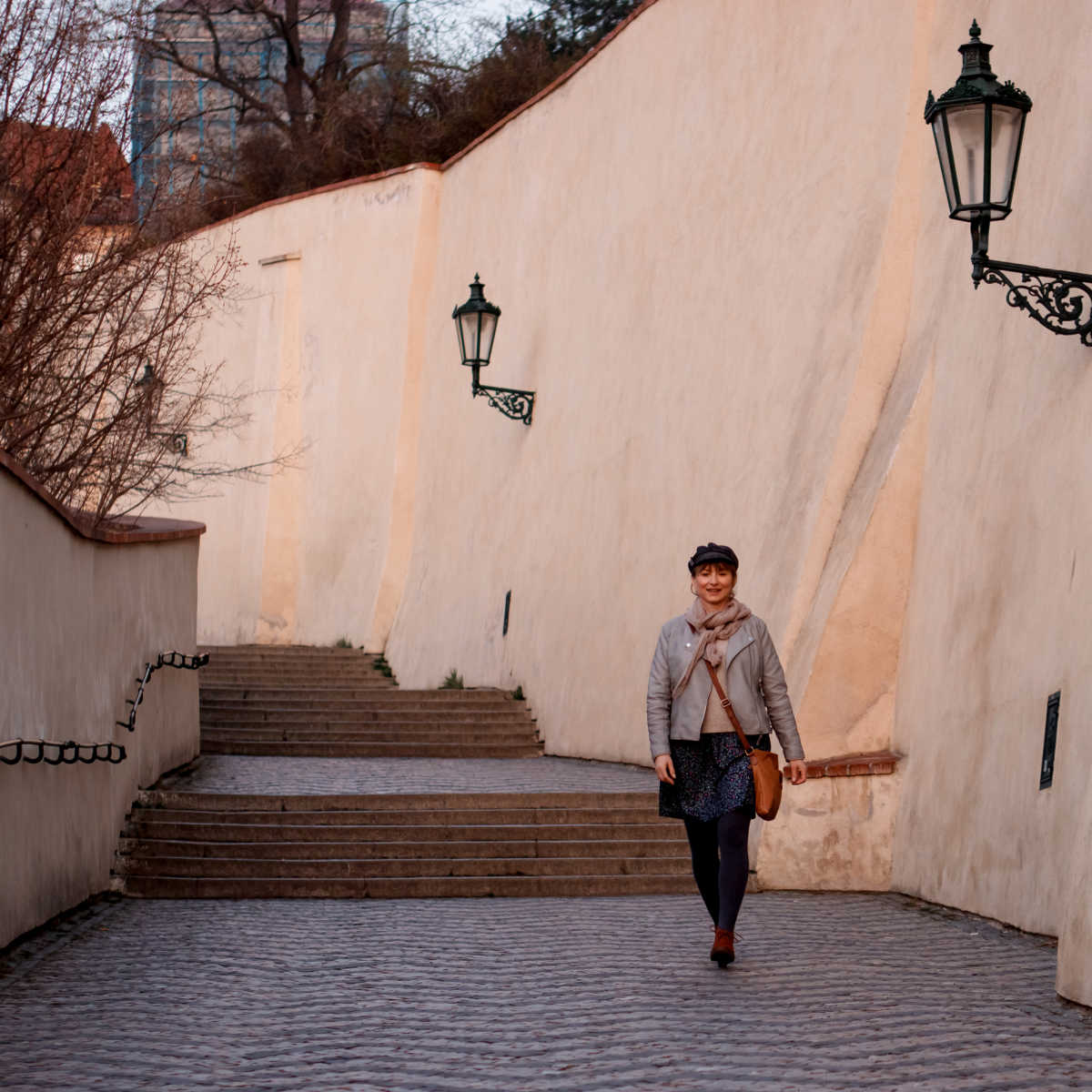 Day bag (backpack) or a cross over bag
During the day I prefer to wear a large cross over body bag, that I can swing in front of me when I travel on public transport for security. Saying that Prague is very safe for tourists, but shoulder bags or purses are just not practical to walk around Prague all day.
A stylish backpack is fine too, but be aware of it at all times and keep your valuables well hidden inside or somewhere on your person. Pickpocketing is still an issue in Prague, especially on public transport and in the main tourist areas.
I have also swapped a standard camera bag for a messenger bag with a shockproof and padded insert that protects my camera and lenses. This way I still have a sturdy camera bag, but because it doesn't look like a camera bag it doesn't invite anyone to steal it.
More recently I've started to take photos with my phone, so that makes my day bag a lot lighter too.
Travel Essentials
European electrical socket converter (adapter)
To charge all your electrical equipment, you'll need a European electrical socket converter and the converter will have just 2 pins.
If you have phone, tablet of laptop with C -cable charger, you will be able to use some of these sockets on trains or the Prague Vaclav Havel Airport. Everywhere else, you are more likely to see the regular (large) types of sockets).
READ MORE
Rechargeable power bank
Depending on how much you rely on your phone, you might also consider taking with you portable power bank for when you can't charge your phone during the day.
I always carry one with me for a long day trips, partly because my phone battery is not that great, but I also use my phone for walking maps, listening to podcasts and music and finding out bus and train times conections.
Re-usable water bottle
If you have your favourite water bottle take it with you (empty if you are flying) as you'll be able to drink the tap water in Prague and save a lot of money by not buying small plastic bottles of water.
Camera or phone to take your pictures
Surely you'll want to remember your Prague trip, so having your memories captured in your photos is a great way to re-live your Prague experiences.
I've started to take photos with proper camera, but recently find myself using more and more just my phone for my photos.
I find that it's much more convenient to carry around and take photos with. Modern phones have really good cameras and allow you to take better photos without having to wory about the camera settings.
PLAN YOUR PRAGUE TRIP
Toiletries & Medication
It's probably practical to bring small quantities of toiletries with you and of course your medication.
Saying, that you'll be able to replenish everything in any supermarket in the centre of Prague and if you forget anything, I'm sure you'll recognise your favourite brand, even if the description is in the Czech language.
Over the last year or so, I've noticed that branded cosmetics and toiletries are becoming more and more expensive, but non-branded toiletries are still reasonably priced.
What are the best Shoes to walk in Prague?
Whether you are arriving in summer or winter, you'll need a pair of comfortable shoes. Even if you are not planning to do a lot of walking, a pair of trainers or other cushioned shoes will come in very handy.
Prague is very walkable, but it's also full of cobblestones and pavements made out of small stone bricks, which is a very hard surface to walk on.
I like to wear comfortable cushioned trainers specially designed for walking.
If I'm going to the theatre or a special event where I want to wear high heels with my outfit, I'd bring them with me in a carry bag and swap my shoes just before I go in. Most venues have a cloakroom, where you can leave any bulky bags (with your walking shoes).
In the winter, I prefer to wear either proper walking boots, which have a thick sole, that prevents you from feeling the cold from the ground or any winter boots/shoes with thick winter socks to keep me warm.
This is just my personal opinion, but I think that any high heels or flip-flops are just going to make your day miserable if you want to walk anywhere and your feet hurt by the evening.
What clothes shall I pack for Prague?
There are no religious or other reasons for wearing a particular type of clothing. If you are visiting churches, it's best to have covering clothes and take off your hat when entering the church.
You'll probably feel more comfortable if you dress up a little for smarter restaurants. Some top establishments might require you to wear evening wear, so do check with the restaurant before you book your evening meal.
prague opera & Theatre dress code
Although there is no written dress code (only suggested 'smart dress'), most Czech people still dress up when they go to the theatre or opera, including black suits, long dresses and high heels, but it's becoming more common to dress casually.
Twenty years ago you would get stern looks if you arrived at the theatre in jeans, but these days things are more relaxed.
If you have the Prague Opera or the National Theatre on your itinerary, think about bringing some smart clothes and shoes with you.
These days, I usually spend more time walking around Prague and the countryside than attending posh events, so I usually bring something with me that I can dress up with nice jewellery, rather than bring separate dress and shoes just for the theatre.
Pretty earrings, necklace or bracelet is much easier (and lighter) to pack than a pair of shoes you'll only wear once on theatre night. Plus once you are sitting down, nobody is looking at your shoes!
What you should not wear in Prague
As I mentioned there are no religious or other reasons for wearing or not wearing a particular type of clothing in Prague.
I couldn't think of anything specific that would be forbidden to wear in Prague – you can get away with wearing any clothing style.
One thing that I'd recommend and that's just based on personal experience is that it's quite tricky to wear white clothes and keep them white.
What I mean, is that Prague can be quite dusty and white shirts, teeshirts or dresses are difficult to keep white.
You either keep washing them, which might be a problem in your hotel or accommodation or you'll see them getting greyer and greyer by the day.
If you are coming for just a few days, that's not a problem, because you'll take your laundry home to wash.
If you are thinking of staying for longer, darker colours or patterned clothes that don't wrinkle easily are best to take with you.
I have a flower dress, that I can wash each night (if I need to) and it dries by the morning and doesn't need ironing.
What to pack based on the season
Spring
Spring is usually mild with sunny spells as the days are getting longer. It's very unusual for Prague to have snow in spring, but it can still happen until about Easter.
It can also rain a lot, so an umbrella or a waterproof rain jacket is a must. If you are going in early spring I would still pack warm clothes, lots of layers and a warm hat, just in case.
Summer
Summer weather in Prague is usually hot, especially in July and August, so pack light layers and clothes made with natural materials like linen or cotton.
Sun hat, sunglasses and suncream are essential and if you don't cope well with the sun, I would suggest long trousers and long sleeves as a natural barrier against the sun.
If you want to carry on sight seeing in Prague when it's very hot, you might not find a lot of shade, so it's important to protect yourself against the sun.
It can be challenging to stay cool in the summer's heatwave, so pack with this in mind.
Autumn
Autumn is usually warm and unlike spring the ground is still warmed from summer, so even when it's a little cooler it's still warm enough to walk around in a couple of layers.
Winter
The winter weather in Prague can be changeable. The snow can come any time from the middle or end of November and there could be still chances of snow at Easter. What I'm trying to say, is that when it's cold it's really cold!
But the good thing is that unlike say the UK where the cold in winter is damp and it gets into your bones, European cold is dry.
This means that as long as you dress warm with proper warm coat, scarf, winter shoes, hat and gloves, you'll be absolutely fine and might even be tempted to take off your hat when it's sunny in the middle of the day.
PIN THIS FOR LATER
STAY IN TOUCH
Hope this blog post inspires you and as ever I'd love to what you think! Let me know in the comments below or catch up with me over on Instagram.
Magdalena
This blog post was originally written on 13 May 2019 and last updated on 27 January 2023