The Czech Republic is well known for a good beer at a great price, so it's not a surprise that Prague is at the weekend overflowing with stag parties.
Whilst it's a great way to sample some excellent internationally known beer, it's also good to taste some homegrown wine and even Czech-produced sparkling wine (which is actually pretty good!).
So, if you are planning a trip to Prague with your friends, you might like to know a few rules around drinking in the Czech republic to make sure you stay on the right side of the law!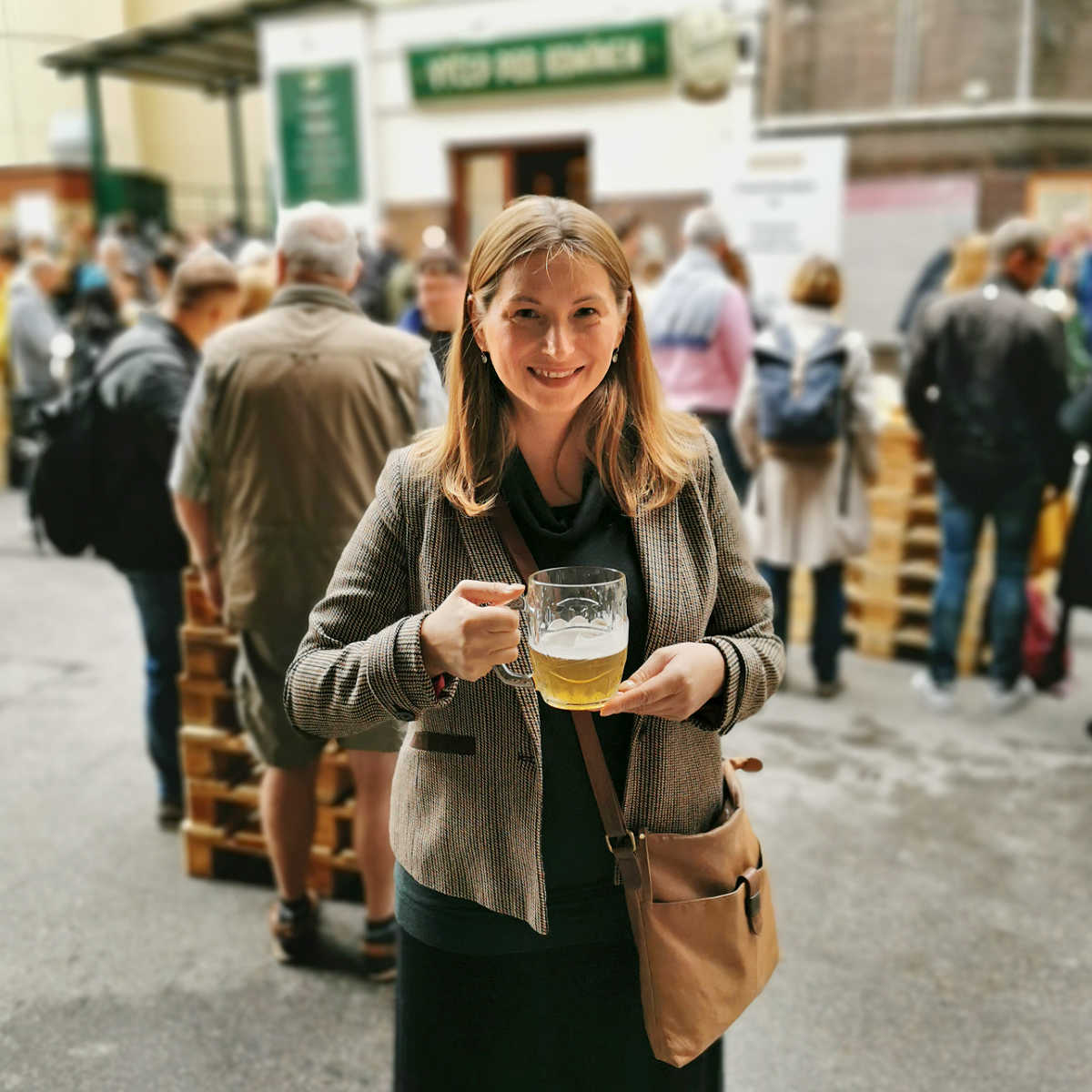 MORE PRACTICAL TIPS
What is the drinking age in Prague (and the whole Czech Republic)?
The legal drinking age, when you can buy your own alcoholic drink in Prague and the whole Czech Republic is 18 years old.
Is public drinking legal in Prague (and the whole Czech Republic)?
Whilst you might see people drinking alcohol on the street, I'm afraid it's not legal and you might get into trouble with the local police if you are caught.
This is even more tempting in the Prague's summer, when it gets very hot, but it's very easy to find a vine bar or a pub with an outdoor space and have a cooling drink there.
If you see a sign like in the picture above, politely informing you that you shouldn't drink publicly there, then, please don't. I've taken this picture at a small square in the historic part of Prague, which is mainly residential area with local shops, cafes and a few restaurants.
This area (and many others, where you see this sign) is monitored by CCTV and the local council works closely with the police to catch anyone who misbehaves.
Saying that I think it's more about noise and disturbance potentially caused by drunk people than the actual drinking, but it's sometimes difficult to separate the two, which is why the sign is there.
VISITING PRAGUE TIPS
Can I drink alcohol in the Prague parks?
Again, legally it's not permitted to drink alcohol in the parks. There are some parks, for example, the Letna Park, Riegrovy Park or Stromovka, that have a small pub or a stall with outdoor seating areas and you can buy a beer or other alcoholic drink there.
You are usually asked to stay close by to the alcohol-selling stall and not to take your beer or other drinks to drink in the wider park area.
Do I need an ID to prove my age in the pub?
If you are lucky to look younger than 18 years old, then yes, you might be asked for an ID, when buying an alcoholic drink.
What sort of ID do I need to prove my age?
You'll need some official proof of identity, which in most cases (if you are visiting from abroad) will be your passport or a driving licence with your photo.
The document has to have your photo and age clearly visible, so something like a bank card or travel card won't be sufficient.
If you have an official student id that could help too, but I'd always suggest taking your passport, as nobody can really argue against it.
When I might not be to buy a drink even if I'm over 18 years old?
Anyone over the age of 18 years old can buy an alcoholic drink in the pub, restaurant or outdoor drink stall.
But, the bar staff might refuse to serve you if they think you had a little too much already and you are drunk.
If you appear or behave drunk, you might not be allowed to get on a public transport, might get escorted from shopping centres, cinemas or theatres. So, definitely enjoy your drink sensibly!
PRAGUE FOOD TIPS
Can I drive a car when I've been drinking in the Czech Republic?
The simple answer is 'no'! Czech Republic has a zero tolerance to alcohol when driving and you could get into some serious trouble if caught drink driving.
Zero tolerance literally means no alcohol in your body. Depending on how quickly your body digest alcohol, this can mean that if you have a glass of wine with your lunch, it can still be in your system in the evening.
Apart from a hefty fine of 2500 – 20 000 Kcz, you could also lose your driving licence for 6-12 months and get up to 7 points on your driving licence. Random police checks happen more frequently than you think and it's not worth risking spoiling your holiday.
So, if you are thinking of renting a car when visiting Prague or Czech Republic, make sure that you or somebody in your group stays as a designated driver and doesn't drink alcohol.
Can I ride a bike when I've been drinking?
Again, the answer is 'no'! It might be fairly obvious that motor bikes come under the same category as driving cars (as in zero alcohol tolerance), but what might surprise you is that you also can't drink and ride a regular bike!
This would also include push bikes or electric bikes.
If you are asked to do a spot test, and the police detect alcohol in your body, you can be fined 25 000 Kcz (for an alcohol level under 1) to 50 000 Kcz (for an alcohol level over 1).
You don't lose your driving licence (since there are no driving licences or legal permits to ride a bike), but because of that, the fines are comparatively higher than if you drive a car under the influence of alcohol.
MORE FOOD & DRINK TIPS
Can I refuse to be stopped and tested for alcohol by the police?
Technically, yes, you can refuse to be tested, but this carries on the spot fine of between 25 000 to 50 000 Kcz, so it's not advisable.
You can also insist on having an alcohol level tested by a doctor, in which case the police will accompany you to the nearest hospital, where you'll need to pay for the alcohol level test yourself.
What happens if I cause a minor accident and test positive for alcohol?
The fact that Czech Republic has a 0 alcohol tolerance, means that if you have a minor car accident (which could even be just an accidental car bump or a large scratch on somebody else's car) and you test positive for alcohol in your system, your car insurance company might refuse to pay for the damage.
It doesn't matter that your own country might have a higher level of alcohol tolerance, the police will put down on the form that you were over the limit.
For example UK & Ireland is one of the highest countries where having up 0.8 % alcohol is classed as normal, whereas in the USA is alcohol level can be only 0.08%).
STAY IN TOUCH
Hope this blog post inspires you and as ever I'd love to what you think! Let me know in the comments below or catch up with me over on Instagram.
Magdalena
This blog post was originally written on 20 April 2022 and last updated on 10 January 2023