Well, there is so much to see and do in Prague in June, but where to start? Since the tourist season is in full swing, all tourist attractions are now open, with many open until late into the evening, to give you extra time to enjoy the city.
Is June a good month to visit Prague?
If you like summer in the city, then most definitely! The weather is lovely and warm and the days are getting longer.
There is daylight until nearly 9 pm, which is perfect for exploring the town after the day tourists leave Prague and taste one of the best Prague ice-creams in Svetozor at Wenceslas Square or in the small cobbled streets around the Old Town Square.
How busy is Prague in June?
June is part of the main tourist season, so I would recommend you book your accommodation and flight well in advance. It's also worth booking the main attractions, like the Jewish Quarter or Prague Castle in advance to avoid the queues on the day.
If you want to know more about how to escape the crowds in Prague, just head over to read this blog post.
Related
What is the weather like in June?
Most days in June are very warm (up to 17-20 C in the shade, but much hotter in the sun), but you'll still need a second layer in the morning. You might get the occasional heatwave, so it can be a little challenging to stay cool in the summer in Prague when you want to see everything on your list.
We also get a lot of showers or storms in June. These are usually over very quickly, so it's best to hide in a shop or have a coffee and then continue with your walk, rather than trying to battle against the rain with an umbrella.
Day light in JuNE
The sunrise in June is at 5 am and the sunset is at 9 pm at the beginning of the month. From the middle of June, the sunset moves to 21.15 pm until the end of the month, whilst the sunrise stays at 5 am (moving only by 10 minutes in the middle of the month to 4.50 am).
Whilst the sunset is around 9-9.15, you can easily see until about 9.30 – 10 pm and you have more than 16 hrs of day light to explore Prague!
What to pack for your visit IN JUNE
Although the weather is going to be very warm, the second layer is always useful, especially in the morning and evening.
I also always pack a good sun hat, sunglasses and a long light linen shirt, trousers or a long dress or a skirt. Since it can still be quite chilli in the morning I also pack a pair of leggings which I wear under my dress or skirt and then take them off when it gets warm.
It might be tempting to bring just flip flops or summer flats as it's going to be very hot, but the Prague cobbles are very hard (and uneven surface) to walk on, so pair of comfy trainers or padded shoes are a must.
READ MORE
Important Dates
There are no official holidays in June, but there are plenty of days which have significance, and they are celebrated with various events.
1st of June
International Children's Day
Check out the 'What's on in Prague' for this date, as there will be plenty of free (and paid) entertainment prepared for the children across the city.
The Prague Night of Churches – 2 June 2023
This is another annual event that always takes place in the first week of June. Entrance is to all the churches taking part is free and there is no need to pre-book – just turn up. This is a great opportunity to visit the many Prague Churches and see them in a different light.
The Museum Night – 9,10 & 16 June 2023
If you love visiting museums, this is a night to mark in your diary! There are about 50 museums across Prague open until midnight (or 1 am) with additional events at each museum. These include talks, music, entertainment and special exhibitions.
The best thing is that the entrance is free and you can hop on to special buses travelling between all the museums. There is no need to buy a ticket for the public transport – it's all free on the night.
Each year the museum's list taking part is slightly different, so it's worth checking if your favourite museum is on the list. Expect the night to be busy, but it will be nicely cool weather wise and a great way to explore Prague museums.
Open Garden Weekend
The second weekend in June (this year it's the 10-11 June) is the Open Garden weekend, when gardens that are not normally open to public welcome everyone to come in. There are about 14 gardens open in Prague (including the Prague Castle Gardens) and 30 gardens that are in the close proximity to Prague.
Some gardens are very small private house gardens, other are community gardens or town parks where there are extra events put on to celebrate wildlife, nature and flowers.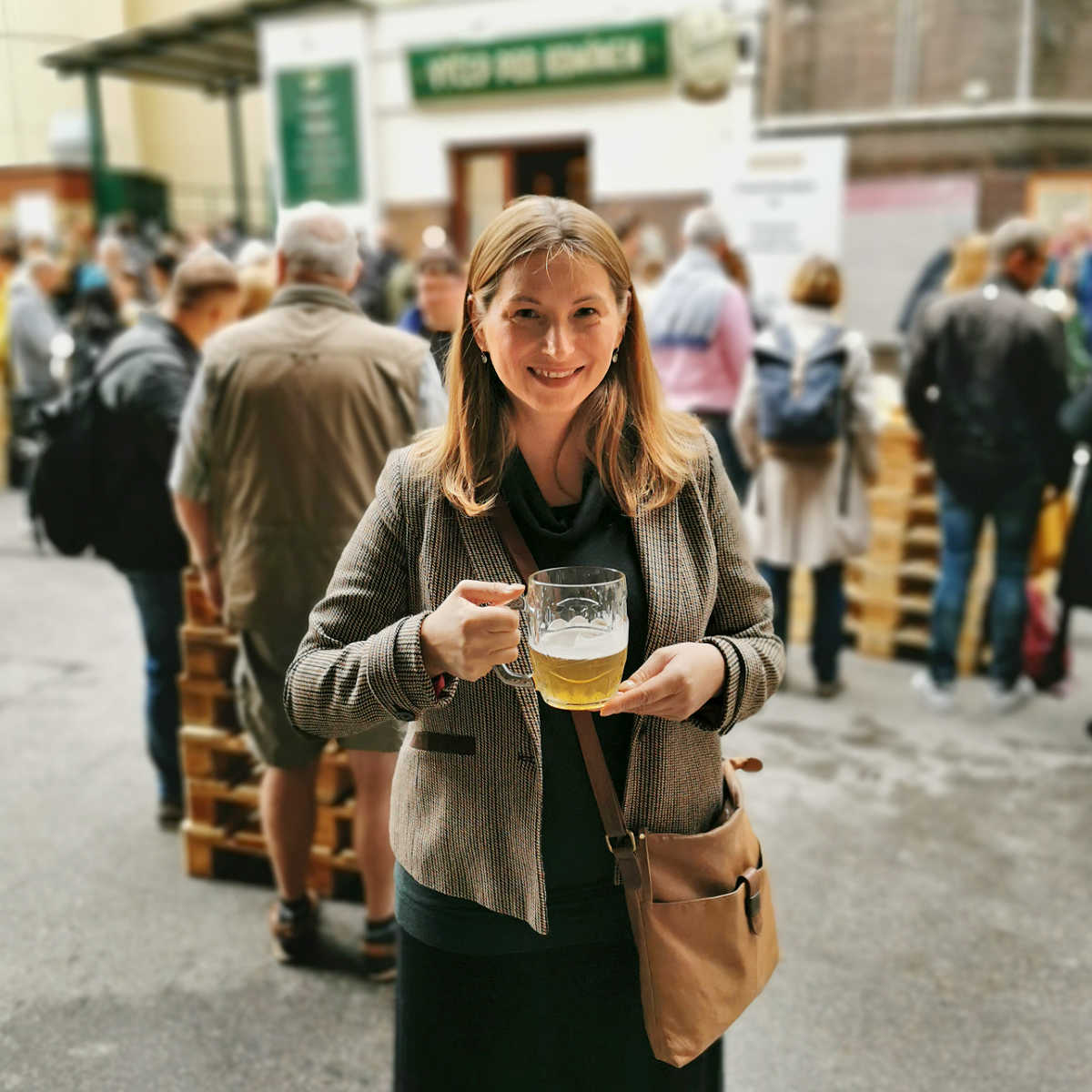 Festival of Microbreweries – 9-10 June 2023
Whilst this festival includes an entry fee of nearly 500 CZK, it includes beer tasting from the many Czech and Moravian microbreweries that will be present at the festival. The festival is being held at the Prague Castle in the Royal Garden and should be a great way to explore the different styles of beer from the 66 small beer producers.
The Beer Festival 16-11 June 2023
The second beer festival this month is held at Naplavka – Smichov (the same place where you normally find the Saturday Farmer's market – Rasinovo Nabrezi, Prague 2). There will be over 50 different microbreweries offering their beer. The ticket is in a form of a 'tasting glass' which cost 100 CZK and then the beer is sold at very reasonable prices.
Ice Cream Festival – 24 – 25 June 2023
This is my way of spending a great day out! So many different types of ice-creams, sorbets and frozen yoghurt to try and all made by Czech producers. There is an entry free (150 CZK) but it does include ice-cream tasting.
This festival takes place in the Exhibition Park – Vystaviste, Prague 7 and you can combine this with a visit to Stromovka Park.
Spend the afternoon on the beach at Zlute Lazne (Yellow Spa)
If the heat of the centre gets too much (and believe me, it will in June!) escape to Zlute Lazne for the afternoon! Here you can experience swimming in the fresh water of the Vltava River, have a drink at a Hawaiian style bar, play table tennis or borrow a paddle boat to explore the river.  To get there, catch tram number 2, 3, 17 or 21 to station Dvorce (Podoli), and it's about 3 min walk towards the river.
The basic entrance is 100 Kc for adults (and free for children under 100 cm). There are additional fees for various activities, hires and of course refreshments in the restaurants and bars.
It's worth visiting during weekday until about 2 pm when you can get a much cheaper bike/boat or activities hire.  Apart from the regular activities on the side, there are special events to entertain you each month which are free as part of the entrance fee.
Zlute Lazne swimming area has a long history. It was originally founded in 1910 and was established well in the 1930s.
At that time people become more concerned about exercising and looking after themselves and wanted to take time away from the polluted centre of Prague.
There was even such thing as a 'sun therapy' where people were encouraged to spend time simply sunbathing and relaxing. And this is exactly what people did. In its heyday, Zlute Lazne welcomed up to 17 thousand visitors a day.
It's demise started in the 60s, when further up the Vltava stream the government built a large water dam to supply water to Prague and the central Czech Republic.
This meant that water that now started to flow in the Vltava river was from the bottom of the dam and it was very cold! It didn't help that a new indoor swimming pool (with balmy warm water) opened just around the corner in Podoli.
Zlute Lazne fell into disrepair, and finally, the big floods of 2002 took all the wooden structures and for a while ended the Lazne's history.
But as with many areas of Prague that were flooded and damaged in 2002, Zlute Lazne was re-built and now has a new lease of life.
Explore Prague by boat
This is a perfect way to combine exploring Prague and staying cool in the summer. There are many different boat trips, which take you up and down the Vltava river.
There is plenty to see – from Prague Castle on top of the hill, parts of the old town, Prague National Theatre, Dancing House or Vysehrad Castle as well as all the bridges.
Most boat trips start from Naplavka (Rasinovo Nabrezi – Karlovo Namesti Underground B Station) and are run daily.
I've recently visited the Zoo in Troja by boat and it was a great experience. The boat goes through two locks and you get to see the main historic part of the Prague, plus the new flat developments in Karlin. The tickets are 250 CZK (one way) for adult ticket and there are refreshments available on the boat (and toilets too).
The boat is open on the top, but you can sit inside if you feel chili (I would recommend to bring few extra layers even in the summer as it can get cold from the water). Also don't forget to bring a hat and sunglasses as if you want to be on the top deck there is very little shade.
Visit Prague Zoo
The best way to visit the Prague ZOO is by taking a boat from the centre of Prague and enjoying the 75 minutes of slow 'ride' to the Zoo.
You can also take the underground and a bus to get there, but depending on where you start in Prague it might not be much quicker and you'll arrive probably much more stressed and hot than by a leisure trip on the boat.
The Prague ZOO was completely re-designed after the 2002 Prague Floods and now occupies even bigger area than before.
Originally founded in the 1930s, Prague ZOO is often voted in the top 10 of the best ZOO in Europe. There is something for everyone, as you'd expect in a large ZOO.
Entrance is around 330 Kc for adults and there are concessions for children/family groups and elderly visitors. The address of the Prague Zoo is U Trojského zámku 120/3, 171 00 Praha 7 – Troja and the nearest underground station is 'Nadrazi Holesovice' and then take the local 112 bus (about 20 minutes ride) which takes you straight to the entrance to the ZOO.
Have a picnic in Prague's Parks
My favourite parks are on top of Petrin following the Hunger Wall to Prague Castle or Zizkov Hill as you can watch the whole city basking in the summer heat, while you are sitting down drinking a cool ice coffee (or beer or whatever summer tipple you fancy) and reading a good book!
If you want to escape the centre even further, you can explore the natural parks of Divoka Sarka, Prokopske Udoli or Pruhonice Park, which are all reachable by Prague public transport.
Most parks have various coffee or tearooms open within the park boundaries or around it, but if you fancy making up your picnic basket, you can pop into one of the Prague Farmer's Markets on the way to the park and pick some delicious local food and drink.
READ MORE
Visit the main Prague attractions early in the morning
I'm sure you'll want to visit all the main attractions no matter what the weather does. So, I would suggest starting early in the morning before the weather gets very hot.
You can combine an early morning walk by visiting the main attractions like Prague Castle straight when they open at 9 am.
That way, by the time the main heat of the day arrives, you can leave the busy centre behind and escape to one of the many parks for a picnic and a glass of nice wine.
This blog post was originally written on 21 May 2019 and last updated on 13 May 2023